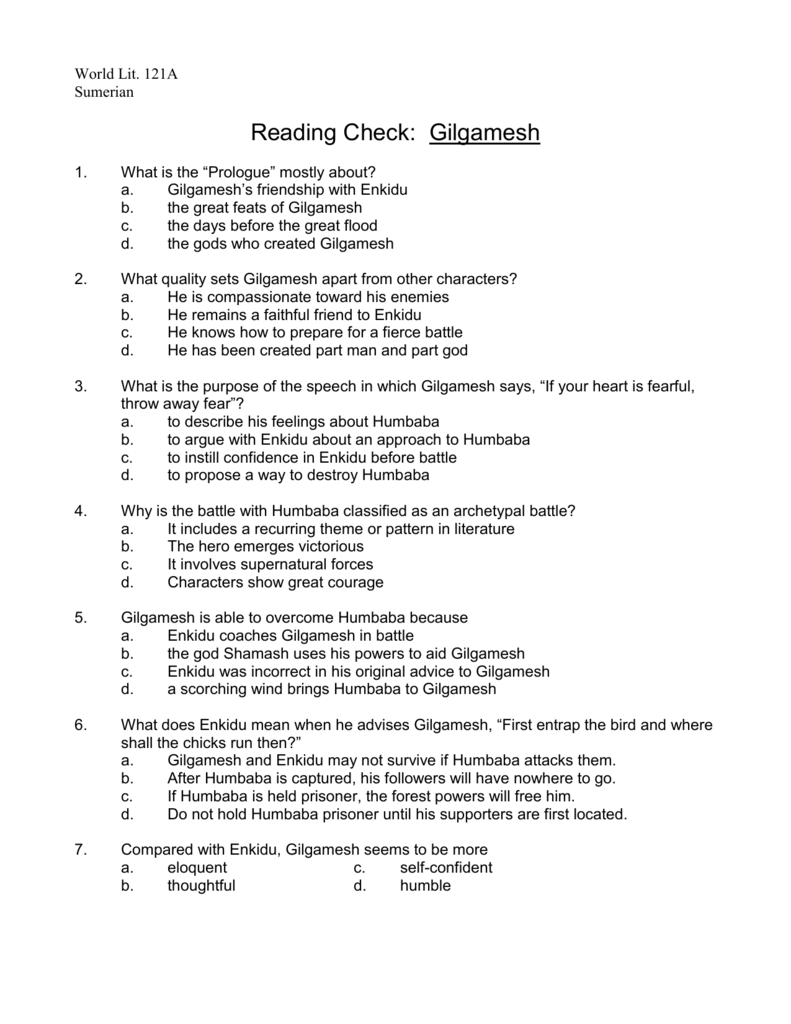 World Lit. 121A
Sumerian
Reading Check: Gilgamesh
1.
What is the "Prologue" mostly about?
a.
Gilgamesh's friendship with Enkidu
b.
the great feats of Gilgamesh
c.
the days before the great flood
d.
the gods who created Gilgamesh
2.
What quality sets Gilgamesh apart from other characters?
a.
He is compassionate toward his enemies
b.
He remains a faithful friend to Enkidu
c.
He knows how to prepare for a fierce battle
d.
He has been created part man and part god
3.
What is the purpose of the speech in which Gilgamesh says, "If your heart is fearful,
throw away fear"?
a.
to describe his feelings about Humbaba
b.
to argue with Enkidu about an approach to Humbaba
c.
to instill confidence in Enkidu before battle
d.
to propose a way to destroy Humbaba
4.
Why is the battle with Humbaba classified as an archetypal battle?
a.
It includes a recurring theme or pattern in literature
b.
The hero emerges victorious
c.
It involves supernatural forces
d.
Characters show great courage
5.
Gilgamesh is able to overcome Humbaba because
a.
Enkidu coaches Gilgamesh in battle
b.
the god Shamash uses his powers to aid Gilgamesh
c.
Enkidu was incorrect in his original advice to Gilgamesh
d.
a scorching wind brings Humbaba to Gilgamesh
6.
What does Enkidu mean when he advises Gilgamesh, "First entrap the bird and where
shall the chicks run then?"
a.
Gilgamesh and Enkidu may not survive if Humbaba attacks them.
b.
After Humbaba is captured, his followers will have nowhere to go.
c.
If Humbaba is held prisoner, the forest powers will free him.
d.
Do not hold Humbaba prisoner until his supporters are first located.
7.
Compared with Enkidu, Gilgamesh seems to be more
a.
eloquent
c.
self-confident
b.
thoughtful
d.
humble
8.
What important lesson does Gilgamesh learn after the battle with Humbaba?
a.
Enkidu's advice should not be heeded.
b.
A brave victory does not ensure the pleasure of the gods.
c.
Enkidu cannot be trusted as a friend.
d.
Two brave warriors cannot match the power of the gods.
9.
Which of the following best describes the mood of "Enkidu's Dream of the
Underworld"?
a.
somber and realistic
c.
cheerful and lightheaded
b.
encouraging and sympathetic
d.
fearful and prophetic
10.
"Enkidu's Dream of the Underworld" suggests that Enkidu is
a.
afraid of being punished for his deeds
b.
hopeful of joining his friends after death
c.
unrepentant about the life he has lead
d.
preparing for his life after death
11.
What motivates Gilgamesh to seek out Utnapishtim?
a.
He knows Utnapishtim is the wisest man in the world
b.
He wants Utnapishtim to tell him how to become immortal
c.
He wants to avenge the death of his friend Enkidu
d.
He hopes to expand his kingdom
12.
How is Utnapishtim able to survive the flood?
a.
The other gods prevent Enlil from hurting him.
b.
Ea instructs Utnapishtim in a dream.
c.
Utnapishtim is immortal, so naturally he survives the flood.
d.
He asks Enlil to spare him.
13.
What can be inferred about the god Ea?
a.
Ea is a powerful, kindly figure.
b.
Ea has very little real power.
c.
Ea avoids conflicts whenever possible.
d.
Ea is a vengeful god.
14.
Which episode in the story is similar to other tales about a quest for eternal youth?
a.
the building of the ark
b.
the birds' exploration to find dry land
c.
the journey to find a special plant
d.
the serpent's betrayal
15.
What character trait does Utnapishtim show in "The Story of the Flood"?
a.
attention to detail
b.
reliance on others
c.
emotional reserve
d.
extreme caution
16.
What do the seven loaves seem to represent?
a.
people's constant need for food to survive
b.
the limitless desires of humans
c.
the fact that all earthly things age and die
d.
the power of the gods to control the harvests
17.
Which character traits does Gilgamesh show in this tale?
a.
fear and guilt
b.
simple-mindedness and impulsiveness
c.
steadfastness and courage
d.
passiveness and intolerance
18.
What is the tone at the end of this story?
a.
resignation
c.
b.
dejection
d.
elation
affirmation
19.
Why do the other gods object to Enlil's harsh punishment?
a.
The flood has destroyed the home of the gods
b.
The flood has nearly destroyed humanity
c.
Enlil is competing with Ea for control of the world
d.
The other gods dislike the warrior god Enlil
20.
What lesson does this story seem to impart?
a.
Many a hero has followed a foolish quest
b.
Immortality, though rarely bestowed, is a natural human goal
c.
Kings are nearly as powerful as the gods
d.
A human's desire for immortality cannot be realized
Fastwrite response:
Choose one of the following and respond in a well-constructed paragraph. Be sure your
paragraph is written in a scholarly tone with a clear topic sentence and evidence to
support your assertions.
1.
In what ways does Gilgamesh have qualities that you look for in a hero? In what ways
does he lack heroic qualities?
2.
Ultimately, what does the story tell us about what it means to be human? How do both
Gilgamesh and Enkidu change in ways that might help us answer that question?