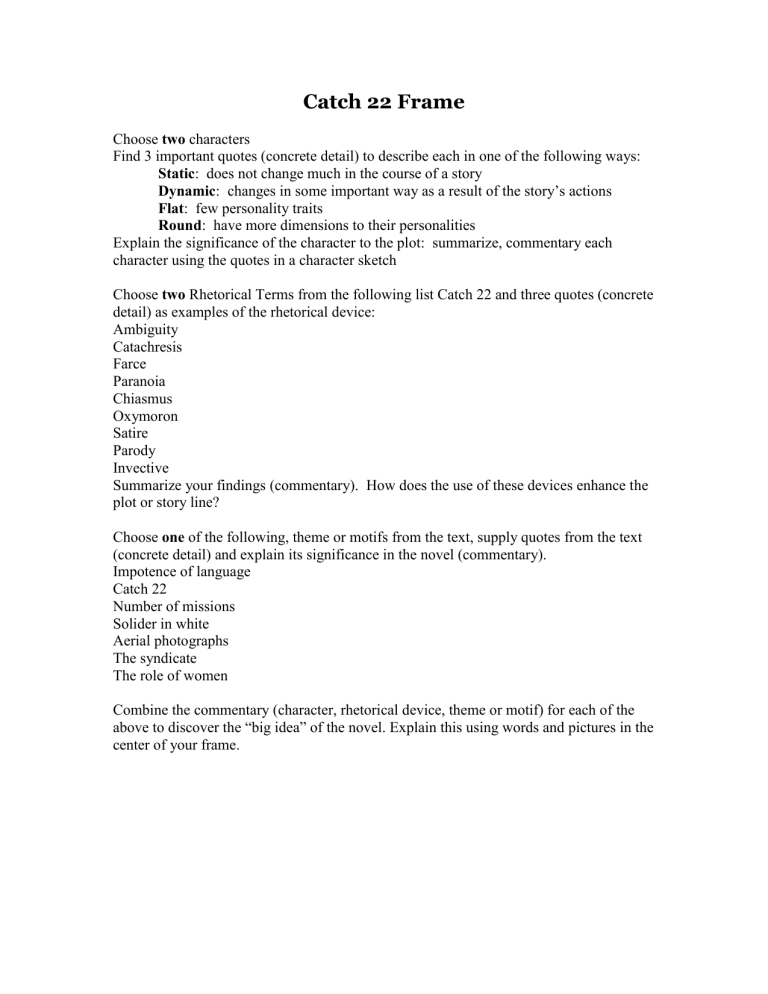 Catch 22 Frame
Choose two characters
Find 3 important quotes (concrete detail) to describe each in one of the following ways:
Static : does not change much in the course of a story
Dynamic
: changes in some important way as a result of the story's actions
Flat : few personality traits
Round : have more dimensions to their personalities
Explain the significance of the character to the plot: summarize, commentary each character using the quotes in a character sketch
Choose two Rhetorical Terms from the following list Catch 22 and three quotes (concrete detail) as examples of the rhetorical device:
Ambiguity
Catachresis
Farce
Paranoia
Chiasmus
Oxymoron
Satire
Parody
Invective
Summarize your findings (commentary). How does the use of these devices enhance the plot or story line?
Choose one of the following, theme or motifs from the text, supply quotes from the text
(concrete detail) and explain its significance in the novel (commentary).
Impotence of language
Catch 22
Number of missions
Solider in white
Aerial photographs
The syndicate
The role of women
Combine the commentary (character, rhetorical device, theme or motif) for each of the above to discover the "big idea" of the novel. Explain this using words and pictures in the center of your frame.