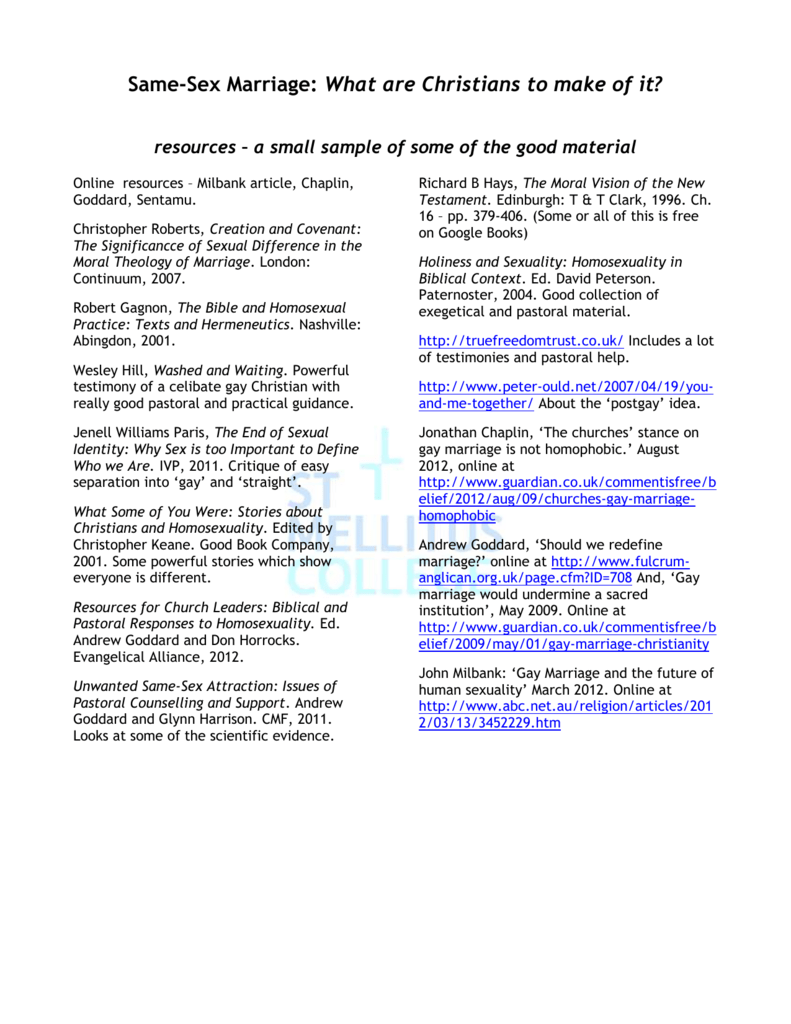 Same-Sex Marriage: What are Christians to make of it?
resources – a small sample of some of the good material
Online resources – Milbank article, Chaplin,
Goddard, Sentamu.
Christopher Roberts, Creation and Covenant:
The Significancce of Sexual Difference in the
Moral Theology of Marriage. London:
Continuum, 2007.
Robert Gagnon, The Bible and Homosexual
Practice: Texts and Hermeneutics. Nashville:
Abingdon, 2001.
Wesley Hill, Washed and Waiting. Powerful
testimony of a celibate gay Christian with
really good pastoral and practical guidance.
Jenell Williams Paris, The End of Sexual
Identity: Why Sex is too Important to Define
Who we Are. IVP, 2011. Critique of easy
separation into 'gay' and 'straight'.
What Some of You Were: Stories about
Christians and Homosexuality. Edited by
Christopher Keane. Good Book Company,
2001. Some powerful stories which show
everyone is different.
Resources for Church Leaders: Biblical and
Pastoral Responses to Homosexuality. Ed.
Andrew Goddard and Don Horrocks.
Evangelical Alliance, 2012.
Unwanted Same-Sex Attraction: Issues of
Pastoral Counselling and Support. Andrew
Goddard and Glynn Harrison. CMF, 2011.
Looks at some of the scientific evidence.
Richard B Hays, The Moral Vision of the New
Testament. Edinburgh: T & T Clark, 1996. Ch.
16 – pp. 379-406. (Some or all of this is free
on Google Books)
Holiness and Sexuality: Homosexuality in
Biblical Context. Ed. David Peterson.
Paternoster, 2004. Good collection of
exegetical and pastoral material.
http://truefreedomtrust.co.uk/ Includes a lot
of testimonies and pastoral help.
http://www.peter-ould.net/2007/04/19/youand-me-together/ About the 'postgay' idea.
Jonathan Chaplin, 'The churches' stance on
gay marriage is not homophobic.' August
2012, online at
http://www.guardian.co.uk/commentisfree/b
elief/2012/aug/09/churches-gay-marriagehomophobic
Andrew Goddard, 'Should we redefine
marriage?' online at http://www.fulcrumanglican.org.uk/page.cfm?ID=708 And, 'Gay
marriage would undermine a sacred
institution', May 2009. Online at
http://www.guardian.co.uk/commentisfree/b
elief/2009/may/01/gay-marriage-christianity
John Milbank: 'Gay Marriage and the future of
human sexuality' March 2012. Online at
http://www.abc.net.au/religion/articles/201
2/03/13/3452229.htm
What is same-sex attraction?
?
universal experience and permanent orientation (essentialism) – prioritises feelings
?
socially constructed (prioritises human society)
?
A choice? (prioritises human will)
No scientific consensus regarding its cause or moral consensus regarding its meaning
Explore for yourself – a selection of viewpoints
http://www.queerbychoice.com/
http://www.petertatchell.net/queer%20theory/beyond.htm
http://commentisfree.guardian.co.uk/peter_tatchell/2006/06/born_gay_or_made_gay.html
http://www.dailymail.co.uk/femail/article-1289652/How-I-went-committed-lesbian-happilymarried-mother-four.html (warning – Daily Mail link)
http://www.guardian.co.uk/stage/2003/jun/14/comedy.artsfeatures
http://www.thetimes.co.uk/tto/opinion/columnists/matthewparris/article3390885.ece
Theological answer: male/female gender identity is a beautiful gift of God in creation
-
same-sex attraction therefore a result of the Fall
-
this approaches prioritises the human body.
Scripture and Tradition: it's not just about proof texts

deep biblical pattern:
-
the image of God (Genesis 1:26-27)
-
importance of procreation (1:28)
-
but procreation is not the only factor (2:18-23)
-
human life is bodily, physical life (2:7)
-
male-female union is 'one flesh' (2:24) – the meaning and purpose of sex
-
beauty and integrity of sexuality 'without shame' (2:25)
-
desire is good but now fallen
-
unity and difference in marriage comes from Christ-church relation (Ephesians 5)
-
in Christ, marriage no longer the primary human community and solution to human
solitude (Matthew 22:23-33, Mark 3:31-25 and parallels, 1 Corinthians 7)
-
no marriage in new creation, but sexual difference continues (resurrected Jesus is
still a man)
-
and abiding significance for sexual difference because of bride-groom image for
Christ & church (Revelation 19)
Augustine's De bono conjugali: proles, fides and sacramentum - not three goods but one.

Read the big seven in this context: do they mean what they are sometimes taken to
mean?
-
Genesis 19 and Judges 19
-
Leviticus 18:22 and 20:13
-
Romans 1:26-27
-
1 Cor 6:9-11 and 1 Tim 1:9
My story, and a radically theological ethic

we are all sexual beings

sexuality defined by bodies not feelings: goodness of the body

'ex-gay' movement: seeking change in 'orientation' through prayer/counselling etc.

not 'ex-gay' but 'post-gay'
-
not healing or deliverance but discipleship and sanctification
Pastoral care
-
urgent need for recovery of positive ethic of celibacy
-
same sex attraction
-
same sex friendship
-
family life: adoption and fertility treatments
-
baptism
-
attending civil partnerships
-
C of E today: inclusion without approval (differentiating 'ordinary' Christians from those
in leadership/ordination)
Political Ethics
-
Is this a case of Christians seeking to impose the views of their particular subsection of
society on the whole of society?
-
The task and limits of government: whose is marriage?
-
How then should Christians make their case?