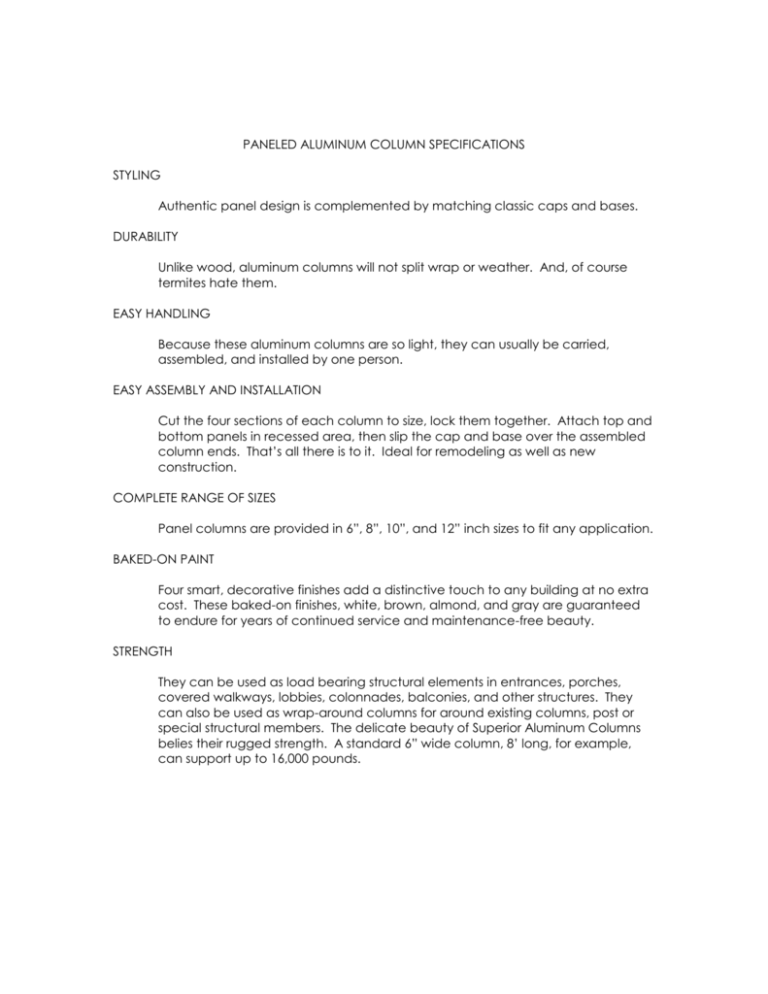 PANELED ALUMINUM COLUMN SPECIFICATIONS
STYLING
Authentic panel design is complemented by matching classic caps and bases.
DURABILITY
Unlike wood, aluminum columns will not split wrap or weather. And, of course
termites hate them.
EASY HANDLING
Because these aluminum columns are so light, they can usually be carried,
assembled, and installed by one person.
EASY ASSEMBLY AND INSTALLATION
Cut the four sections of each column to size, lock them together. Attach top and
bottom panels in recessed area, then slip the cap and base over the assembled
column ends. That's all there is to it. Ideal for remodeling as well as new
construction.
COMPLETE RANGE OF SIZES
Panel columns are provided in 6", 8", 10", and 12" inch sizes to fit any application.
BAKED-ON PAINT
Four smart, decorative finishes add a distinctive touch to any building at no extra
cost. These baked-on finishes, white, brown, almond, and gray are guaranteed
to endure for years of continued service and maintenance-free beauty.
STRENGTH
They can be used as load bearing structural elements in entrances, porches,
covered walkways, lobbies, colonnades, balconies, and other structures. They
can also be used as wrap-around columns for around existing columns, post or
special structural members. The delicate beauty of Superior Aluminum Columns
belies their rugged strength. A standard 6" wide column, 8' long, for example,
can support up to 16,000 pounds.