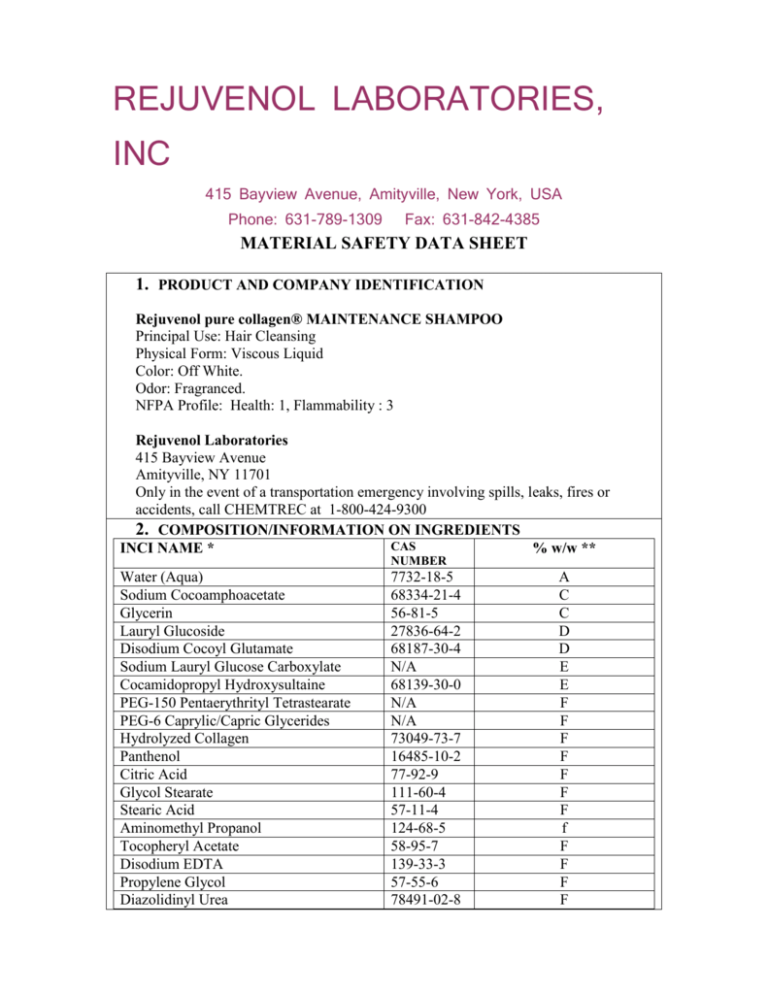 REJUVENOL LABORATORIES,
INC
415 Bayview Avenue, Amityville, New York, USA
Phone: 631-789-1309
Fax: 631-842-4385
MATERIAL SAFETY DATA SHEET
1. PRODUCT AND COMPANY IDENTIFICATION
Rejuvenol pure collagen® MAINTENANCE SHAMPOO
Principal Use: Hair Cleansing
Physical Form: Viscous Liquid
Color: Off White.
Odor: Fragranced.
NFPA Profile: Health: 1, Flammability : 3
Rejuvenol Laboratories
415 Bayview Avenue
Amityville, NY 11701
Only in the event of a transportation emergency involving spills, leaks, fires or
accidents, call CHEMTREC at 1-800-424-9300
2. COMPOSITION/INFORMATION ON INGREDIENTS
CAS
INCI NAME *
% w/w **
NUMBER
Water (Aqua)
Sodium Cocoamphoacetate
Glycerin
Lauryl Glucoside
Disodium Cocoyl Glutamate
Sodium Lauryl Glucose Carboxylate
Cocamidopropyl Hydroxysultaine
PEG-150 Pentaerythrityl Tetrastearate
PEG-6 Caprylic/Capric Glycerides
Hydrolyzed Collagen
Panthenol
Citric Acid
Glycol Stearate
Stearic Acid
Aminomethyl Propanol
Tocopheryl Acetate
Disodium EDTA
Propylene Glycol
Diazolidinyl Urea
7732-18-5
68334-21-4
56-81-5
27836-64-2
68187-30-4
N/A
68139-30-0
N/A
N/A
73049-73-7
16485-10-2
77-92-9
111-60-4
57-11-4
124-68-5
58-95-7
139-33-3
57-55-6
78491-02-8
A
C
C
D
D
E
E
F
F
F
F
F
F
F
f
F
F
F
F
Methylparaben
Propylparaben
Fragrance (Parfum)
99-76-3
94-13-3
N/A
F
G
F
(*) CTFA DICTIONARY
(**) FDA-CODE ( A= >50%, B= 25-50%, C= 10-25%, D= 5-10%, E= 1-5%, F=0.1-1%, G=<0.1%)
3.- Hazards Identification
Acute Effects
Eye:
Skin:
Inhalation:
Potential Effects
Direct contact may cause irritation
May cause slight Irritation.
Might cause Irritation of respiratory track if high concentrations
Of Mist or Spray are inhaled.
Oral:
May cause gastrointestinal irritation, nausea, vomiting, dizziness,
Confusion, drowsiness and diarrhea if large amounts are ingested.
Prolonged/Repeated Exposure Effects
Skin:
Not known at this time. May cause staining
Inhalation:
No known at this time. Possible sensitization to vapors.
Oral:
No known at this time.
Signs and Symptoms of Overexposure
None known
Medical Conditions Aggravated by Exposure
None Known
Carcinogenic Status
None Known
4.- First Aid Measures
First Aid Eyes:
Immediately flush eyes with plenty of water. After initial flushing, remove any contact
lenses and continue flushing for at least 15 min. Have eyes examined and treated by
medical personnel.
First Aid – Skin
Wash material off skin with plenty of water. If irritation develops, call a physician
First Aid – Ingestion
Do not induce Vomiting. Never give anything by mouth to an unconscious person,
Rinse out mouth and have patient drink several glasses of water. Call a physician.
First Aid – Inhalation
If affected, remove to fresh air.
5.- Fire Fighting Measures
Flash Point and Method
Will not flash.
Auto ignition Temperature
Not applicable
Explosive Limits
Not applicable
General Hazards
Material is considered to be Not flammable. In case of fire keep container cool with
water.
Extinguishing Media
Water, CO2, Dry Chemical Foam.
Fire Fighting Equipment
Self Contained breathing apparatus with full face piece and protective clothing.
6.-Containment and Cleanup
Store in cool Ventilated Space. Use only dry cloth to clean up. Do not use vacuum
system. Do not flush with water or allow product to enter water systems. Product may
be harmful to fish and wild life
7.-HANDLING and STORAGE
Wash thoroughly after handling this product. Always wash up before eating, smoking or
using the facilities. Avoid eye and skin contact. Avoid inhalation of aerosol, mist, spray,
fume or vapor. Avoid drinking, tasting, swallowing or ingesting this product.
8.-EXPOSURE CONTROLS/PERSONNEL PROTECTION
Component Exposure Limits: As per component composition.
All components are below allowable exposure limits under normal daily use by any
adult.