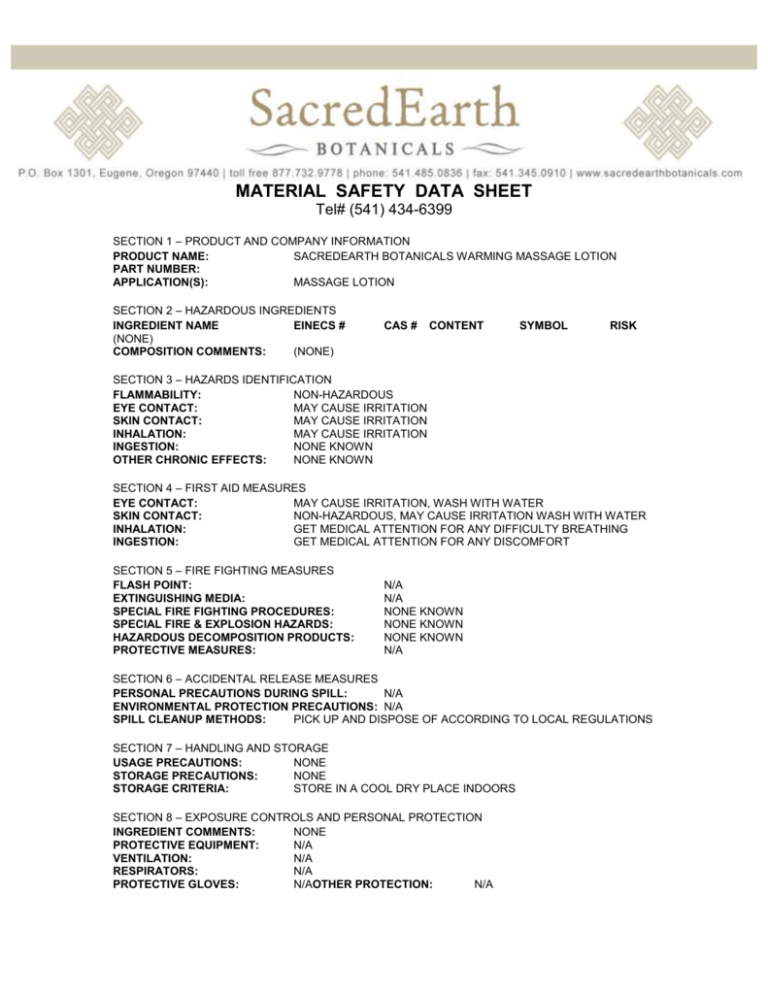 MATERIAL SAFETY DATA SHEET
Tel# (541) 434-6399
SECTION 1 – PRODUCT AND COMPANY INFORMATION
PRODUCT NAME:
SACREDEARTH BOTANICALS WARMING MASSAGE LOTION
PART NUMBER:
APPLICATION(S):
MASSAGE LOTION
SECTION 2 – HAZARDOUS INGREDIENTS
INGREDIENT NAME
EINECS #
(NONE)
COMPOSITION COMMENTS:
(NONE)
CAS #
CONTENT
SYMBOL
RISK
SECTION 3 – HAZARDS IDENTIFICATION
FLAMMABILITY:
NON-HAZARDOUS
EYE CONTACT:
MAY CAUSE IRRITATION
SKIN CONTACT:
MAY CAUSE IRRITATION
INHALATION:
MAY CAUSE IRRITATION
INGESTION:
NONE KNOWN
OTHER CHRONIC EFFECTS:
NONE KNOWN
SECTION 4 – FIRST AID MEASURES
EYE CONTACT:
MAY CAUSE IRRITATION, WASH WITH WATER
SKIN CONTACT:
NON-HAZARDOUS, MAY CAUSE IRRITATION WASH WITH WATER
INHALATION:
GET MEDICAL ATTENTION FOR ANY DIFFICULTY BREATHING
INGESTION:
GET MEDICAL ATTENTION FOR ANY DISCOMFORT
SECTION 5 – FIRE FIGHTING MEASURES
FLASH POINT:
EXTINGUISHING MEDIA:
SPECIAL FIRE FIGHTING PROCEDURES:
SPECIAL FIRE & EXPLOSION HAZARDS:
HAZARDOUS DECOMPOSITION PRODUCTS:
PROTECTIVE MEASURES:
N/A
N/A
NONE KNOWN
NONE KNOWN
NONE KNOWN
N/A
SECTION 6 – ACCIDENTAL RELEASE MEASURES
PERSONAL PRECAUTIONS DURING SPILL:
N/A
ENVIRONMENTAL PROTECTION PRECAUTIONS: N/A
SPILL CLEANUP METHODS:
PICK UP AND DISPOSE OF ACCORDING TO LOCAL REGULATIONS
SECTION 7 – HANDLING AND STORAGE
USAGE PRECAUTIONS:
NONE
STORAGE PRECAUTIONS:
NONE
STORAGE CRITERIA:
STORE IN A COOL DRY PLACE INDOORS
SECTION 8 – EXPOSURE CONTROLS AND PERSONAL PROTECTION
INGREDIENT COMMENTS:
NONE
PROTECTIVE EQUIPMENT:
N/A
VENTILATION:
N/A
RESPIRATORS:
N/A
PROTECTIVE GLOVES:
N/AOTHER PROTECTION:
N/A
SECTION 9 – PHYSICAL AND CHEMICAL PROPERTIES
APPEARANCE:
THICK WHITE TO OFF-WHITE CREAMY LOTION
ODOR:
MINTY CINNAMON
SOLUBILITY:
INSOLUBLE
SPECIFIC GRAVITY (WATER=1): 0.98-1.00
VOLATILE PERCENT:
85-90%
SECTION 10 – STABILITY AND REACTIVITY
STABILITY:
STABLE
CONDITIONS TO AVOID:
AVOID CONTACT WITH STRONG OXIDIZERS OR ALKALIS
HAZARDOUS POLYMERIZATION: WILL NOT OCCUR
SECTION 11 – TOXICOLOGICAL INFORMATION
INHALATION:
NONE KNOWN
INGESTION:
NONE KNOWN
SKIN:
MAY CAUSE IRRITATION, WASH WITH WATER
EYES:
MAY CAUSE IRRITATION, WASH WITH WATER
HEALTH WARNINGS:
NONE
ROUTE OF ENTRY:
N/A
MEDICAL SYMPTOMS:
N/A
MEDICAL CONSIDERATIONS:
N/A
SECTION 12 – ECOLOGICAL INFORMATION
ENVIRONMENTAL HAZARDS:
NONE KNOWN
SECTION 13 – DISPOSAL CONSIDERATIONS
DISPOSAL METHODS:
DISPOSE OF ACCORDING TO LOCAL REGULATIONS
SECTION 14 – TRANSPORT INFORMATION
ROAD:
NOT REGULATED
AIR:
NOT REGULATED
VESSEL:
NOT REGULATED
SECTION 15 – REGULATORY INFORMATION
LABEL FOR SUPPLY:
N/A
RISK PHRASES:
N/A
SAFETY PHRASES:
N/A
STATUTORY INSTRUMENTS:
N/A
CODE OF PRACTICE:
N/A
GUIDANCE NOTES:
N/A
SECTION 16 – OTHER INFORMATION
REVISION DATE:
15 SEPTEMBER 2009
NOTE: The data and recommendations herein are based on information available to us. No
express or implied warranty is given. Product is distributed without any warranty express or
implied. User assumes all risks and responsibility for distributing and marketing of this product.