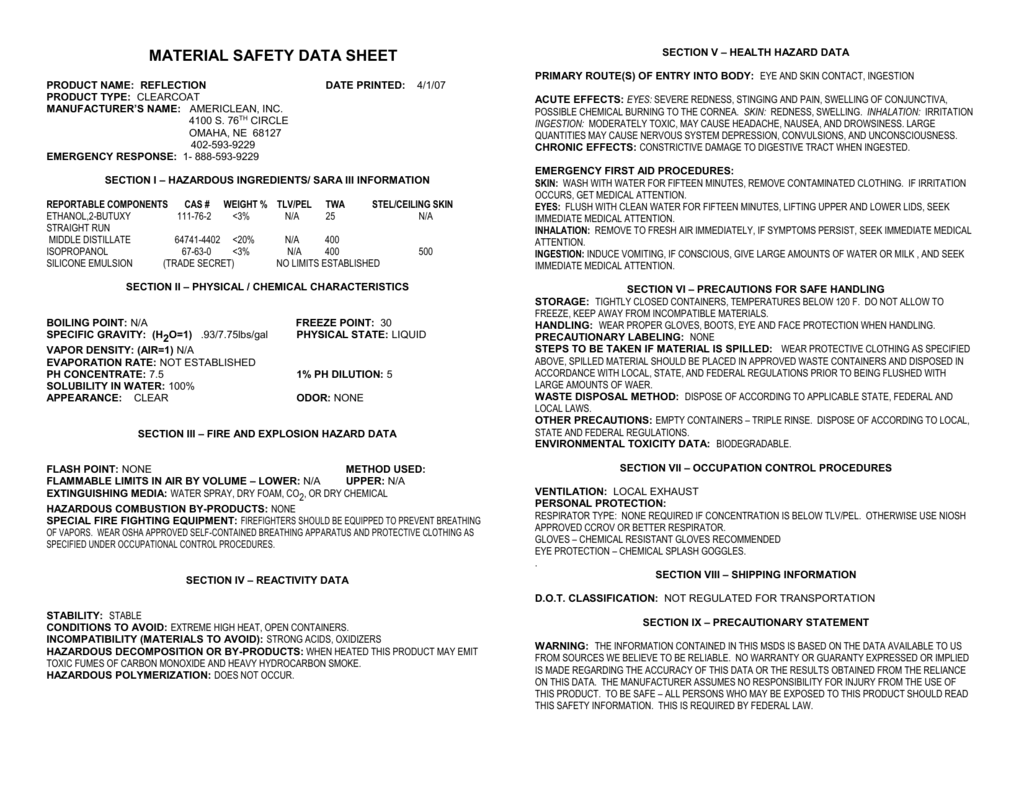 SECTION V – HEALTH HAZARD DATA
MATERIAL SAFETY DATA SHEET
PRODUCT NAME: REFLECTION
PRODUCT TYPE: CLEARCOAT
MANUFACTURER'S NAME: AMERICLEAN, INC.
4100 S. 76TH CIRCLE
OMAHA, NE 68127
402-593-9229
EMERGENCY RESPONSE: 1- 888-593-9229
DATE PRINTED:
4/1/07
ACUTE EFFECTS: EYES: SEVERE REDNESS, STINGING AND PAIN, SWELLING OF CONJUNCTIVA,
POSSIBLE CHEMICAL BURNING TO THE CORNEA. SKIN: REDNESS, SWELLING. INHALATION: IRRITATION
INGESTION: MODERATELY TOXIC, MAY CAUSE HEADACHE, NAUSEA, AND DROWSINESS. LARGE
QUANTITIES MAY CAUSE NERVOUS SYSTEM DEPRESSION, CONVULSIONS, AND UNCONSCIOUSNESS.
CHRONIC EFFECTS: CONSTRICTIVE DAMAGE TO DIGESTIVE TRACT WHEN INGESTED.
SECTION I – HAZARDOUS INGREDIENTS/ SARA III INFORMATION
REPORTABLE COMPONENTS
CAS # WEIGHT % TLV/PEL TWA
STEL/CEILING SKIN
ETHANOL,2-BUTUXY
111-76-2
<3%
N/A
25
N/A
STRAIGHT RUN
MIDDLE DISTILLATE
64741-4402 <20%
N/A
400
ISOPROPANOL
67-63-0
<3%
N/A
400
500
SILICONE EMULSION
(TRADE SECRET)
NO LIMITS ESTABLISHED
SECTION II – PHYSICAL / CHEMICAL CHARACTERISTICS
BOILING POINT: N/A
SPECIFIC GRAVITY: (H2O=1) .93/7.75lbs/gal
VAPOR DENSITY: (AIR=1) N/A
EVAPORATION RATE: NOT ESTABLISHED
PH CONCENTRATE: 7.5
SOLUBILITY IN WATER: 100%
APPEARANCE: CLEAR
PRIMARY ROUTE(S) OF ENTRY INTO BODY: EYE AND SKIN CONTACT, INGESTION
FREEZE POINT: 30
PHYSICAL STATE: LIQUID
1% PH DILUTION: 5
ODOR: NONE
SECTION III – FIRE AND EXPLOSION HAZARD DATA
FLASH POINT: NONE
METHOD USED:
FLAMMABLE LIMITS IN AIR BY VOLUME – LOWER: N/A
UPPER: N/A
EXTINGUISHING MEDIA: WATER SPRAY, DRY FOAM, CO2, OR DRY CHEMICAL
HAZARDOUS COMBUSTION BY-PRODUCTS: NONE
SPECIAL FIRE FIGHTING EQUIPMENT: FIREFIGHTERS SHOULD BE EQUIPPED TO PREVENT BREATHING
OF VAPORS. WEAR OSHA APPROVED SELF-CONTAINED BREATHING APPARATUS AND PROTECTIVE CLOTHING AS
SPECIFIED UNDER OCCUPATIONAL CONTROL PROCEDURES.
SECTION IV – REACTIVITY DATA
EMERGENCY FIRST AID PROCEDURES:
SKIN: WASH WITH WATER FOR FIFTEEN MINUTES, REMOVE CONTAMINATED CLOTHING. IF IRRITATION
OCCURS, GET MEDICAL ATTENTION.
EYES: FLUSH WITH CLEAN WATER FOR FIFTEEN MINUTES, LIFTING UPPER AND LOWER LIDS, SEEK
IMMEDIATE MEDICAL ATTENTION.
INHALATION: REMOVE TO FRESH AIR IMMEDIATELY, IF SYMPTOMS PERSIST, SEEK IMMEDIATE MEDICAL
ATTENTION.
INGESTION: INDUCE VOMITING, IF CONSCIOUS, GIVE LARGE AMOUNTS OF WATER OR MILK , AND SEEK
IMMEDIATE MEDICAL ATTENTION.
SECTION VI – PRECAUTIONS FOR SAFE HANDLING
STORAGE: TIGHTLY CLOSED CONTAINERS, TEMPERATURES BELOW 120 F. DO NOT ALLOW TO
FREEZE, KEEP AWAY FROM INCOMPATIBLE MATERIALS.
HANDLING: WEAR PROPER GLOVES, BOOTS, EYE AND FACE PROTECTION WHEN HANDLING.
PRECAUTIONARY LABELING: NONE
STEPS TO BE TAKEN IF MATERIAL IS SPILLED: WEAR PROTECTIVE CLOTHING AS SPECIFIED
ABOVE, SPILLED MATERIAL SHOULD BE PLACED IN APPROVED WASTE CONTAINERS AND DISPOSED IN
ACCORDANCE WITH LOCAL, STATE, AND FEDERAL REGULATIONS PRIOR TO BEING FLUSHED WITH
LARGE AMOUNTS OF WAER.
WASTE DISPOSAL METHOD: DISPOSE OF ACCORDING TO APPLICABLE STATE, FEDERAL AND
LOCAL LAWS.
OTHER PRECAUTIONS: EMPTY CONTAINERS – TRIPLE RINSE. DISPOSE OF ACCORDING TO LOCAL,
STATE AND FEDERAL REGULATIONS.
ENVIRONMENTAL TOXICITY DATA: BIODEGRADABLE.
SECTION VII – OCCUPATION CONTROL PROCEDURES
VENTILATION: LOCAL EXHAUST
PERSONAL PROTECTION:
RESPIRATOR TYPE: NONE REQUIRED IF CONCENTRATION IS BELOW TLV/PEL. OTHERWISE USE NIOSH
APPROVED CCROV OR BETTER RESPIRATOR.
GLOVES – CHEMICAL RESISTANT GLOVES RECOMMENDED
EYE PROTECTION – CHEMICAL SPLASH GOGGLES.
.
SECTION VIII – SHIPPING INFORMATION
D.O.T. CLASSIFICATION: NOT REGULATED FOR TRANSPORTATION
STABILITY: STABLE
CONDITIONS TO AVOID: EXTREME HIGH HEAT, OPEN CONTAINERS.
INCOMPATIBILITY (MATERIALS TO AVOID): STRONG ACIDS, OXIDIZERS
HAZARDOUS DECOMPOSITION OR BY-PRODUCTS: WHEN HEATED THIS PRODUCT MAY EMIT
TOXIC FUMES OF CARBON MONOXIDE AND HEAVY HYDROCARBON SMOKE.
HAZARDOUS POLYMERIZATION: DOES NOT OCCUR.
SECTION IX – PRECAUTIONARY STATEMENT
WARNING: THE INFORMATION CONTAINED IN THIS MSDS IS BASED ON THE DATA AVAILABLE TO US
FROM SOURCES WE BELIEVE TO BE RELIABLE. NO WARRANTY OR GUARANTY EXPRESSED OR IMPLIED
IS MADE REGARDING THE ACCURACY OF THIS DATA OR THE RESULTS OBTAINED FROM THE RELIANCE
ON THIS DATA. THE MANUFACTURER ASSUMES NO RESPONSIBILITY FOR INJURY FROM THE USE OF
THIS PRODUCT. TO BE SAFE – ALL PERSONS WHO MAY BE EXPOSED TO THIS PRODUCT SHOULD READ
THIS SAFETY INFORMATION. THIS IS REQUIRED BY FEDERAL LAW.