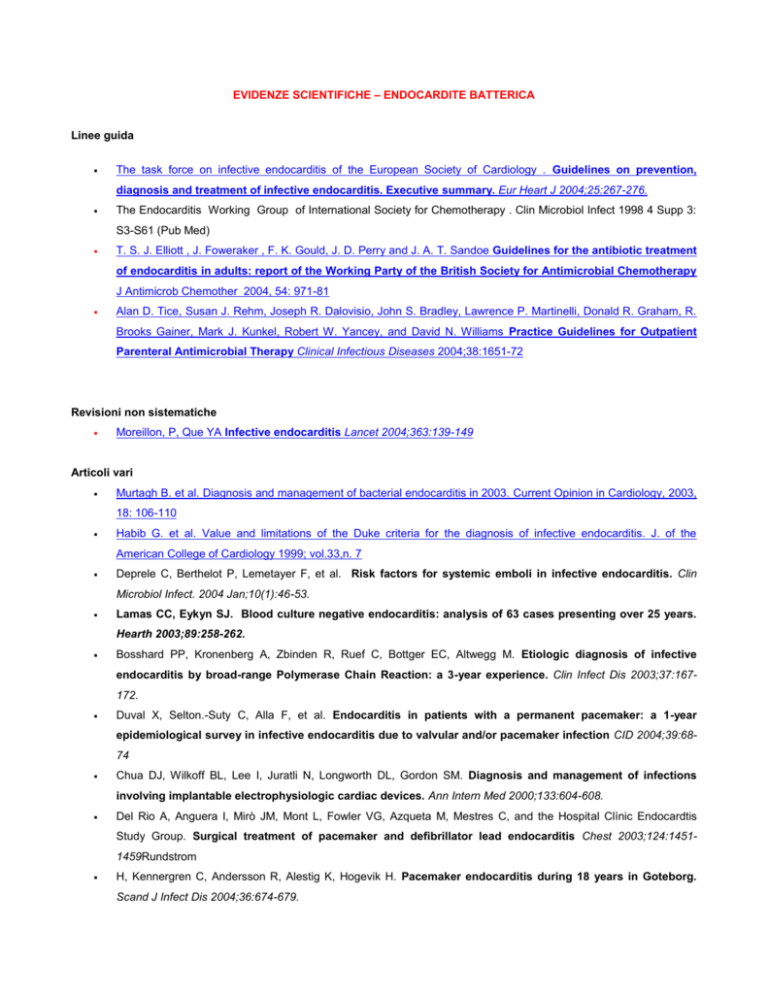 EVIDENZE SCIENTIFICHE – ENDOCARDITE BATTERICA
Linee guida

The task force on infective endocarditis of the European Society of Cardiology . Guidelines on prevention,
diagnosis and treatment of infective endocarditis. Executive summary. Eur Heart J 2004;25:267-276.

The Endocarditis Working Group of International Society for Chemotherapy . Clin Microbiol Infect 1998 4 Supp 3:
S3-S61 (Pub Med)

T. S. J. Elliott , J. Foweraker , F. K. Gould, J. D. Perry and J. A. T. Sandoe Guidelines for the antibiotic treatment
of endocarditis in adults: report of the Working Party of the British Society for Antimicrobial Chemotherapy
J Antimicrob Chemother 2004, 54: 971-81

Alan D. Tice, Susan J. Rehm, Joseph R. Dalovisio, John S. Bradley, Lawrence P. Martinelli, Donald R. Graham, R.
Brooks Gainer, Mark J. Kunkel, Robert W. Yancey, and David N. Williams Practice Guidelines for Outpatient
Parenteral Antimicrobial Therapy Clinical Infectious Diseases 2004;38:1651-72
Revisioni non sistematiche

Moreillon, P, Que YA Infective endocarditis Lancet 2004;363:139-149
Articoli vari

Murtagh B. et al. Diagnosis and management of bacterial endocarditis in 2003. Current Opinion in Cardiology, 2003,
18: 106-110

Habib G. et al. Value and limitations of the Duke criteria for the diagnosis of infective endocarditis. J. of the
American College of Cardiology 1999; vol.33,n. 7

Deprele C, Berthelot P, Lemetayer F, et al. Risk factors for systemic emboli in infective endocarditis. Clin
Microbiol Infect. 2004 Jan;10(1):46-53.

Lamas CC, Eykyn SJ. Blood culture negative endocarditis: analysis of 63 cases presenting over 25 years.
Hearth 2003;89:258-262.

Bosshard PP, Kronenberg A, Zbinden R, Ruef C, Bottger EC, Altwegg M. Etiologic diagnosis of infective
endocarditis by broad-range Polymerase Chain Reaction: a 3-year experience. Clin Infect Dis 2003;37:167172.

Duval X, Selton.-Suty C, Alla F, et al. Endocarditis in patients with a permanent pacemaker: a 1-year
epidemiological survey in infective endocarditis due to valvular and/or pacemaker infection CID 2004;39:6874

Chua DJ, Wilkoff BL, Lee I, Juratli N, Longworth DL, Gordon SM. Diagnosis and management of infections
involving implantable electrophysiologic cardiac devices. Ann Intern Med 2000;133:604-608.

Del Rio A, Anguera I, Mirò JM, Mont L, Fowler VG, Azqueta M, Mestres C, and the Hospital Clìnic Endocardtis
Study Group. Surgical treatment of pacemaker and defibrillator lead endocarditis Chest 2003;124:14511459Rundstrom

H, Kennergren C, Andersson R, Alestig K, Hogevik H. Pacemaker endocarditis during 18 years in Goteborg.
Scand J Infect Dis 2004;36:674-679.

Baddour LM, Bettmann MA, Bolger AF, et al. Nonvalvular cardiovascular device-related infections. Circulation
2003;108:2015-2031.

Baddour LM, Bettmann MA, Bolger AF, et al. Nonvalvular cardiovascular device-related infections. CID
2004;38:1128-

Rehm SJ. Outpatient intravenous antibiotic therapy endocarditis. Infect Dis Clin North Am 1998.12:879-901

Bayer et al. Diagnosis and Management of Infective Endocarditis and its complications. AHA Scientific Statement,
1998 December 22/29

Andrews MM, von Rejn CF. Patient selection criteria and management guidelines for outpatient parenteral
antibiotic therapy for native valve infective endocarditis. Clin Infect Dis 2001.33:203-209.