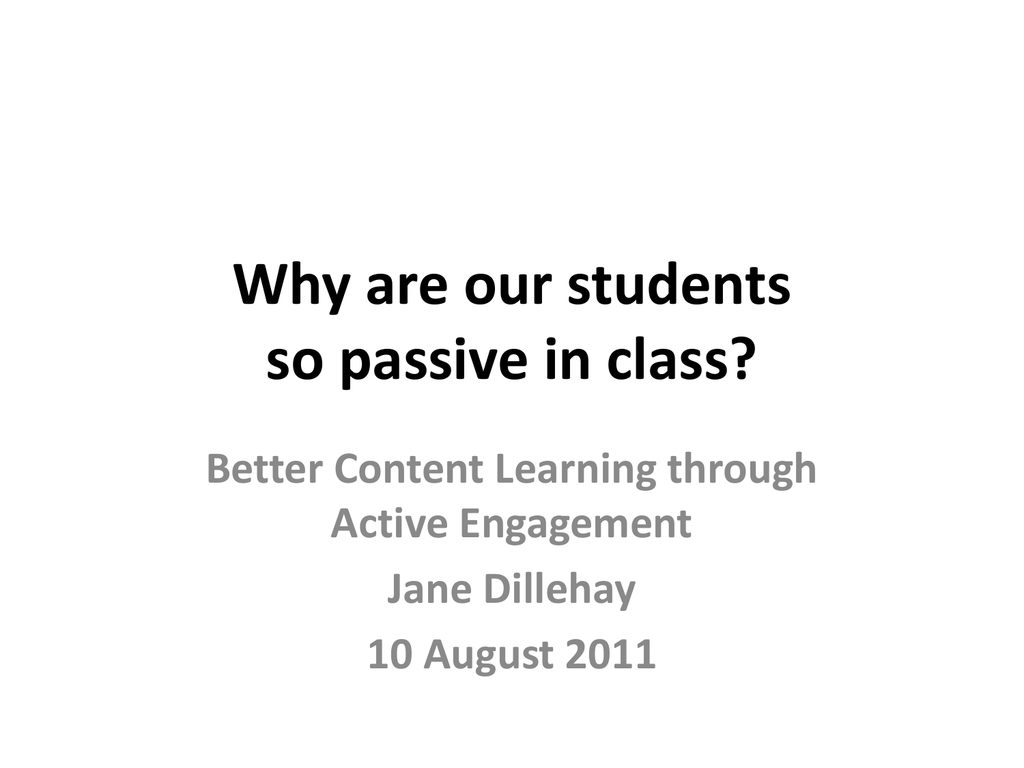 Why are our students
so passive in class?
Better Content Learning through
Active Engagement
Jane Dillehay
10 August 2011
Force of habit:
we teach the way we were taught
• 1998 survey of 172,000 faculty (1)
• 76% listed lecture as primary instructional
method = passive learning
• Current cognitive research leads to an
• Overwhelming number of strategies for active
engagement and learning which equals
• Faculty paralysis
http://www.myspace.com/video/vid/3
0092257
What is active learning?
• Students doing something besides attending a
lecture and taking notes.
• Students may be communicating or working
with each other, or writing, reading and
reflecting individually to learn and apply
course material.
• What is NOT active learning?
• Group study or group projects in which one or
two students do all the work.
Research shows that:
• Effect of active learning on memory after two
weeks:
• We remember 10% of what we read
•
30% of what we watch
•
90% of what we do
(2)
• "Fears that students who had less exposure to
lecture would learn less proved to be groundless"
(3)
Research also shows improvements:
•
•
•
•
•
•
•
Student-faculty interaction
Student-student interaction
Academic achievement
Communication skills
Higher-level thinking skills
Teamwork
Attitude towards the subject and motivation
to learn. (4,5)
Connection between
active engagement and SLOs?
•
•
•
•
•
Language and Communication
Critical Thinking
Identity and Culture
Knowledge and Inquiry
Ethics and Social Responsibility
Why does active learning work?
• Individual students may get stuck on a
problem and give up but groups tend to keep
going
• Students learn alternative problem-solving
strategies
• Students are more willing to ask and answer
questions among themselves
• Students learn best when they teach each
other
Why am I lecturing
about active learning?
• Time to get to work!
• Several specific examples of active learning
Activity 1 : How do you learn the rules of
citations?
Learn the abstract principles OR
Learn by experiencing concrete examples for
yourself?
Harvard style of citations (6)
•
Aardvark, J.R. (1980). Ants, and how to eat them. Journal of Orycteropodidae
Studies, 80, 11-17.
•
Barker, R. (1982). Rum babas, and what to do if you've got them. Reading:
Goodnight From Him.
•
Izzard, E. (1998). Cake or Death? Gateaunomics, 10, 195-196.
•
Lemur, R.-T. (2010). Strepsirrhinoplasty. Antananarivo: Rift Press.
•
Ofleberger, E. (1996). Die Wesentlichen Ungewissheiten Zugehorig der
Offenkundigen Mannlichkeit. Berlin: Bildungsverlag.
•
Shorty, G. (in press). Okay, so they got me. Los Angeles: Cadillac.
What are the rules for organizing this reference list? Identify five rules.
Some rules for
Harvard style citations
• Surname followed by initials.
• (Year of publication).
• Title of article.
• Title of journal (italics), its volume (italics),
page numbers.
Activity 2. Writing a lab report
•
•
•
•
•
•
What are the steps of the scientific method?
Observation
Hypothesis
Experiment
Results
Conclusion
Activity 2
•
•
•
•
•
•
•
•
•
What are the steps of the lab report?
Title
Abstract
Introduction
Methodology
Results
Discussion
Conclusion
Literature Cited
To help you get started
• TITLE: Analysis of the distribution of cats per
car: an illustration of the mutual exclusivity
principle.
Activity 3: Pop quiz and memory test
• What % of faculty use lecture as the primary
method of instruction?
• 76%
• We remember _ % of what we read
•
__% of what we watch
•
__% of what we do
What have we learned so far?
• What are our concerns about active learning?
• Student academic preparation:
– Reading level and textbook
– Work ethic and class preparation
• The activities are fun but use up limited class
time
- Just a few minutes of active learning  major
differences in learning
And?
• I have a professional obligation to cover
content
- Active learning and memory
30% of what we watch
90% of what we do
• My course content does not fit these activities
- Review your lectures and think of some
things you want to ask your students
And?
• Students don't like it
– Tell them why you are doing this
– Improved learning and better grades
• Lecturing is easy
– Learning curve – start with small and simple
activities
– It takes time to develop your competence in active
learning
Common mistakes
• Keep activities short (3-5 minutes)
– Too much time is a waste of class time
– Some finish in 3 minutes, others take forever
• Don't call for volunteers to respond
– If students know that anyone may be called to
answer, they will do their best to be ready.
Your turn!
• Plan an activity for a course you will teach this
fall.
• Pick an active learning approach (next slide)
and develop an activity.
• Report back in five minutes to the class with
your idea.
Some active learning approaches
• Think-pair-share
– Individual work  pair up to discuss  share with
class
• Multiple choice question
– Small group discussion to choose correct answer
• Thinking-aloud pair problem solving
– Explainer and questioner
What have you learned now?
• Planning for fall semester – try ONE thing!
• Develop one activity for each class to support
a course concept
Time to wrap up
• Q and A TIME – any questions? Comments?
References
1. Finkelstein, M.J., R.K. Seal, and J. Schuster.
1998. The New Academic Generation: A
Profession in Transformation. Baltimore: The
John Hopkins University Press.
2.
http://courses.science.fau.edu/~rjordan/active_l
earning.htm
References
3. Lewis, S.E. and J.E. Lewis. 2005. Departing
form Lectures: An Evaluation of a Peer-Led
Guided Inquiry Alternative. Journal of
Chemical Education 82(1):135-39.
4. Barkley, E. 2010. Student Engagement
Techniques. Jossey-Bass. San Francisco
5. Prince, M. 2004. Does Active Learning Work?
A Review of the Research. Journal of
Engineering Education 93(3);223-31.
References
6.
http://finiteattentionspan.wordpress.com/2010/
12/08/getting-learners-to-build-thingsthemselves-out-of-concrete-examples-that-is/
Other sources
• Silberman, M. 2005. 101 Ways to Make
Training Active. Pfeiffer, San Francisco.
• Bean, J. 1996. Engaging Ideas. Jossey-Bass,
San Francisco.
• Blumberg, P. 2009. Developing LearnerCentered Teaching. Jossey-Bass, San
Francisco.