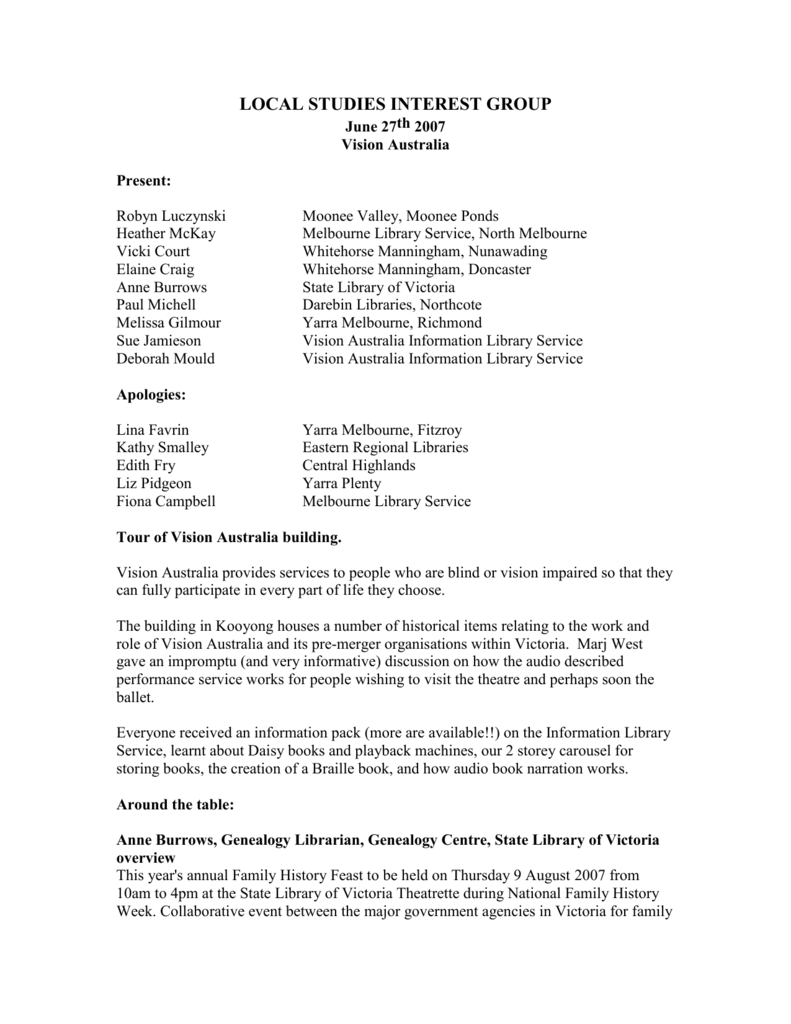 LOCAL STUDIES INTEREST GROUP
June 27th 2007
Vision Australia
Present:
Robyn Luczynski
Heather McKay
Vicki Court
Elaine Craig
Anne Burrows
Paul Michell
Melissa Gilmour
Sue Jamieson
Deborah Mould
Moonee Valley, Moonee Ponds
Melbourne Library Service, North Melbourne
Whitehorse Manningham, Nunawading
Whitehorse Manningham, Doncaster
State Library of Victoria
Darebin Libraries, Northcote
Yarra Melbourne, Richmond
Vision Australia Information Library Service
Vision Australia Information Library Service
Apologies:
Lina Favrin
Kathy Smalley
Edith Fry
Liz Pidgeon
Fiona Campbell
Yarra Melbourne, Fitzroy
Eastern Regional Libraries
Central Highlands
Yarra Plenty
Melbourne Library Service
Tour of Vision Australia building.
Vision Australia provides services to people who are blind or vision impaired so that they
can fully participate in every part of life they choose.
The building in Kooyong houses a number of historical items relating to the work and
role of Vision Australia and its pre-merger organisations within Victoria. Marj West
gave an impromptu (and very informative) discussion on how the audio described
performance service works for people wishing to visit the theatre and perhaps soon the
ballet.
Everyone received an information pack (more are available!!) on the Information Library
Service, learnt about Daisy books and playback machines, our 2 storey carousel for
storing books, the creation of a Braille book, and how audio book narration works.
Around the table:
Anne Burrows, Genealogy Librarian, Genealogy Centre, State Library of Victoria
overview
This year's annual Family History Feast to be held on Thursday 9 August 2007 from
10am to 4pm at the State Library of Victoria Theatrette during National Family History
Week. Collaborative event between the major government agencies in Victoria for family
history research - Public Record Office Victoria, National Archives of Australia
(Victorian Office), State Library of Victoria and Victorian Registry of Births, Deaths and
Marriages.
Venue Village Roadshow Theatrette, State Library of Victoria, Entrance 3, LaTrobe
Street, Melbourne
Cost Free
Bookings are essential. Telephone 03 9348 5600, or email [email protected].au
Program
9.30am
Doors open
10.00am -10.15am
Welcome CEO & State Librarian
10.15am - 10.45am
Is there a doctor in your family tree? Stephen Due, Editor, Australian
Medical Pioneers Index
10.45am - 11.30am
VicHeritage at Registry of Births, Deaths and Marriages: overview of
current projects Anne Levens, VicHeritage, Projects Manager, Registry
of Births, Deaths and Marriages
11.30am - 12.15pm
What's new at PROV in 2007: online and in the Reading Rooms Shauna
Hicks, Senior Manager, Access Services, Public Record Office Victoria
12.15pm - 1.15pm
Lunch (own expense)
1.15pm - 2.00pm
Service dossiers and other defence and personnel records in National
Archives of Australia Anne Piggott, Assistant Director, Public &
Reader Services, National Archives of Australia
2.00pm - 2.45pm
Newspapers, history and research: an online guide to the State Library
of Victoria Newspaper Collection Tim Hogan, Newspaper Librarian,
State Library of Victoria
2.45pm – 3.45pm
Introduction to Victorian Association of Family History Organisations
(VAFHO) and the Don Grant Lecture Jenny Harkness, VAFHO
President 2007
Don Grant Lecture - Speed-relating: family history in a digital age
Graeme Davison, Sir John Monash Distinguished Professor, School of
Historical Studies, Monash University
3.45pm - 4.00pm
Conclusion
IFLA Genealogy and Local History Section Standing Committee membership
In April this year I was elected on to the Standing Committee of this Section. I will be
attending the 2007 IFLA Congress and Standing Committee meetings in Durban from 18
to 24 August. Theme of combined session with Audiovisual and Multimedia i "Stories
without writing : local and family history beyond the written word". Registration forms
etc will be placed on Infonet.
VAFHO Conference 2008
Will be held from 2 to 4 May 2008 in Inverloch.
Elaine Craig - Whitehorse Manningham, Doncaster
Elaine has now returned full time to Doncaster after her knee injury.
Shoppingtown Library is no more, having been bulldozed in the redevelopment of
Westfield Doncaster. The new Doncaster Library is functioning well, but is unfortunately
experiencing greatly reduced usage. (Figures down from 900 a day to less than 300) The
library will not be returning to Westfield when the redevelopment is complete, Westfield
has given Manningham Council M$3.25 for a new building, which is planned to be near
the Council offices, on Doncaster Road.
Numbers using the genealogy collection are slowly returning.
Vermont South library was closed for refurbishment, new carpet, repainting in and out,
new I Desk and height of the Circulation Desk raised as well new end boards to shelving
bays and new signage,.
Whitehorse Manningham has subscribed to Ancestry.com beginning in July.
Heather McKay – Melbourne Library Service, Richmond
North Melbourne library is still attempting to transfer its Inmagic database on to its main
catalogue. The City of Melbourne IT people believe it can be done by transferring to
Excel then to Dynix, but we are still working on access to the database.
Melissa Gilmour – Yarra Libraries, North Melbourne
Our major focus has been the splitting up of Yarra Melbourne Regional Library to
become Yarra Libraries and Melbourne Library Service. It has gone reasonably
smoothly under the circumstances but is requiring a certain adjustment for us, changing
from a smallish independent organisation to being part of a large bureaucracy.
Marie Linton, who was local history coordinator, has gone up in the world, and is now
one of the library's senior management team, based at Richmond Town Hall. Local
history at Yarra is now being co-ordinated by Mia Mikin. Other staff concerned with
local history at Yarra are myself, Melissa Gilmour (Mon-Thurs), and Allison Newman
(Fridays) at Richmond, Andrew Hooper at Carlton, Anthony Tonna at Collingwood, Lina
Favrin at Fitzroy and Carol Clearwater at North Fitzroy.
The highlight for local history at Richmond Library so far this year was a terrific talk in
March given by David Potts (who published The myth of the great Depression last year)
and Janet McCalman, moderated by David Langdon of the Richmond and Burnley
Historical Society. It provoked very stimulating discussion, and about 60 people
squeezed into the space between the fiction shelves and the paper back stands to listen
and contribute.
Paul Michel – Darebin, Northcote
Manager, Katrina Knox, has temporarily taken over as Manager Cultural & Leisure
Services with City of Darebin. Margherita Barbante and Gary Edge are now sharing the
manager's position.
Last Thursday attended Collections Development meeting at Kew Library where Local
Studies collections was discussed. Diversification of collections and difficulties /
advantages of working with local history groups.
Digitising of Leader newspaper continues with 1933 and 1934 digitised from microfilm
in addition to 2006.
The Darebin Historical Encyclopaedia has been short-listed for a Community History
award; wwwdhe.darebinlibraries.vic.gov.au
In September presenting some programs including local history and family history.
In July new Gulliver package takes effect. Some new on-line resources.
From July I move to Reservoir library for a twelve month stint as the Info Services team
moves around.
Internet classes continue to be in high demand with an average of three week wait. Still
waiting to go on-line for bookings;
Darebin Libraries with Moreland have been successful in receiving a grant for oral
History project.
Family History continues to be popular with often two of the four PC's being used.
Just back from overseas trip to Japan and China. Japan is nothing like what people talk
about. See blog at: paulmichell.blog.com
Robyn Luczynski – Moonee Valley, Moonee Ponds
Re-furbishing of Flemington Library has been completed and the Sam Merrifield Library
will be re-furbished in September, subject to approval of the budget. Hoping to
replace/upgrade the microfilm reader in the Local History Room in the next financial
year.
Rita Hardy has commenced as the Home Services Librarian at Sam Merrifield Library
and Michael Smith is the new Team Manager at Milleara Library.
Events – Kristin Otto will be giving a talk about her book, "Yarra: a diverting history of
Melbourne's murky river", at the Sam Merrifield Library, Tuesday August 7th at 7pm.
Family History for the 21st century, as part of Family History Week – Digitise your
memories, Hisham Attia will be presenting a 90 minute workshop on the basic concepts
of digital story-telling, at the Sam Merrifield Library, Saturday, August 11th from 2pm to
4pm.
New Resources – Ancestry Genealogical Database, Times Digital Archive 1785-1985,
Price It! Antiques and Collectibles.
Vicki Court – Whitehorse Manningham, Nunawading
Whitehorse Heritage Week will be held in September to coincide with celebrations of
150 years of local government in the area now known as Whitehorse. Events will include
walks and cemetery tours conducted by historical societies plus a bus tour. At
Nunawading Library there will be a display on the history of library service in the area
and an information session – Discovering Whitehorse Heritage Online.
Royal Historical Society of Victoria
Thirteen societies now have entries in the Victorian Local History Database with at least
another two planning to submit entries.
The next History Victoria Support Group Seminar Day will be at the RHSV – 239
A'Beckett Street, Melbourne on Saturday 7 July – the theme for the day is Building
Bridges – Networking in the Community and will explore the interaction between
historical societies and local government, libraries and peak bodies. In the afternoon Pam
Enting, Anne Kershaw and Karlie Hawking will speak about community projects
including the Regional Hubs pilot and the report – Towards a Community Museum
revitalisation Strategy for Victoria.
The next RHSV book sale is on Sunday 29 July
Picture Victoria
The problem accessing the photographer field via a search in Picture Australia should
now be rectified
2007 meetings
Please note possible date change of last 2007 meeting!
Nov 28 – Genealogical Society of Victoria (Elaine Craig to confirm)
Cafe in the same building is La Cucina café ph 9662 2444 www.lacucinacafe.com.au
Suggestions for 2008 program.
Shrine of Remembrance (Elaine)
St John's Library and Museum
Fire Services Museum (Heather)
Koori Heritage Trust (Vicki)
Next meeting:
Sept 19 & 20th – 2 day program in Ballarat. (Details to follow.)
Train travel recommended ($27.80 return) with trains departing at the reasonable times of
8.10am and 9.08am from Southern Cross with returns at 3.02pm or 4pm from Ballarat
(arriving 4.27pm or 5.32pm respectively).