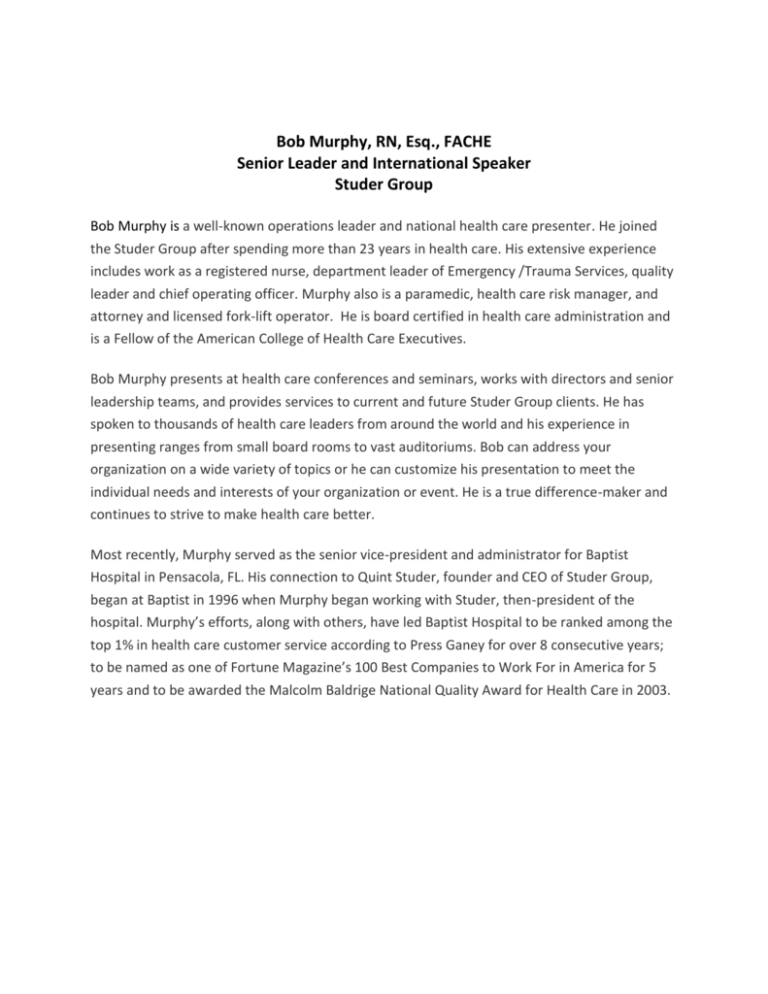 Bob Murphy, RN, Esq., FACHE
Senior Leader and International Speaker
Studer Group
Bob Murphy is a well-known operations leader and national health care presenter. He joined
the Studer Group after spending more than 23 years in health care. His extensive experience
includes work as a registered nurse, department leader of Emergency /Trauma Services, quality
leader and chief operating officer. Murphy also is a paramedic, health care risk manager, and
attorney and licensed fork-lift operator. He is board certified in health care administration and
is a Fellow of the American College of Health Care Executives.
Bob Murphy presents at health care conferences and seminars, works with directors and senior
leadership teams, and provides services to current and future Studer Group clients. He has
spoken to thousands of health care leaders from around the world and his experience in
presenting ranges from small board rooms to vast auditoriums. Bob can address your
organization on a wide variety of topics or he can customize his presentation to meet the
individual needs and interests of your organization or event. He is a true difference-maker and
continues to strive to make health care better.
Most recently, Murphy served as the senior vice-president and administrator for Baptist
Hospital in Pensacola, FL. His connection to Quint Studer, founder and CEO of Studer Group,
began at Baptist in 1996 when Murphy began working with Studer, then-president of the
hospital. Murphy's efforts, along with others, have led Baptist Hospital to be ranked among the
top 1% in health care customer service according to Press Ganey for over 8 consecutive years;
to be named as one of Fortune Magazine's 100 Best Companies to Work For in America for 5
years and to be awarded the Malcolm Baldrige National Quality Award for Health Care in 2003.