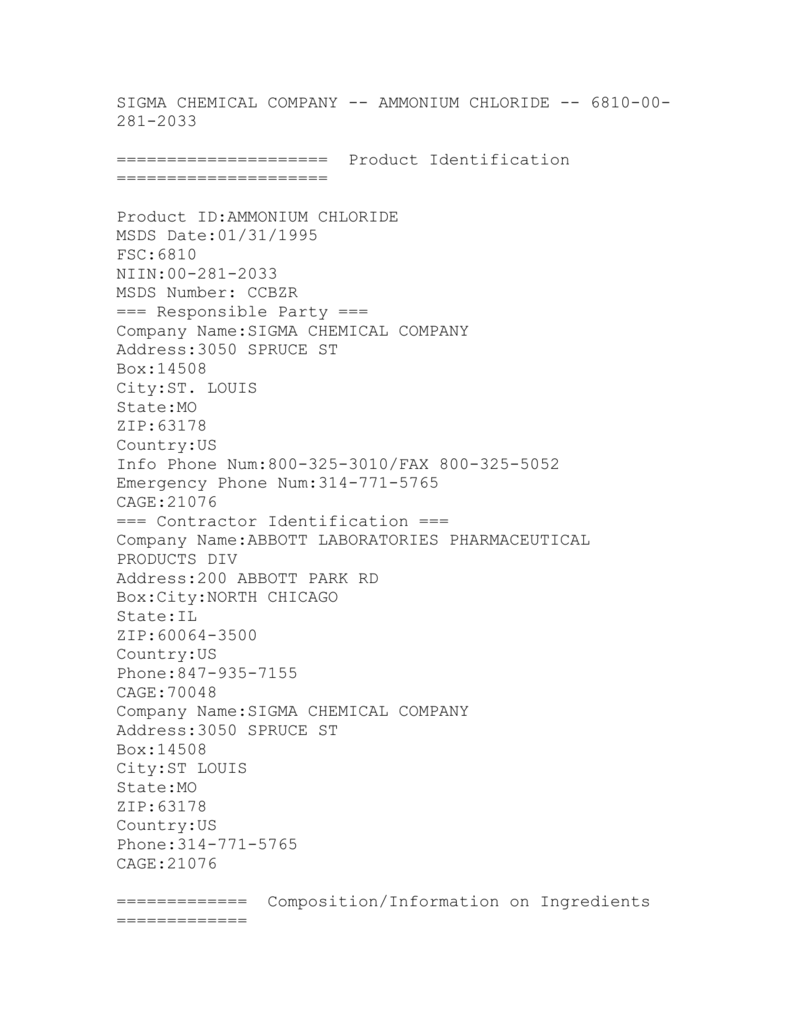 SIGMA CHEMICAL COMPANY -- AMMONIUM CHLORIDE -- 6810-00281-2033
=====================
=====================
Product Identification
Product ID:AMMONIUM CHLORIDE
MSDS Date:01/31/1995
FSC:6810
NIIN:00-281-2033
MSDS Number: CCBZR
=== Responsible Party ===
Company Name:SIGMA CHEMICAL COMPANY
Address:3050 SPRUCE ST
Box:14508
City:ST. LOUIS
State:MO
ZIP:63178
Country:US
Info Phone Num:800-325-3010/FAX 800-325-5052
Emergency Phone Num:314-771-5765
CAGE:21076
=== Contractor Identification ===
Company Name:ABBOTT LABORATORIES PHARMACEUTICAL
PRODUCTS DIV
Address:200 ABBOTT PARK RD
Box:City:NORTH CHICAGO
State:IL
ZIP:60064-3500
Country:US
Phone:847-935-7155
CAGE:70048
Company Name:SIGMA CHEMICAL COMPANY
Address:3050 SPRUCE ST
Box:14508
City:ST LOUIS
State:MO
ZIP:63178
Country:US
Phone:314-771-5765
CAGE:21076
=============
=============
Composition/Information on Ingredients
Ingred Name:AMMONIUM CHLORIDE (CERCLA)
CAS:12125-02-9
RTECS #:BP4550000
Fraction by Wt: 100% %
Other REC Limits:NONE RECOMMENDED
OSHA PEL:10 MG/M3
ACGIH TLV:10 MG/M3 FUME; 9596
EPA Rpt Qty:5000 LBS
DOT Rpt Qty:5000 LBS
=====================
=====================
Hazards Identification
LD50 LC50 Mixture:ORAL LD50 (RAT): 1650 MG/KG
Routes of Entry: Inhalation:YES Skin:YES
Ingestion:YES
Reports of Carcinogenicity:NTP:NO
IARC:NO OSHA:NO
Health Hazards Acute and Chronic:HARMFUL IF SWALLOWED.
MAY BE HARMFUL
IF INHALED. MAY BE HARMFUL IF ABSORBED THROUGH THE
SKIN. CAUSES
SEVERE EYE IRRITATION. CAUSES SKIN IRRITATAION.
MATERIAL IS
IRRITATING TO MUCOUS MEMBRANES AND UPPE R
RESPIRATORY TRACT.
Explanation of Carcinogenicity:THIS COMPOUND CONTAINS
NO INGREDIENTS AT
CONCENTRATIONS OF 0.1% OR GREATER THAT ARE
CARCINOGENS OR SUSPECT
CARCINOGENS.
Effects of Overexposure:EYE IRRITATION, SKIN
IRRITATION, IRRITATION OF
THE MUCOUS MEMBRANES, UPPER RESPIRATORY TRACT
IRRITATION.
Medical Cond Aggravated by Exposure:NONE SPECIFIED BY
MANUFACTURER.
=======================
=======================
First Aid Measures
First Aid:EYES: FLUSH WITH WATER FOR 15 MINUTES WHILE
HOLDING EYELIDS
OPEN. GET MEDICAL ATTENTION. SKIN: REMOVE
CONTAMINATED CLOTHING.
WASH WITH SOAP AND WATER. IF IRRITATION PERSIST,
GET MEDICAL
ATTENTION. INH ALATION: REMOVE TO FRESH AIR.
RESTORE BREATHING. GET
MEDICAL ATTENTION. INGESTION: WASH OUT MOUTH WITH
WATER PROVIDED
PERSON IS CONCSIOUS. CALL A PHYSICIAN.
=====================
=====================
Fire Fighting Measures
Flash Point:NONFLAMMABLE
Lower Limits:NOT GIVEN
Upper Limits:NOT GIVEN
Extinguishing Media:NONFLAMMABLE. USE EXTINGUISHING
MEDIA SUITABLE FOR
SURROUNDING FIRE.
Fire Fighting Procedures:FIRE FIGHTERS SHOULD WEAR SELF
CONTAINED
BREATHING APPARATUS AND FULL PROTECTIVE GEAR.
Unusual Fire/Explosion Hazard:EMITS TOXIC FUMES UNDER
FIRE CONDITIONS.
==================
==================
Accidental Release Measures
Spill Release Procedures:WEAR SELF-CONTAINED BREATHING
APPARATUS,
RUBBER BOOTS AND HEAVY RUBBER GLOVES. SWEEP UP,
PLACE IN A BAG AND
HOLD FOR WASTE DISPOSAL. AVOID RAISING DUST.
VENTILATED AREA AND
WASH SPILL SITE AFTER MATER IAL PICKUP IS COMPLETE.
Neutralizing Agent:NONE SPECIFIED BY MANUFACTURER.
====================== Handling and Storage
======================
Handling and Storage Precautions:INCOMPATIBLE WITH LEAD
AND SILVER
SALTS. FORMS EXPLOSIVE MIXTURES WITH POTASSIUM
CHLORATE. KEEP
TIGHTLY CLOSED. STORE IN A COOL, DRY PLACE.
Other Precautions:REACTS VIGOROUSLY WITH BROMINE
TRIFLUORIDE AND
BROMINE PENTAFLUORIDE. DO NOT BREATHE DUST. AVOID
CONTACT WITH
EYES, SKIN AND CLOTHING. AVOID PROLONGED CONTACT OR
REPEATED
EXPOSURE. WASH THOROUGHLY AFT ER HANDLING.
=============
=============
Exposure Controls/Personal Protection
Respiratory Protection:WEAR APPROPRIATE NIOSH/MSHAAPPROVED RESPIRATOR.
Ventilation:LOCAL EXHAUST AND MECHANICAL (GENERAL)
VENTILATION AS
REQUIRED TO MAINTAIN EXPOSURE LEVELS.
Protective Gloves:CHEMICAL-RESISTANT GLOVES
Eye Protection:SAFETY GOGGLES
Other Protective Equipment:CHEMICAL RESISTANT CLOTHING
AS NECESSARY TO
PREVENT SKIN CONTACT. AN EMERGENCY EYEWASH AND
SHOWER SHOULD BE
AVAILABLE.
Work Hygienic Practices:WASH HANDS THOROUGHLY WITH SOAP
AND WATER
BEFORE EATING, DRINKING, SMOKING OR USING TOILET
FACILITIES.
Supplemental Safety and Health
MFR RECOMMENDS FOR DISPOSAL OF SMALL QUANTITIES:
CAUTIOUSLY ADD TO A
LARGE STIRRED EXCESS OF WATER. ADJUST THE PH TO
NEUTRAL, SEPARATE
ANY INSOLUBLE SOLIDS OR LIQUIDS AND PACKAGE THEM
FOR HAZARDOUS WA
STE DISPOSAL. FLUSH THE AQUEOUS SOLUTION DOWN THE
DRAIN WITH PLENTY
OF WATER. CHECK WITH LOCAL AUTHORITIES FIRST.
==================
==================
Physical/Chemical Properties
HCC:N1
Boiling Pt:B.P. Text:NOT GIVEN
Melt/Freeze Pt:M.P/F.P Text:NOT GIVEN
Vapor Pres:1
Vapor Density:1.9
Spec Gravity:1.530
Evaporation Rate & Reference:NOT GIVEN
Solubility in Water:NOT GIVEN
Appearance and Odor:WHITE CRYSTALLINE POWDER, ODOR NOT
SPECIFIED
=================
=================
Stability and Reactivity Data
Stability Indicator/Materials to Avoid:YES
STRONG ACIDS, STRONG BASES.
Stability Condition to Avoid:NONE SPECIFIED BY
MANUFACTURER.
Hazardous Decomposition Products:HYDROGEN CHLORIDE GAS,
AMMONIA.
====================
====================
Disposal Considerations
Waste Disposal Methods:PREVENT WASTE FROM CONTAMINATING
SURROUNDING
ENVIRONMENT. DISCARD ANY PRODUCT, RESIDUE, DISPOSAL
CONTAINER OR
LINER IN ACCORDANCE WITH ALL FEDERAL, STATE AND
LOCAL REGULATIONS.
Disclaimer (provided with this information by the
compiling agencies):
This information is formulated for use by elements of
the Department
of Defense. The United States of America in no manner
whatsoever,
expressly or implied, warrants this information to be
accurate and
disclaims all liability for its use. Any person
utilizing this
document should seek competent professional advice to
verify and
assume responsibility for the suitability of this
information to their
particular situation.