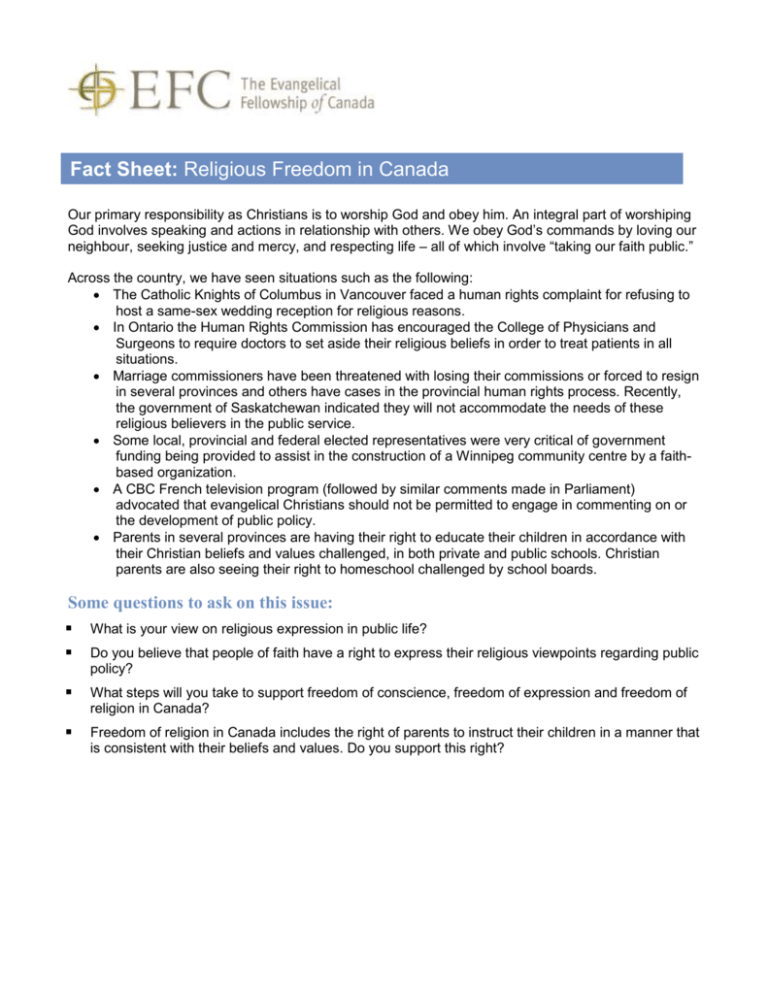 Fact Sheet: Religious Freedom in Canada
Our primary responsibility as Christians is to worship God and obey him. An integral part of worshiping
God involves speaking and actions in relationship with others. We obey God's commands by loving our
neighbour, seeking justice and mercy, and respecting life – all of which involve "taking our faith public."
Across the country, we have seen situations such as the following:
 The Catholic Knights of Columbus in Vancouver faced a human rights complaint for refusing to
host a same-sex wedding reception for religious reasons.
 In Ontario the Human Rights Commission has encouraged the College of Physicians and
Surgeons to require doctors to set aside their religious beliefs in order to treat patients in all
situations.
 Marriage commissioners have been threatened with losing their commissions or forced to resign
in several provinces and others have cases in the provincial human rights process. Recently,
the government of Saskatchewan indicated they will not accommodate the needs of these
religious believers in the public service.
 Some local, provincial and federal elected representatives were very critical of government
funding being provided to assist in the construction of a Winnipeg community centre by a faithbased organization.
 A CBC French television program (followed by similar comments made in Parliament)
advocated that evangelical Christians should not be permitted to engage in commenting on or
the development of public policy.
 Parents in several provinces are having their right to educate their children in accordance with
their Christian beliefs and values challenged, in both private and public schools. Christian
parents are also seeing their right to homeschool challenged by school boards.
Some questions to ask on this issue:

What is your view on religious expression in public life?

Do you believe that people of faith have a right to express their religious viewpoints regarding public
policy?

What steps will you take to support freedom of conscience, freedom of expression and freedom of
religion in Canada?

Freedom of religion in Canada includes the right of parents to instruct their children in a manner that
is consistent with their beliefs and values. Do you support this right?