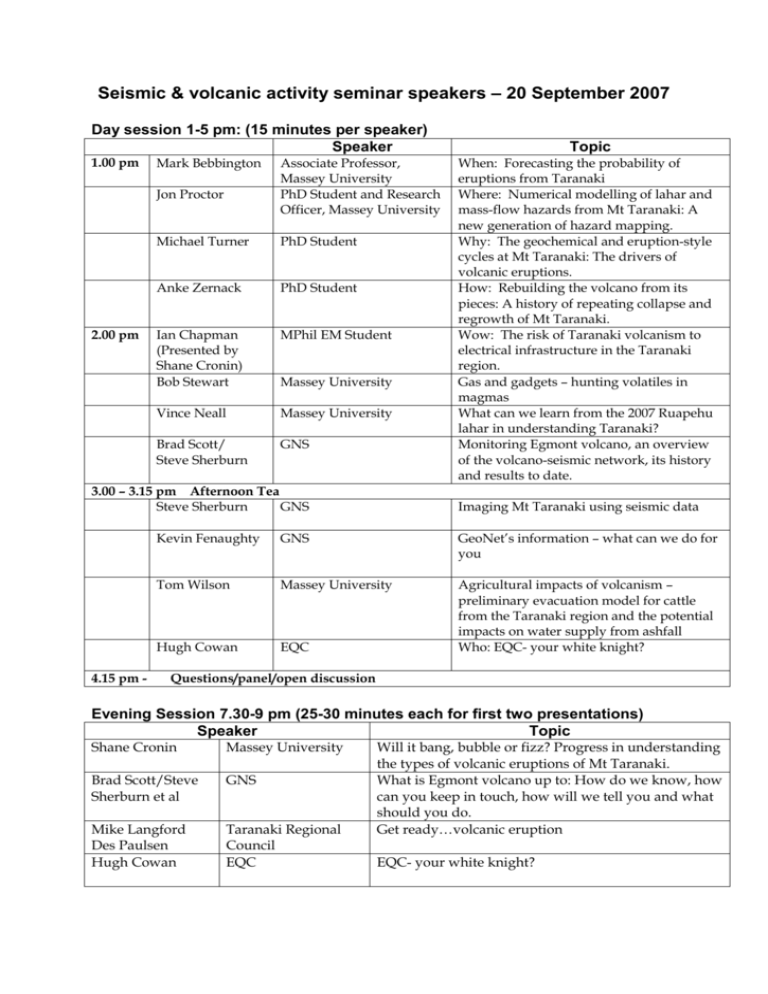 Seismic & volcanic activity seminar speakers – 20 September 2007
Day session 1-5 pm: (15 minutes per speaker)
Speaker
1.00 pm
Mark Bebbington
Jon Proctor
2.00 pm
Associate Professor,
Massey University
PhD Student and Research
Officer, Massey University
Michael Turner
PhD Student
Anke Zernack
PhD Student
Ian Chapman
(Presented by
Shane Cronin)
Bob Stewart
MPhil EM Student
Vince Neall
Massey University
Brad Scott/
Steve Sherburn
GNS
Massey University
3.00 – 3.15 pm Afternoon Tea
Steve Sherburn
GNS
4.15 pm -
Topic
When: Forecasting the probability of
eruptions from Taranaki
Where: Numerical modelling of lahar and
mass-flow hazards from Mt Taranaki: A
new generation of hazard mapping.
Why: The geochemical and eruption-style
cycles at Mt Taranaki: The drivers of
volcanic eruptions.
How: Rebuilding the volcano from its
pieces: A history of repeating collapse and
regrowth of Mt Taranaki.
Wow: The risk of Taranaki volcanism to
electrical infrastructure in the Taranaki
region.
Gas and gadgets – hunting volatiles in
magmas
What can we learn from the 2007 Ruapehu
lahar in understanding Taranaki?
Monitoring Egmont volcano, an overview
of the volcano-seismic network, its history
and results to date.
Imaging Mt Taranaki using seismic data
Kevin Fenaughty
GNS
GeoNet's information – what can we do for
you
Tom Wilson
Massey University
Hugh Cowan
EQC
Agricultural impacts of volcanism –
preliminary evacuation model for cattle
from the Taranaki region and the potential
impacts on water supply from ashfall
Who: EQC- your white knight?
Questions/panel/open discussion
Evening Session 7.30-9 pm (25-30 minutes each for first two presentations)
Speaker
Topic
Shane Cronin
Massey University
Brad Scott/Steve
Sherburn et al
GNS
Mike Langford
Des Paulsen
Hugh Cowan
Taranaki Regional
Council
EQC
Will it bang, bubble or fizz? Progress in understanding
the types of volcanic eruptions of Mt Taranaki.
What is Egmont volcano up to: How do we know, how
can you keep in touch, how will we tell you and what
should you do.
Get ready…volcanic eruption
EQC- your white knight?