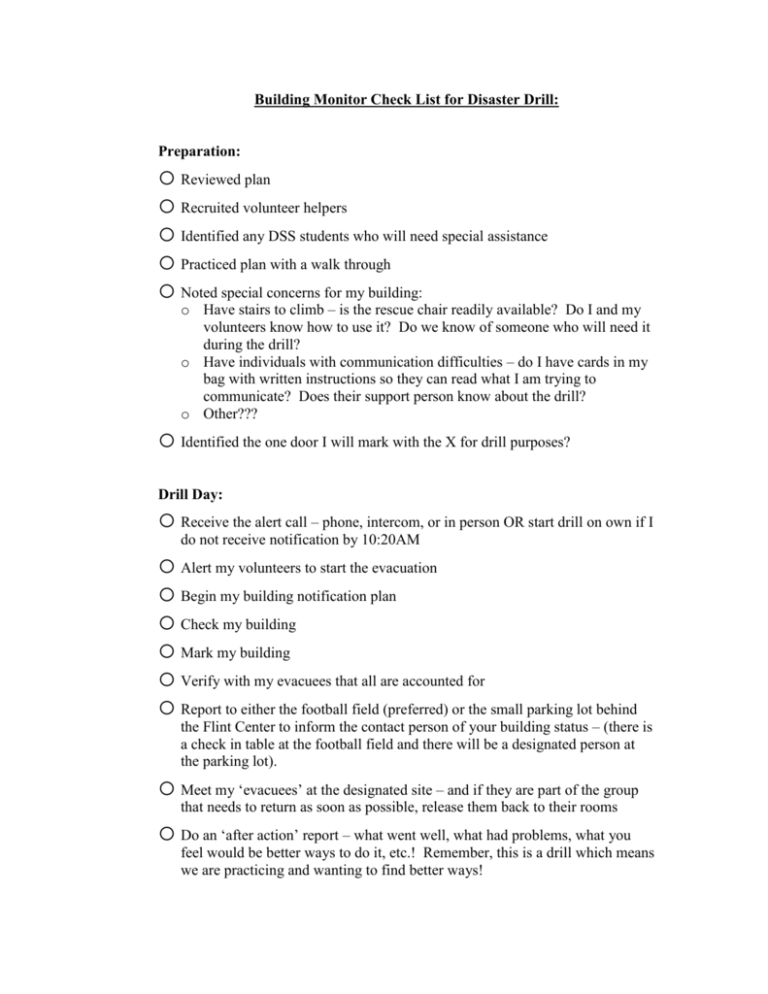 Building Monitor Check List for Disaster Drill:
Preparation:
o Reviewed plan
o Recruited volunteer helpers
o Identified any DSS students who will need special assistance
o Practiced plan with a walk through
o Noted special concerns for my building:
o Have stairs to climb – is the rescue chair readily available? Do I and my
volunteers know how to use it? Do we know of someone who will need it
during the drill?
o Have individuals with communication difficulties – do I have cards in my
bag with written instructions so they can read what I am trying to
communicate? Does their support person know about the drill?
o Other???
o Identified the one door I will mark with the X for drill purposes?
Drill Day:
o Receive the alert call – phone, intercom, or in person OR start drill on own if I
do not receive notification by 10:20AM
o Alert my volunteers to start the evacuation
o Begin my building notification plan
o Check my building
o Mark my building
o Verify with my evacuees that all are accounted for
o Report to either the football field (preferred) or the small parking lot behind
the Flint Center to inform the contact person of your building status – (there is
a check in table at the football field and there will be a designated person at
the parking lot).
o Meet my 'evacuees' at the designated site – and if they are part of the group
that needs to return as soon as possible, release them back to their rooms
o Do an 'after action' report – what went well, what had problems, what you
feel would be better ways to do it, etc.! Remember, this is a drill which means
we are practicing and wanting to find better ways!