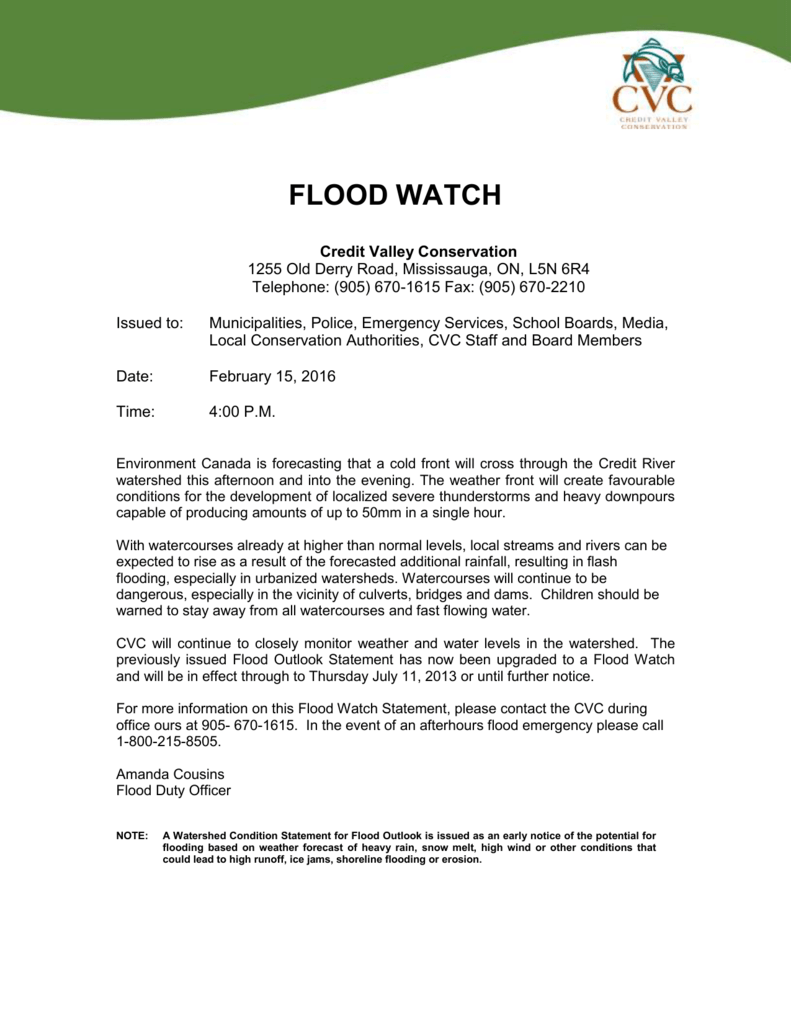 FLOOD WATCH
Credit Valley Conservation
1255 Old Derry Road, Mississauga, ON, L5N 6R4
Telephone: (905) 670-1615 Fax: (905) 670-2210
Issued to:
Municipalities, Police, Emergency Services, School Boards, Media,
Local Conservation Authorities, CVC Staff and Board Members
Date:
February 15, 2016
Time:
4:00 P.M.
Environment Canada is forecasting that a cold front will cross through the Credit River
watershed this afternoon and into the evening. The weather front will create favourable
conditions for the development of localized severe thunderstorms and heavy downpours
capable of producing amounts of up to 50mm in a single hour.
With watercourses already at higher than normal levels, local streams and rivers can be
expected to rise as a result of the forecasted additional rainfall, resulting in flash
flooding, especially in urbanized watersheds. Watercourses will continue to be
dangerous, especially in the vicinity of culverts, bridges and dams. Children should be
warned to stay away from all watercourses and fast flowing water.
CVC will continue to closely monitor weather and water levels in the watershed. The
previously issued Flood Outlook Statement has now been upgraded to a Flood Watch
and will be in effect through to Thursday July 11, 2013 or until further notice.
For more information on this Flood Watch Statement, please contact the CVC during
office ours at 905- 670-1615. In the event of an afterhours flood emergency please call
1-800-215-8505.
Amanda Cousins
Flood Duty Officer
NOTE:
A Watershed Condition Statement for Flood Outlook is issued as an early notice of the potential for
flooding based on weather forecast of heavy rain, snow melt, high wind or other conditions that
could lead to high runoff, ice jams, shoreline flooding or erosion.