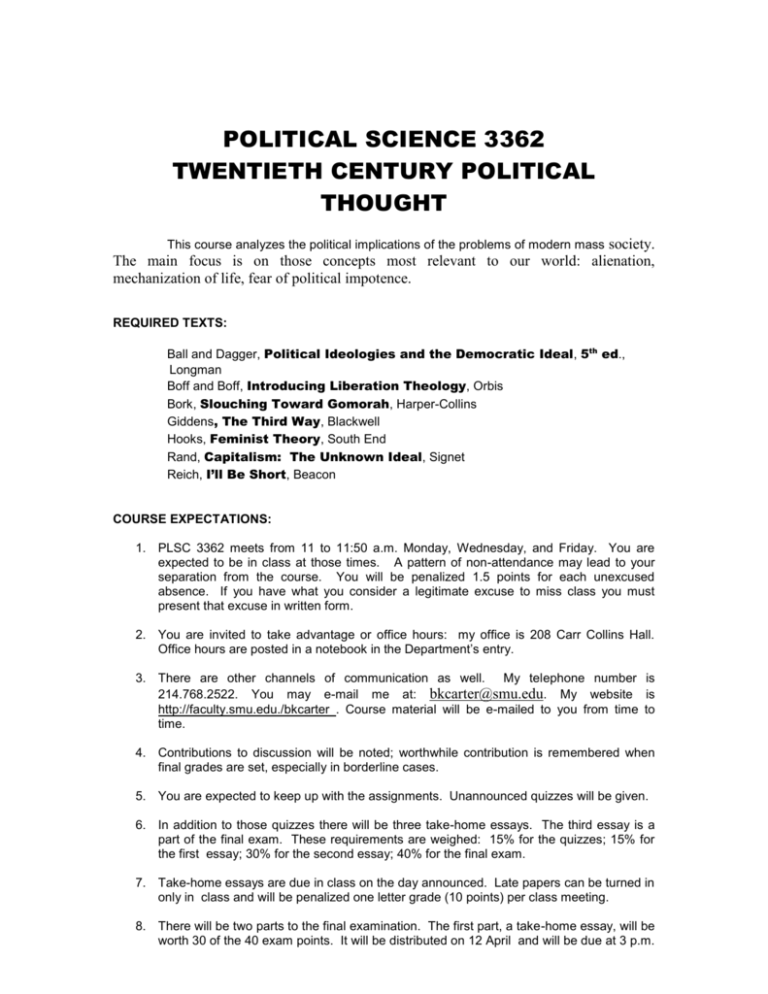 POLITICAL SCIENCE 3362
TWENTIETH CENTURY POLITICAL
THOUGHT
society.
The main focus is on those concepts most relevant to our world: alienation,
mechanization of life, fear of political impotence.
This course analyzes the political implications of the problems of modern mass
REQUIRED TEXTS:
Ball and Dagger, Political Ideologies and the Democratic Ideal, 5th ed.,
Longman
Boff and Boff, Introducing Liberation Theology, Orbis
Bork, Slouching Toward Gomorah, Harper-Collins
Giddens, The Third Way, Blackwell
Hooks, Feminist Theory, South End
Rand, Capitalism: The Unknown Ideal, Signet
Reich, I'll Be Short, Beacon
COURSE EXPECTATIONS:
1. PLSC 3362 meets from 11 to 11:50 a.m. Monday, Wednesday, and Friday. You are
expected to be in class at those times. A pattern of non-attendance may lead to your
separation from the course. You will be penalized 1.5 points for each unexcused
absence. If you have what you consider a legitimate excuse to miss class you must
present that excuse in written form.
2. You are invited to take advantage or office hours: my office is 208 Carr Collins Hall.
Office hours are posted in a notebook in the Department's entry.
3. There are other channels of communication as well. My telephone number is
214.768.2522. You may e-mail me at: bkcarter@smu.edu. My website is
http://faculty.smu.edu./bkcarter . Course material will be e-mailed to you from time to
time.
4. Contributions to discussion will be noted; worthwhile contribution is remembered when
final grades are set, especially in borderline cases.
5. You are expected to keep up with the assignments. Unannounced quizzes will be given.
6. In addition to those quizzes there will be three take-home essays. The third essay is a
part of the final exam. These requirements are weighed: 15% for the quizzes; 15% for
the first essay; 30% for the second essay; 40% for the final exam.
7. Take-home essays are due in class on the day announced. Late papers can be turned in
only in class and will be penalized one letter grade (10 points) per class meeting.
8. There will be two parts to the final examination. The first part, a take-home essay, will be
worth 30 of the 40 exam points. It will be distributed on 12 April and will be due at 3 p.m.
on Friday, 5 May. The second part, the objective portion, will be worth 10 of the exam
points. It will be administered from 3 to 4 p.m. on Friday, 5 May.
9. The last day to drop this class is Wednesday,5 April.
10. If you need academic accommodations for a disability, you must first contact the
Coordinator, Services for Students with Disabilities at 214.768.4563 to verify the disability
and to establish eligibility for accommodations.
Then you should schedule an
appointment with me to make appropriate arrangements.
11. This syllabus is in the nature of a contract. I will follow it; so should you.
COURSE SCHEDULE:
THE SETTING: THEORY AND MODERNITY
Jan, 18
Jan. 20
Lecture: Introduction to PLSC 3362
Lecture: Theory and Reality
Assignment: Ball, ix-17
Jan. 23
Discussion: The Craft of Theory
Assignment: Ball, 19–50
Lecture: 20th Century Political Thought: New Battles, Old Strategies?
Assignment: Ball, 50-85
Discussion: Ball, Dagger, and Democracy
Assignment: Reich, vii-45, 254-259
Jan. 25
Jan. 27
THE LIBERAL TRADITION RESTATED
Jan. 30
Lecture: The Liberal Heritage
Assignment: Reich, 49-87
Feb. 1
Lecture: Evolutionary Liberalism
Assignment: Reich, 91-121
FIRST ESSAY TOPIC DISTRIBED
Feb. 3
Discussion: Defining Liberalism
Assignment: Rand, 11-34
Feb. 6
Feb. 8
Feb. 10
Feb. 13
Feb. 15
Discussion: Modern Liberalism
Assignment: Rand, 44-62, 102-109
Lecture: Liberal Individualism
Assignment: Rand, 122-166, 183-201
Discussion: Liberalism and Capitalism
Assignment: Rand, 202-235, 297-337
Discussion: Rand and Individualism
Assignment: Ball, 87-114, Bork, xii-33
Discussion: Review
No Assignment
PRESERVING THE CONSERVATIVE HERITAGE
Feb. 17
Lecture: The Conservative Mood
Assignment: Bork, 33-119
Feb. 20
Lecture: Conservatism and Order
Assignment: Bork, 120-192
Feb. 22
Discussion: Thinking About Conservatism
FIRST ESSAY DUE
Feb. 24
Discussion: Conservatism and Tradition
Assignment: Bork, 193-271
Feb. 27
Discussion: Bork as Conservative
Assignment: Bork, 272-343
KEEPING THE LEFT ALIVE
Mar. 1
Lecture: The Left Restated
Assignment: Ball, 115-172
Mar. 3
Lecture: Humane Marxism
Assignment: Lenin (on web site)
SECOND ESSAY TOPIC DISTRIBUTED
Mar. 6
Mar. 8
Mar. 10
Lecture: Humane Marxism, continued
Assignment: 1945 Labour Party Manifesto (on web site)
Discussion: Lenin on Politics
Assignment: Giddens, 1-68
Lecture: Democratic Socialism
Assignment: Giddens, 69-98
SPRING VACATION, 13-17 MARCH
Mar. 20
Mar. 22
Discussion: The Third Way
Assignment: Giddens, 99-155
Discussion: Review
Assignment: Work on essay
NATIONALISM AND FASCISM
Mar. 24
Lecture: The Revolt Against Complexity
Assignment: Ball, 253-254, 173-200
Mar. 27
Discussion: Nationalism's Appeal
SECOND ESSAY DUE
Mar. 29
Discussion: Triumph of the Will
No Assignment
Mar. 31
Discussion: Alone and Afraid
Assignment: Ball, 201-249
THEORY AND EMPOWERMENT
Apr. 3
Lecture: Theory and the Quest for Wholeness
Assignment: Hooks, x -67
Apr. 5
Discussion: Theory Y and Empowerment
Assignment: Hooks, 68-107
(last day to drop this class)
Apr. 7
Lecture: Feminism and Empowerment
Assignment: Hooks, 108-166
Apr. 10
Discussion: Gender, Hierarchy, and Empowerment
Assignment: Guevara (on web site)
Apr. 12
Discussion: Empowerment By Force?
THIRD ESSAY TOPIC DISTRIBUTED
GOOD FRIDAY HOLIDAY, APRIL 14
Apr. 17
Discussion: Che's Message
CHRISTIANITY AND EMPOWERMENT
Apr. 19
Apr. 21
Apr. 24
Apr. 26
Apr. 28
May 1
Lecture: The Christian Heritage
Assignment: Boff, 1-42
Lecture: The Christian Imperative
Assignment: Boff, 43-77
Lecture: The Word Made Flesh – A New Humanity
Assignment: Boff, 78-95
Discussion: Liberation Theology
Assignment: Work on essay
Discussion: Community, Justice, and Empowerment
Assignment: Work on essay
Discussion; The Final Review
Assignment: Keep calm!