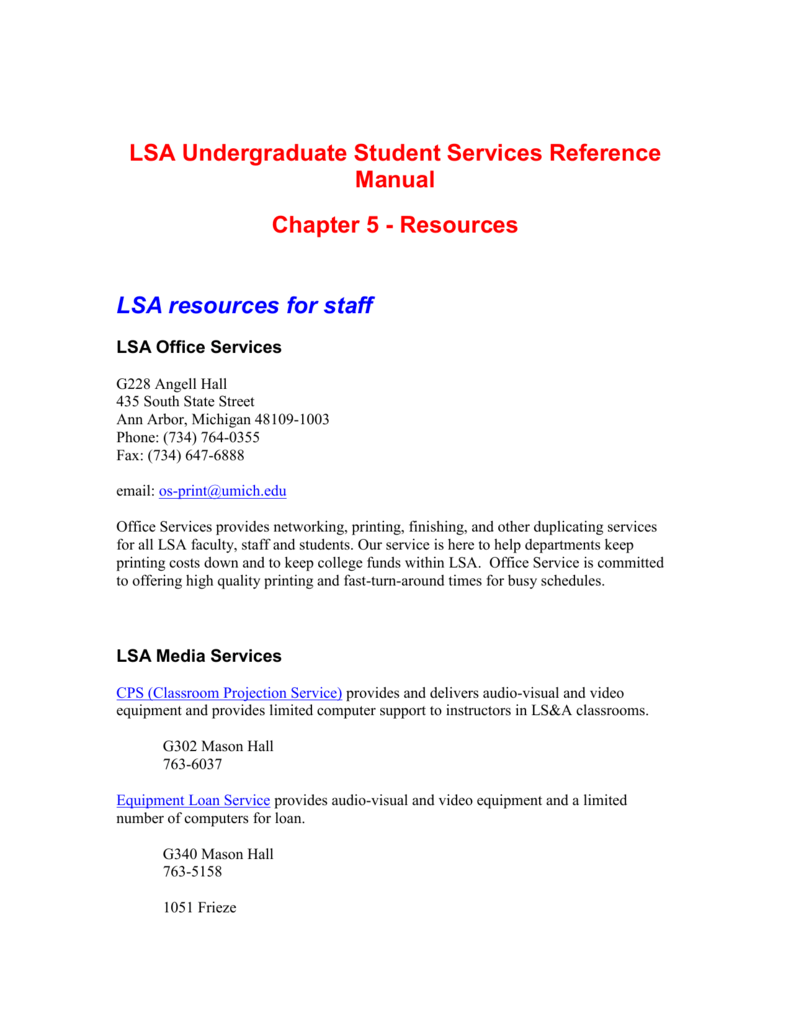 LSA Undergraduate Student Services Reference
Manual
Chapter 5 - Resources
LSA resources for staff
LSA Office Services
G228 Angell Hall
435 South State Street
Ann Arbor, Michigan 48109-1003
Phone: (734) 764-0355
Fax: (734) 647-6888
email: [email protected]
Office Services provides networking, printing, finishing, and other duplicating services
for all LSA faculty, staff and students. Our service is here to help departments keep
printing costs down and to keep college funds within LSA. Office Service is committed
to offering high quality printing and fast-turn-around times for busy schedules.
LSA Media Services
CPS (Classroom Projection Service) provides and delivers audio-visual and video
equipment and provides limited computer support to instructors in LS&A classrooms.
G302 Mason Hall
763-6037
Equipment Loan Service provides audio-visual and video equipment and a limited
number of computers for loan.
G340 Mason Hall
763-5158
1051 Frieze
763-1104
FPS (Film Projection Service) staffs and operates audio-visual equipment and provides
limited computer support in LS&A auditoria. For a fee, FPS also provides equipment
delivery and some staffing for special events on central campus.
G314 Mason Hall
763-4594
The Video Editing Facility provides facilities and consultation for video editing and
production.
1051 Frieze
963-3504
Other Resources
As resources are available, Media Services also provides consultation and technical
support to assist faculty, staff, and students in their individual efforts to utilize technology
for research and teaching.
There are no fees for services that directly support instructional needs of scheduled
LS&A classes.
LSA IT – CSG
LSA Information Technology – Computer Services Group
The LS&A Administration Annex
1007 E. Huron St.
Ann Arbor, MI 48104-1690
Hours
Monday through Friday,
8:00 a.m.–12:00 p.m.
1:00 p.m.–5:00 p.m.
To contact the CSG help desk, use the email [email protected] or call 936-3279
The CSG provides front-line, direct end-user computing support for LS&A units that
have not hired their own computer support staff. CSG also provides some backup support
to those departments with their own computer support staff. The day-to-day operations of
the CSG include:

Help Desk staff record all incoming service requests addressed either to
936-3279 or to [email protected] The Help Desk answers general user
questions regarding software usage and hardware/software configurations.
They perform initial triage of service requests and either respond to the
user or escalate the call to technicians via call tracking software. Help
Desk staff can install software to end users through SMS and can do
computer system administration tasks through remote control tools.

CSG Technicians provide advanced support to departments. They respond
to logged service requests and resolve software and hardware issues for
their supported departments. They also resolve IP assignments,
troubleshoot file system and permissions problems, resolve problems with
Windows' profiles, and identify/report systems issues to the appropriate
group (SST/Windows or SST/Unix-Mac). They evaluate departmental
equipment and make recommendations for upgrade or replacement,
coordinating and participating in the annual Faculty and Staff Upgrade
programs.

LSA Accounts provides the system administrator tasks of creating,
removing and modifying user account priviledges, monitors network
security log files, assists users with password problems, assists
departments with UMCE funding and access, assists with Active Directory
and Outlook permissions issues, and moditors,sets and modifies user
quotes on LSA servers.
The CSG emphasizes support for Windows and Macintosh environments. CSG
technicians will support department computer support staff on an informal basis or,
formally, as their backup during scheduled absences. CSG orders some parts for
departments and will repair blue-tagged (University purchased) workgroup printers for
departments supported by CSG.
UM resources for staff
Center for the Education of Women (CEW)
330 E. Liberty St
998.7080
Email: [email protected]
Monday 8:00 am-7:00 pm
Tuesday– Friday 8:00 am-5:00 pm
The library is available for use during all of these hours.
The Center's services are available to anyone, whether affiliated with the University of
Michigan or a community member.
Counseling appointments are available by appointment; call 734.998.7210.
The goals of the University of Michigan Center for the Education of Women are:
 To help women enter and stay in the mainstream of higher education,
professional preparation, and leadership, and to help them make use of
their education through personal and professional development.
 To help the University of Michigan eliminate institutional barriers to
equity in education and employment; to make issues of equity for
women clear and of higher institutional priority.
 To monitor changing issues for women in education and employment
and to do research and disseminate findings regarding these issues.
 To train professionals and students in areas relevant to the Center's
mission and expertise.
Department of Public Safety and Security (DPS)
Non-emergency: 763-1131
Emergency: 911
The Department of Public Safety and Security manages the task of providing a safe
environment for the University community. The Department operates 24 hours a day.
Faculty and Staff Assistance Program (FASAP)
1009 Greene St.
2076 Administrative Services Building
Phone: (734) 936-8660
Confidential Fax: (734) 936-8893
Email: [email protected]
FASAP is a University of Michigan Benefit's Office Program which offers a number of
services designed to help staff, faculty, and their immediate family members with
personal difficulties encountered at both work and home. Our services include:




Short term counseling services to all staff, faculty, and their immediate family
members on personal, emotional, family and work place issues
Personalized coaching services to assist with achieving professional or personal
goals such as overcoming procrastination, improving work organization and
completion of specific projects
Critical Incident, Trauma and Grief Counseling
Brown/Bag Educational Presentations on a variety of emotional and mental health
topics
All FASAP services are free of charge and confidential.
Human Resource Development (HRD)
http://www.umich.edu/~hrd/
2030 Administrative Services Building
1009 Greene Street
764.7410
Email: [email protected]
Human Resource Development is the University's commitment to your success. It is the
place where you can choose from more than one hundred programs and courses designed
to teach you new skills to help advance your career. It's the place that can help units
become more effective through organizational development consulting and customized
workshops.
Mediation Services for Faculty and Staff
For more information, or to schedule a consultation or mediation:



Call: 734-615-4789
Email: [email protected]
Use our: Online Inquiry Form
The University's Professionals in Conflict Resolution
If you earn your paycheck from the University of Michigan –
And if your concern is related to your work here –
We will work with you to find



answers
resources
resolution
We will help you develop



conflict resolution skills
departmental dispute resolution methods
a better understanding of workplace conflict
UM's Mediation Service is





An off-the-record listening ear
For concerns or disputes related to your work at the University
Staffed by professionally trained and experienced mediators
Available to faculty and staff, including temporary and student staff
On all U-M campuses
We are



Confidential-no name linked records kept
Flexible-will meet with you on or off work time
Easily accessible convenient locations
We offer



Private consultation
Facilitated mediation
Conflict resolution education
There is no fee for service
Sexual Assault Prevention and Awareness Center (SAPAC)
715 N. University, Suite 202
998-9368 , 24 hour crisis line 936-3333
www.umich.edu/~sapac
The Sexual Assault Prevention and Awareness Center has professional counseling staff
available to provide individual and group counseling for survivors of sexual assault,
dating/domestic violence, stalking, and sexual harassment in the University community.
The staff is also available to assist friends or family members, or non-offending partners
of survivors. The Crisis Line is staffed by trained volunteers who are available to provide
crisis intervention and information and referral over the phone, as well as provide
outreach teams to assist at hospitals, police stations, and residence halls in the event of an
emergency. All counseling services are confidential. Stop by or call for an appointment.