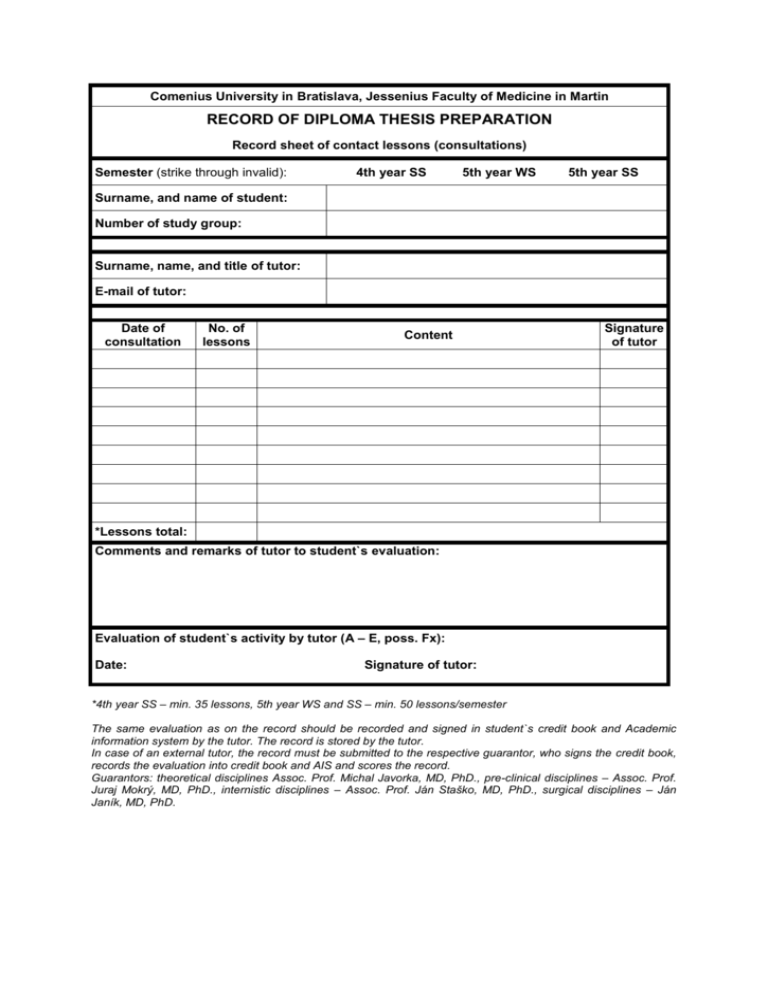 Comenius University in Bratislava, Jessenius Faculty of Medicine in Martin
RECORD OF DIPLOMA THESIS PREPARATION
Record sheet of contact lessons (consultations)
Semester (strike through invalid):
4th year SS
5th year WS
5th year SS
Surname, and name of student:
Number of study group:
Surname, name, and title of tutor:
E-mail of tutor:
Date of
consultation
No. of
lessons
Content
Signature
of tutor
*Lessons total:
Comments and remarks of tutor to student`s evaluation:
Evaluation of student`s activity by tutor (A – E, poss. Fx):
Date:
Signature of tutor:
*4th year SS – min. 35 lessons, 5th year WS and SS – min. 50 lessons/semester
The same evaluation as on the record should be recorded and signed in student`s credit book and Academic
information system by the tutor. The record is stored by the tutor.
In case of an external tutor, the record must be submitted to the respective guarantor, who signs the credit book,
records the evaluation into credit book and AIS and scores the record.
Guarantors: theoretical disciplines Assoc. Prof. Michal Javorka, MD, PhD., pre-clinical disciplines – Assoc. Prof.
Juraj Mokrý, MD, PhD., internistic disciplines – Assoc. Prof. Ján Staško, MD, PhD., surgical disciplines – Ján
Janík, MD, PhD.