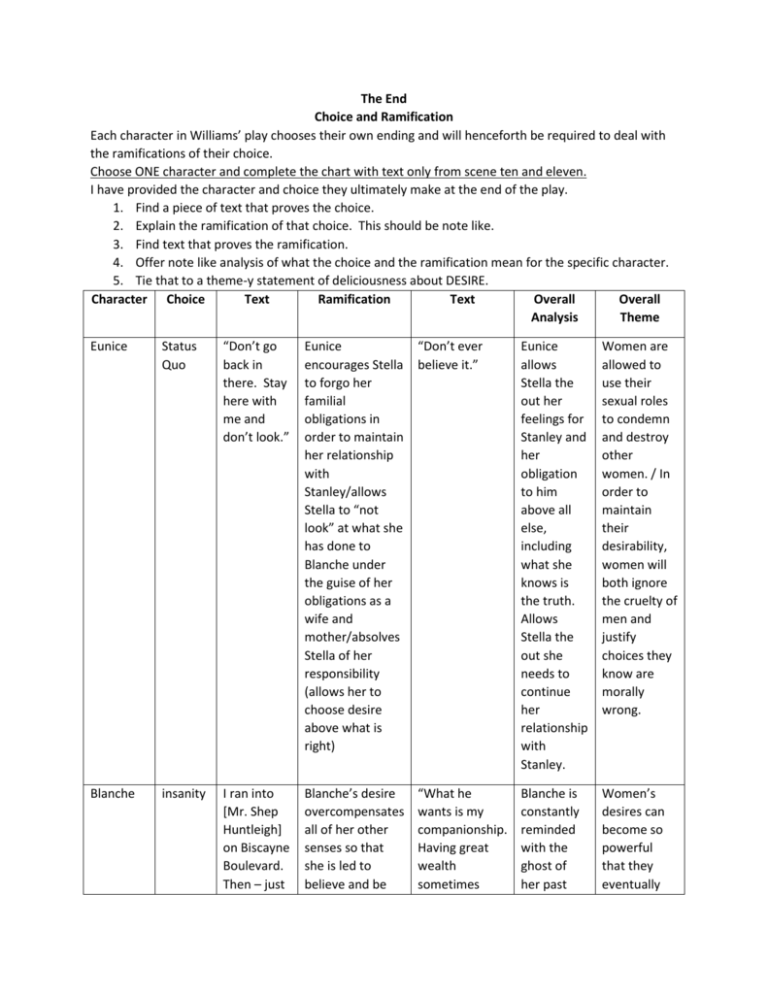 The End
Choice and Ramification
Each character in Williams' play chooses their own ending and will henceforth be required to deal with
the ramifications of their choice.
Choose ONE character and complete the chart with text only from scene ten and eleven.
I have provided the character and choice they ultimately make at the end of the play.
1. Find a piece of text that proves the choice.
2. Explain the ramification of that choice. This should be note like.
3. Find text that proves the ramification.
4. Offer note like analysis of what the choice and the ramification mean for the specific character.
5. Tie that to a theme-y statement of deliciousness about DESIRE.
Character Choice
Text
Ramification
Text
Overall
Overall
Analysis
Theme
Eunice
Status
Quo
"Don't go
back in
there. Stay
here with
me and
don't look."
Eunice
encourages Stella
to forgo her
familial
obligations in
order to maintain
her relationship
with
Stanley/allows
Stella to "not
look" at what she
has done to
Blanche under
the guise of her
obligations as a
wife and
mother/absolves
Stella of her
responsibility
(allows her to
choose desire
above what is
right)
"Don't ever
believe it."
Eunice
allows
Stella the
out her
feelings for
Stanley and
her
obligation
to him
above all
else,
including
what she
knows is
the truth.
Allows
Stella the
out she
needs to
continue
her
relationship
with
Stanley.
Women are
allowed to
use their
sexual roles
to condemn
and destroy
other
women. / In
order to
maintain
their
desirability,
women will
both ignore
the cruelty of
men and
justify
choices they
know are
morally
wrong.
Blanche
insanity
I ran into
[Mr. Shep
Huntleigh]
on Biscayne
Boulevard.
Then – just
Blanche's desire
overcompensates
all of her other
senses so that
she is led to
believe and be
"What he
wants is my
companionship.
Having great
wealth
sometimes
Blanche is
constantly
reminded
with the
ghost of
her past
Women's
desires can
become so
powerful
that they
eventually
now – this
wire –
inviting me
on a cruise
to the
Caribbean!"
"Whoever
you are – I
have
always
depended
on the
kindness of
strangers."
sunk into her lies.
Blanche is giving
in and choosing
insanity, and
submitting to
Stella's decision
to put her in an
asylum
makes people
lonely! A
cultivated
woman, a
woman of
intelligence and
breeding, can
enrich a man's
life--immeasurably!
I have those
things to
offer…"
(her
husband
committing
suicide)
when she is
confronted
with true
reality. She
makes up
these
stories to
escape the
inescapable
but when
she is
"She allows him caught in
to lead her as if her lies, she
she were blind" is then sent
back to her
past with
the
continuous
playing of
the polka
song; her
past is
inescapable
and she will
always be
brought
back to it.
She must
choose
insanity
because
her other
choice is
death. She
tries to link
love and
desire
together,
but society
will not
blind them of
reality and
lose them of
all sanity
within them.
Because
blanche sees
sex and
desire as
separate
entities,
which is the
same way
men view
them, society
does not
allow her to
see them this
way because
she is a
woman.
Because she
deviates
from the
societal
expectations,
she is
ultimately
destroyed.
allow her to
do that, so
she goes
insane
Stanley
Status
quo
"Oh! So you
want some
rough
house?
Alright, lets
have some
rough
house."
"Tiger--tiger! Drop
the bottle
top! Drop
it! We've
had this
date with
each other
from the
beginning!"
He chooses to do
what society
expects over
what is morally
right. Society
expects men to
act on their
desires in any
manner that they
please. He uses
violence to
achieve this, and
it is acceptable
because of the
way Blanche acts
throughout the
play in relation to
him
By using "we've
had this date",
Stanley
emphasizes
Blanche's
promiscuity
throughout the
novel. By the
lights turning out
in this scene, the
audience can
infer that Stanley
uses his
masculinity to
emphasize that
he has won over
Blanche.
"now now
Honey, now
now love, [he
kneels beside
her and his
fingers find the
opening of her
blouse] now,
now, love.
Now, love"
"He knees
beside her and
his fingers find
the opening of
her blouse."
His desire
overtakes
and kind of
rational
thought.
Stella is
upset with
the
situation
because
she has
chosen
desire over
what is
right. In
one last
way to
prove that
desire wins
out over
what is
morally
correct,
Stanley
again acts
on his
sexual
desire to
prove that
men will do
whatever
they want
whenever
they want
in order to
achieve this
desire.
By Stanley
putting his
Men are able
to use
whatever
tactics they
feel fit to
achieve
sexual desire
and it is not
viewed as
morally
wrong
because it
socially
acceptable.
Men use
sexual
aggression to
feel power
over women.
finger
between
her blouse,
he
emphasizes
that he has
won and
Stella has
chosen her
sexual
desire over
her moral
values and
obligation
to her
family.
Stella
Sex
"Yes
Blanche is.
She's going
on
vacation.
"I couldn't
believe her
story and
go on living
with
Stanley"
In this moment,
Stella makes the
decision to send
Blanche away to
the insane
asylum and
choose Stanley
and her sexual
life. She
understand s that
she cannot
coexist with
Stanley and
Blanch and must
choose either her
familial
obligations or her
sexual desire.
She's abandoning
Blanche and
choosing Stanley
"He kneels
beside her and
his fingers find
the opening of
her blouse."
"What have I
done to my
sister? Oh, god,
what have I
done to my
sister?
By sending
Blanche
away, Stella
is now free
to have sex
with
Stanley
andf is
completely
free of her
obligations
to her
family.
Stella could
not liove
with herself
if she still
had
Blanche
around
knowing
she had
been rape
and so she
willfully
chooses to
send her
away and
Desire is
pervading
and will
completely
consume
someone so
that they will
choose that
desire over
anything else
they must
do.
For a women
to get what
they desire,
they'll
destroy
other
relationships.
her sexual
desire.
Stella
Ignores the
truth and
sends
Blanche
away
because
she
couldn't
exist
without
Stanley in
her life.