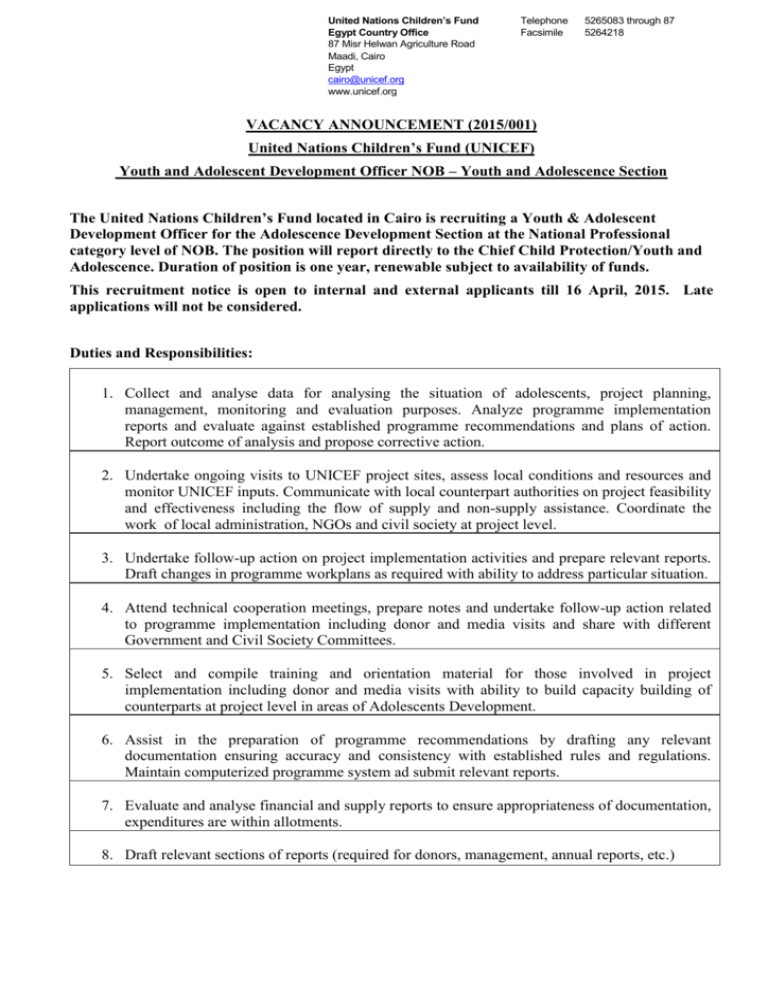 United Nations Children's Fund
Egypt Country Office
87 Misr Helwan Agriculture Road
Maadi, Cairo
Egypt
cairo@unicef.org
www.unicef.org
Telephone
Facsimile
5265083 through 87
5264218
VACANCY ANNOUNCEMENT (2015/001)
United Nations Children's Fund (UNICEF)
Youth and Adolescent Development Officer NOB – Youth and Adolescence Section
The United Nations Children's Fund located in Cairo is recruiting a Youth & Adolescent
Development Officer for the Adolescence Development Section at the National Professional
category level of NOB. The position will report directly to the Chief Child Protection/Youth and
Adolescence. Duration of position is one year, renewable subject to availability of funds.
This recruitment notice is open to internal and external applicants till 16 April, 2015. Late
applications will not be considered.
Duties and Responsibilities:
1. Collect and analyse data for analysing the situation of adolescents, project planning,
management, monitoring and evaluation purposes. Analyze programme implementation
reports and evaluate against established programme recommendations and plans of action.
Report outcome of analysis and propose corrective action.
2. Undertake ongoing visits to UNICEF project sites, assess local conditions and resources and
monitor UNICEF inputs. Communicate with local counterpart authorities on project feasibility
and effectiveness including the flow of supply and non-supply assistance. Coordinate the
work of local administration, NGOs and civil society at project level.
3. Undertake follow-up action on project implementation activities and prepare relevant reports.
Draft changes in programme workplans as required with ability to address particular situation.
4. Attend technical cooperation meetings, prepare notes and undertake follow-up action related
to programme implementation including donor and media visits and share with different
Government and Civil Society Committees.
5. Select and compile training and orientation material for those involved in project
implementation including donor and media visits with ability to build capacity building of
counterparts at project level in areas of Adolescents Development.
6. Assist in the preparation of programme recommendations by drafting any relevant
documentation ensuring accuracy and consistency with established rules and regulations.
Maintain computerized programme system ad submit relevant reports.
7. Evaluate and analyse financial and supply reports to ensure appropriateness of documentation,
expenditures are within allotments.
8. Draft relevant sections of reports (required for donors, management, annual reports, etc.)
9. Participate in intersectoral collaboration with other projects and programmes. Assist in
development of appropriate communication and information strategy to support and/or
advocate programme development.
Qualifications:


University degree in Social Sciences or related field.
At least three years professional experience in programme management, preferably on
adolescents/youth issues.
Fluency in English & Arabic languages is a must. Knowledge of another UN working
language is an asset.

Other Skills:








Ability to research, analyze, evaluate and synthesize information
Excellent understanding of government structures, preferably on adolescent and youth issues
Good understanding of monitoring tools
Reporting skills
Ability to translated strategies into concrete action plans
Fund raising and donor management experience
Diplomatic skills
Experience in advocacy initiatives and/or policy formulation
The interview will be competency based interview. Competencies examined will include the following:
Competencies:
Core Competencies:
Communication -Working with people -Drive for Results
Functional Competencies:
Formulating Strategies and Concepts- Analyzing – Applying Technical Expertise- Learning and
Researching- Planning and Organizing
UNICEF Egypt is an equal opportunity employer. Women are encouraged to apply. UNICEF is a
smoking free environment.
All interested candidates for the above post should submit a recent curriculum vita and UN Personal
History form (P11) in addition to the last two performance Evaluation report not later than 16 April
2015 to UNICEF Egypt by email at cairohrvacancies@unicef.org
Only shortlisted candidates will be contacted by UNICEF for further consideration.