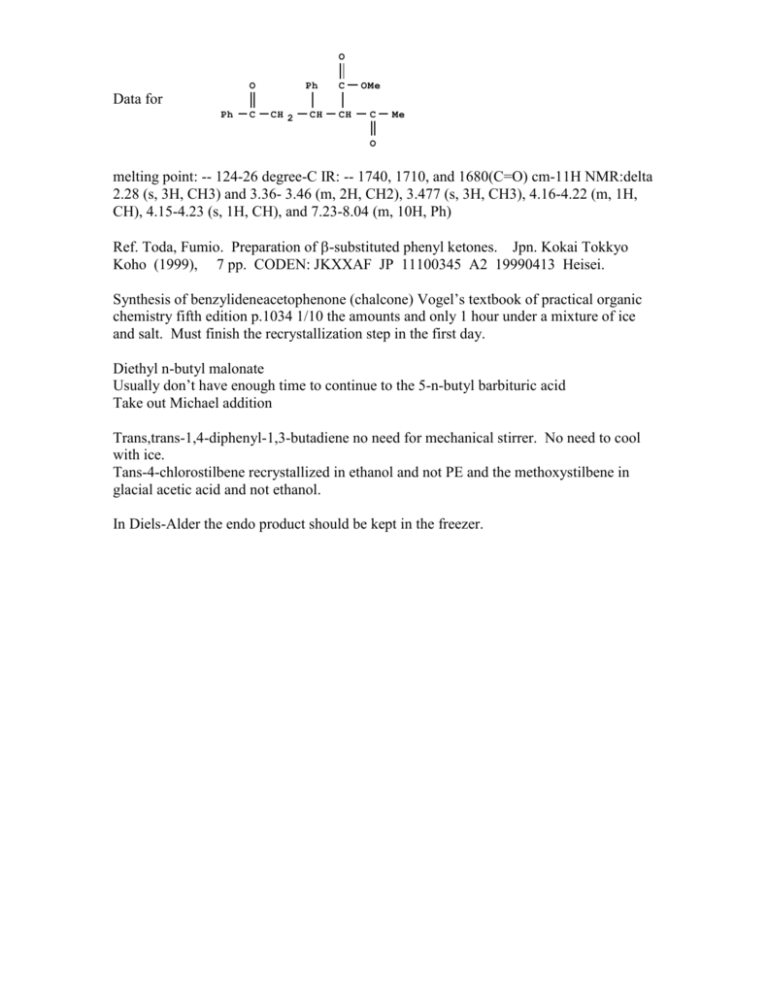 O
O
Ph
C
OMe
Data for
Ph
C
CH 2
CH
CH
C
Me
O
melting point: -- 124-26 degree-C IR: -- 1740, 1710, and 1680(C=O) cm-11H NMR:delta
2.28 (s, 3H, CH3) and 3.36- 3.46 (m, 2H, CH2), 3.477 (s, 3H, CH3), 4.16-4.22 (m, 1H,
CH), 4.15-4.23 (s, 1H, CH), and 7.23-8.04 (m, 10H, Ph)
Ref. Toda, Fumio. Preparation of -substituted phenyl ketones. Jpn. Kokai Tokkyo
Koho (1999), 7 pp. CODEN: JKXXAF JP 11100345 A2 19990413 Heisei.
Synthesis of benzylideneacetophenone (chalcone) Vogel's textbook of practical organic
chemistry fifth edition p.1034 1/10 the amounts and only 1 hour under a mixture of ice
and salt. Must finish the recrystallization step in the first day.
Diethyl n-butyl malonate
Usually don't have enough time to continue to the 5-n-butyl barbituric acid
Take out Michael addition
Trans,trans-1,4-diphenyl-1,3-butadiene no need for mechanical stirrer. No need to cool
with ice.
Tans-4-chlorostilbene recrystallized in ethanol and not PE and the methoxystilbene in
glacial acetic acid and not ethanol.
In Diels-Alder the endo product should be kept in the freezer.