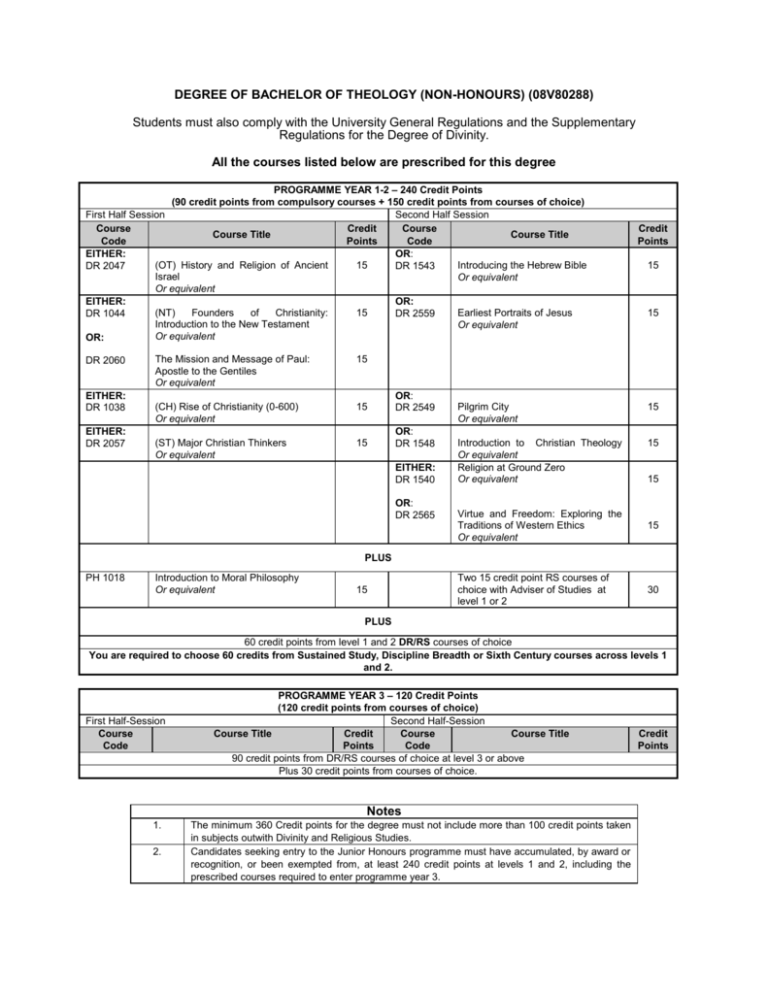 DEGREE OF BACHELOR OF THEOLOGY (NON-HONOURS) (08V80288)
Students must also comply with the University General Regulations and the Supplementary
Regulations for the Degree of Divinity.
All the courses listed below are prescribed for this degree
PROGRAMME YEAR 1-2 – 240 Credit Points
(90 credit points from compulsory courses + 150 credit points from courses of choice)
First Half Session
Second Half Session
Course
Credit
Course
Course Title
Course Title
Code
Points
Code
EITHER:
OR:
(OT) History and Religion of Ancient
15
Introducing the Hebrew Bible
DR 2047
DR 1543
Israel
Or equivalent
Or equivalent
EITHER:
OR:
(NT)
Founders
of
Christianity:
15
Earliest Portraits of Jesus
DR 1044
DR 2559
Introduction to the New Testament
Or equivalent
Or equivalent
OR:
DR 2060
EITHER:
DR 1038
EITHER:
DR 2057
The Mission and Message of Paul:
Apostle to the Gentiles
Or equivalent
15
(CH) Rise of Christianity (0-600)
Or equivalent
15
OR:
DR 2549
(ST) Major Christian Thinkers
Or equivalent
15
OR:
DR 1548
EITHER:
DR 1540
OR:
DR 2565
Credit
Points
15
15
Pilgrim City
Or equivalent
15
Introduction to Christian Theology
Or equivalent
Religion at Ground Zero
Or equivalent
15
15
Virtue and Freedom: Exploring the
Traditions of Western Ethics
Or equivalent
15
Two 15 credit point RS courses of
choice with Adviser of Studies at
level 1 or 2
30
PLUS
PH 1018
Introduction to Moral Philosophy
Or equivalent
15
PLUS
60 credit points from level 1 and 2 DR/RS courses of choice
You are required to choose 60 credits from Sustained Study, Discipline Breadth or Sixth Century courses across levels 1
and 2.
First Half-Session
Course
Code
PROGRAMME YEAR 3 – 120 Credit Points
(120 credit points from courses of choice)
Second Half-Session
Course Title
Credit
Course
Course Title
Points
Code
90 credit points from DR/RS courses of choice at level 3 or above
Plus 30 credit points from courses of choice.
Notes
1.
2.
The minimum 360 Credit points for the degree must not include more than 100 credit points taken
in subjects outwith Divinity and Religious Studies.
Candidates seeking entry to the Junior Honours programme must have accumulated, by award or
recognition, or been exempted from, at least 240 credit points at levels 1 and 2, including the
prescribed courses required to enter programme year 3.
Credit
Points
This information, whilst correct at the time of going to publication, is subject to alteration without notice.
Course choice may be restricted by degree regulations or timetabling.