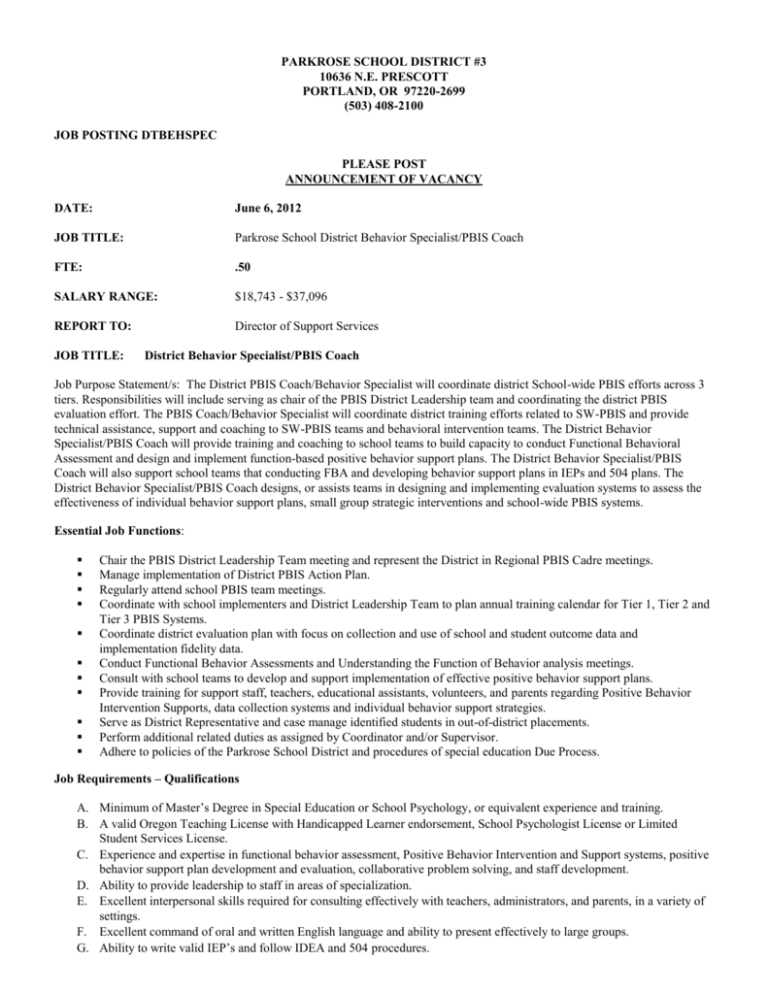 PARKROSE SCHOOL DISTRICT #3
10636 N.E. PRESCOTT
PORTLAND, OR 97220-2699
(503) 408-2100
JOB POSTING DTBEHSPEC
PLEASE POST
ANNOUNCEMENT OF VACANCY
DATE:
June 6, 2012
JOB TITLE:
Parkrose School District Behavior Specialist/PBIS Coach
FTE:
.50
SALARY RANGE:
$18,743 - $37,096
REPORT TO:
Director of Support Services
JOB TITLE:
District Behavior Specialist/PBIS Coach
Job Purpose Statement/s: The District PBIS Coach/Behavior Specialist will coordinate district School-wide PBIS efforts across 3
tiers. Responsibilities will include serving as chair of the PBIS District Leadership team and coordinating the district PBIS
evaluation effort. The PBIS Coach/Behavior Specialist will coordinate district training efforts related to SW-PBIS and provide
technical assistance, support and coaching to SW-PBIS teams and behavioral intervention teams. The District Behavior
Specialist/PBIS Coach will provide training and coaching to school teams to build capacity to conduct Functional Behavioral
Assessment and design and implement function-based positive behavior support plans. The District Behavior Specialist/PBIS
Coach will also support school teams that conducting FBA and developing behavior support plans in IEPs and 504 plans. The
District Behavior Specialist/PBIS Coach designs, or assists teams in designing and implementing evaluation systems to assess the
effectiveness of individual behavior support plans, small group strategic interventions and school-wide PBIS systems.
Essential Job Functions:











Chair the PBIS District Leadership Team meeting and represent the District in Regional PBIS Cadre meetings.
Manage implementation of District PBIS Action Plan.
Regularly attend school PBIS team meetings.
Coordinate with school implementers and District Leadership Team to plan annual training calendar for Tier 1, Tier 2 and
Tier 3 PBIS Systems.
Coordinate district evaluation plan with focus on collection and use of school and student outcome data and
implementation fidelity data.
Conduct Functional Behavior Assessments and Understanding the Function of Behavior analysis meetings.
Consult with school teams to develop and support implementation of effective positive behavior support plans.
Provide training for support staff, teachers, educational assistants, volunteers, and parents regarding Positive Behavior
Intervention Supports, data collection systems and individual behavior support strategies.
Serve as District Representative and case manage identified students in out-of-district placements.
Perform additional related duties as assigned by Coordinator and/or Supervisor.
Adhere to policies of the Parkrose School District and procedures of special education Due Process.
Job Requirements – Qualifications
A. Minimum of Master's Degree in Special Education or School Psychology, or equivalent experience and training.
B. A valid Oregon Teaching License with Handicapped Learner endorsement, School Psychologist License or Limited
Student Services License.
C. Experience and expertise in functional behavior assessment, Positive Behavior Intervention and Support systems, positive
behavior support plan development and evaluation, collaborative problem solving, and staff development.
D. Ability to provide leadership to staff in areas of specialization.
E. Excellent interpersonal skills required for consulting effectively with teachers, administrators, and parents, in a variety of
settings.
F. Excellent command of oral and written English language and ability to present effectively to large groups.
G. Ability to write valid IEP's and follow IDEA and 504 procedures.
H. Valid Oregon Driver's license, proof of insurability and reliable transportation for on the job travel.
I. Physical ability to assist staff in physical management of students in crisis.
J. Ability to effectively work and communicate with students, parents, and school personnel from diverse cultures or
backgrounds.
K. Maintain integrity of confidential information relating to students, staff, or district patrons.
L. The ability to work harmoniously with others.
Skills, Knowledge and/or Abilities Required:
Skills to motivate students in one or more areas, communicate with individuals from varied educational and cultural backgrounds,
direct support personnel, and evaluate performance.
Knowledge of curriculum, education code, and district policies.
Abilities to stand and walk for prolonged periods, perform a variety of specialized and responsible tasks, maintain records,
establish and maintain cooperative working relationships with students, parents, other school personnel, meet schedule and
deadlines. Significant physical abilities include lifting/carrying, reaching/handling, talking/hearing conversations, near/far visual
acuity/depth perception/accommodation/field of vision.
APPLICATION PROCEDURE:
In order for your application file to be complete, you must submit the following documents onto Edzapp. We no longer
accept hard copy applications:
www.edzapp.com – make sure everything listed below is available to us on-line at Edzapp






Letter of Introduction
Resume
Photocopy of Administrative license
Unofficial transcripts
Three current (3) letters of recommendation
State your philosophy of Education and give examples of actions you would put in place to support your philosophy.
APPLICATION DEADLINE:
June 19, 2012 by 4:00 p.m.
EMPLOYMENT BEGINS:
Aug 27, 2012
Equal Opportunity Employer
Applicants with culturally diverse backgrounds are strongly encouraged to apply.