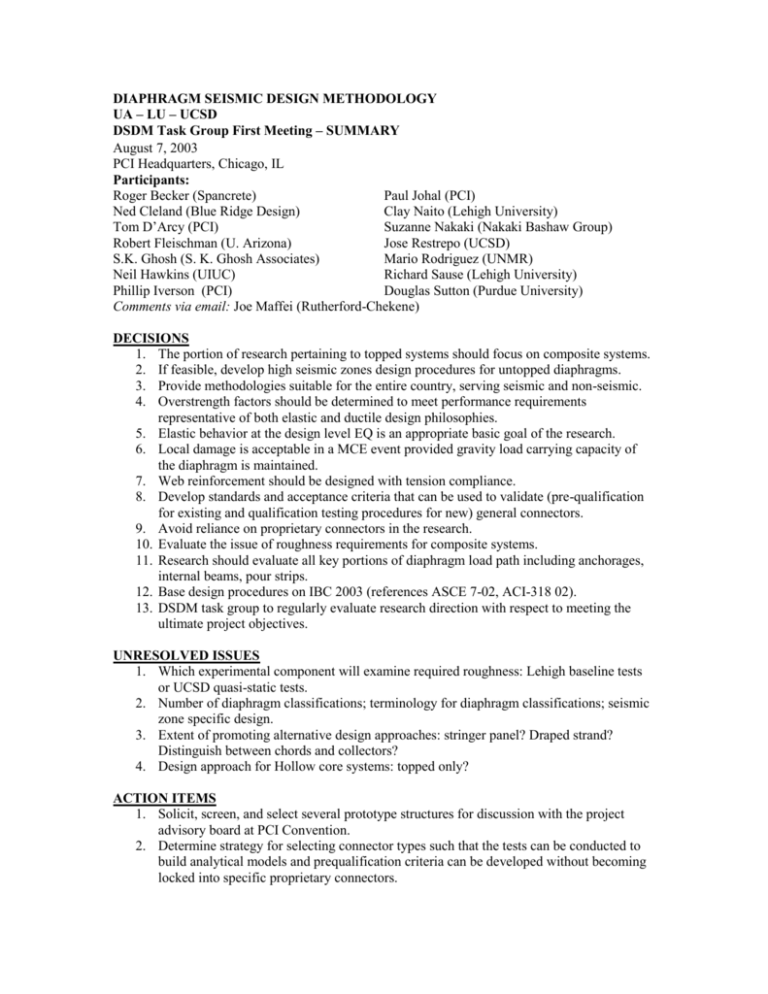 DIAPHRAGM SEISMIC DESIGN METHODOLOGY
UA – LU – UCSD
DSDM Task Group First Meeting – SUMMARY
August 7, 2003
PCI Headquarters, Chicago, IL
Participants:
Roger Becker (Spancrete)
Paul Johal (PCI)
Ned Cleland (Blue Ridge Design)
Clay Naito (Lehigh University)
Tom D'Arcy (PCI)
Suzanne Nakaki (Nakaki Bashaw Group)
Robert Fleischman (U. Arizona)
Jose Restrepo (UCSD)
S.K. Ghosh (S. K. Ghosh Associates)
Mario Rodriguez (UNMR)
Neil Hawkins (UIUC)
Richard Sause (Lehigh University)
Phillip Iverson (PCI)
Douglas Sutton (Purdue University)
Comments via email: Joe Maffei (Rutherford-Chekene)
DECISIONS
1. The portion of research pertaining to topped systems should focus on composite systems.
2. If feasible, develop high seismic zones design procedures for untopped diaphragms.
3. Provide methodologies suitable for the entire country, serving seismic and non-seismic.
4. Overstrength factors should be determined to meet performance requirements
representative of both elastic and ductile design philosophies.
5. Elastic behavior at the design level EQ is an appropriate basic goal of the research.
6. Local damage is acceptable in a MCE event provided gravity load carrying capacity of
the diaphragm is maintained.
7. Web reinforcement should be designed with tension compliance.
8. Develop standards and acceptance criteria that can be used to validate (pre-qualification
for existing and qualification testing procedures for new) general connectors.
9. Avoid reliance on proprietary connectors in the research.
10. Evaluate the issue of roughness requirements for composite systems.
11. Research should evaluate all key portions of diaphragm load path including anchorages,
internal beams, pour strips.
12. Base design procedures on IBC 2003 (references ASCE 7-02, ACI-318 02).
13. DSDM task group to regularly evaluate research direction with respect to meeting the
ultimate project objectives.
UNRESOLVED ISSUES
1. Which experimental component will examine required roughness: Lehigh baseline tests
or UCSD quasi-static tests.
2. Number of diaphragm classifications; terminology for diaphragm classifications; seismic
zone specific design.
3. Extent of promoting alternative design approaches: stringer panel? Draped strand?
Distinguish between chords and collectors?
4. Design approach for Hollow core systems: topped only?
ACTION ITEMS
1. Solicit, screen, and select several prototype structures for discussion with the project
advisory board at PCI Convention.
2. Determine strategy for selecting connector types such that the tests can be conducted to
build analytical models and prequalification criteria can be developed without becoming
locked into specific proprietary connectors.