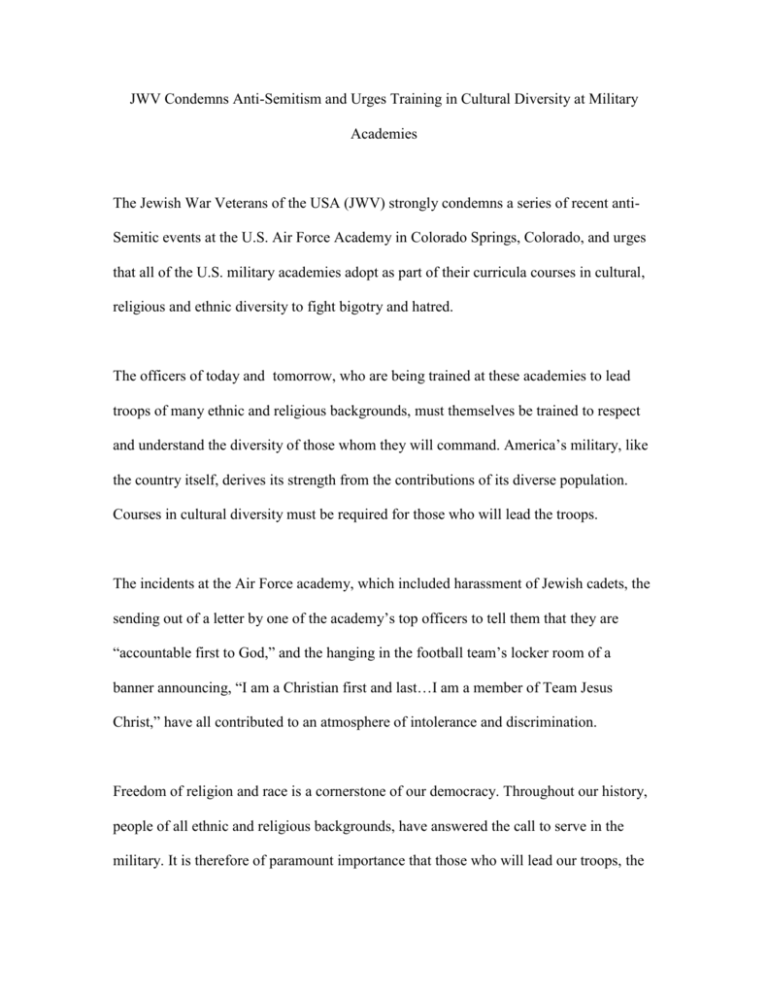 JWV Condemns Anti-Semitism and Urges Training in Cultural Diversity at Military
Academies
The Jewish War Veterans of the USA (JWV) strongly condemns a series of recent antiSemitic events at the U.S. Air Force Academy in Colorado Springs, Colorado, and urges
that all of the U.S. military academies adopt as part of their curricula courses in cultural,
religious and ethnic diversity to fight bigotry and hatred.
The officers of today and tomorrow, who are being trained at these academies to lead
troops of many ethnic and religious backgrounds, must themselves be trained to respect
and understand the diversity of those whom they will command. America's military, like
the country itself, derives its strength from the contributions of its diverse population.
Courses in cultural diversity must be required for those who will lead the troops.
The incidents at the Air Force academy, which included harassment of Jewish cadets, the
sending out of a letter by one of the academy's top officers to tell them that they are
"accountable first to God," and the hanging in the football team's locker room of a
banner announcing, "I am a Christian first and last…I am a member of Team Jesus
Christ," have all contributed to an atmosphere of intolerance and discrimination.
Freedom of religion and race is a cornerstone of our democracy. Throughout our history,
people of all ethnic and religious backgrounds, have answered the call to serve in the
military. It is therefore of paramount importance that those who will lead our troops, the
graduates of all of our military academies, respect the cultural diversity of our society.
The JWV supports the immediate institution of courses in cultural diversity at these
institutions that train our military leaders.
There is no place in the military or in society at large for bigotry, ethnic cleansing, antiSemitism, and discrimination.