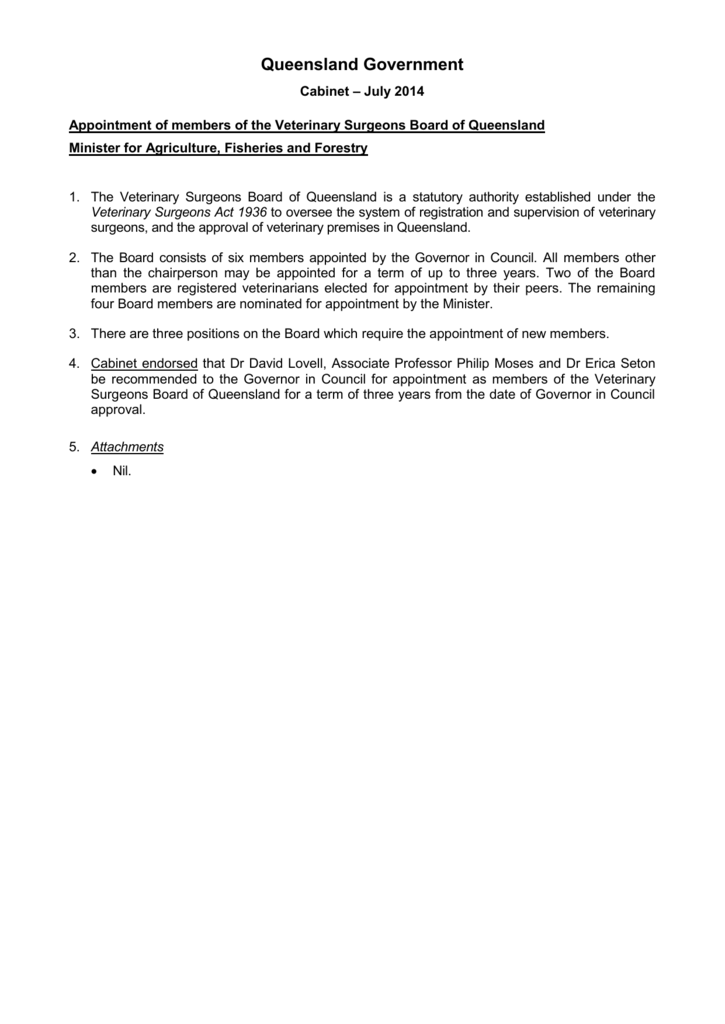 Queensland Government
Cabinet – July 2014
Appointment of members of the Veterinary Surgeons Board of Queensland
Minister for Agriculture, Fisheries and Forestry
1. The Veterinary Surgeons Board of Queensland is a statutory authority established under the
Veterinary Surgeons Act 1936 to oversee the system of registration and supervision of veterinary
surgeons, and the approval of veterinary premises in Queensland.
2. The Board consists of six members appointed by the Governor in Council. All members other
than the chairperson may be appointed for a term of up to three years. Two of the Board
members are registered veterinarians elected for appointment by their peers. The remaining
four Board members are nominated for appointment by the Minister.
3. There are three positions on the Board which require the appointment of new members.
4. Cabinet endorsed that Dr David Lovell, Associate Professor Philip Moses and Dr Erica Seton
be recommended to the Governor in Council for appointment as members of the Veterinary
Surgeons Board of Queensland for a term of three years from the date of Governor in Council
approval.
5. Attachments

Nil.