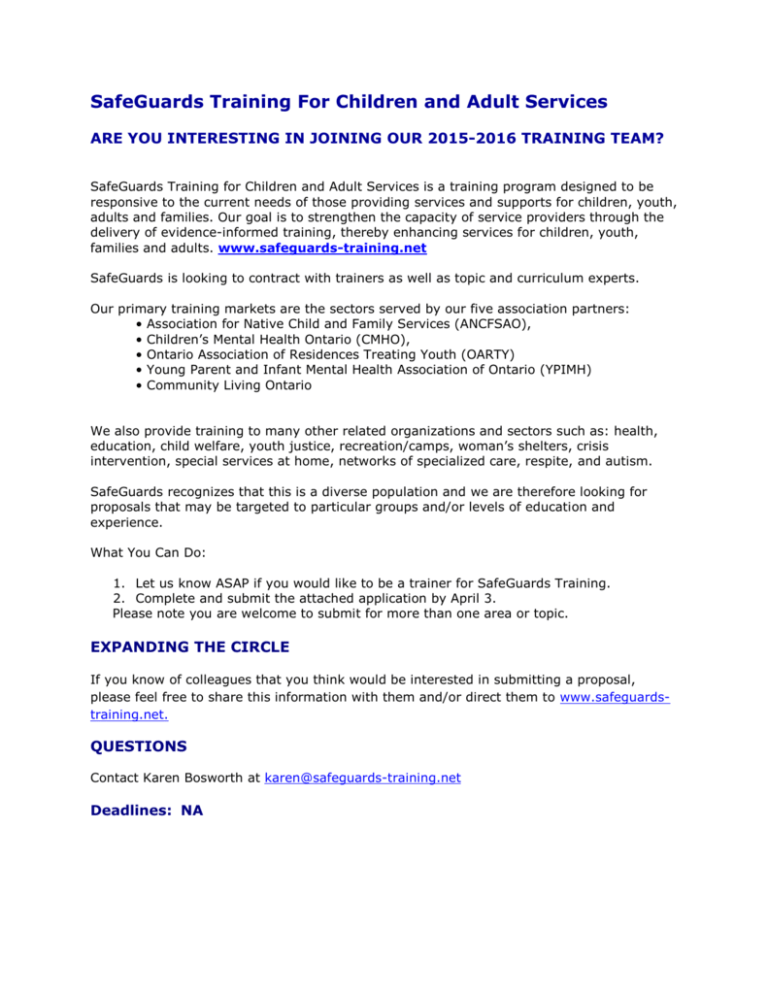 SafeGuards Training For Children and Adult Services
ARE YOU INTERESTING IN JOINING OUR 2015-2016 TRAINING TEAM?
SafeGuards Training for Children and Adult Services is a training program designed to be
responsive to the current needs of those providing services and supports for children, youth,
adults and families. Our goal is to strengthen the capacity of service providers through the
delivery of evidence-informed training, thereby enhancing services for children, youth,
families and adults. www.safeguards-training.net
SafeGuards is looking to contract with trainers as well as topic and curriculum experts.
Our primary training markets are the sectors served by our five association partners:
• Association for Native Child and Family Services (ANCFSAO),
• Children's Mental Health Ontario (CMHO),
• Ontario Association of Residences Treating Youth (OARTY)
• Young Parent and Infant Mental Health Association of Ontario (YPIMH)
• Community Living Ontario
We also provide training to many other related organizations and sectors such as: health,
education, child welfare, youth justice, recreation/camps, woman's shelters, crisis
intervention, special services at home, networks of specialized care, respite, and autism.
SafeGuards recognizes that this is a diverse population and we are therefore looking for
proposals that may be targeted to particular groups and/or levels of education and
experience.
What You Can Do:
1. Let us know ASAP if you would like to be a trainer for SafeGuards Training.
2. Complete and submit the attached application by April 3.
Please note you are welcome to submit for more than one area or topic.
EXPANDING THE CIRCLE
If you know of colleagues that you think would be interested in submitting a proposal,
please feel free to share this information with them and/or direct them to www.safeguardstraining.net.
QUESTIONS
Contact Karen Bosworth at karen@safeguards-training.net
Deadlines: NA
SafeGuards Training Team Application
Name:
Email:
Proposed Training Title: Please include a title of your proposed training(s)



Brief outline of your training.
Models/theories the training is based on.
Does it meet evidence-based practice/practice based evidence?
Outcomes:
What can participants expect to learn?
What is the expected impact on their participant's work place and clients served?
Training Requirements:



Suggest the number of participants in the training and the maximum.
Suggest the time frame ( the number of days and hours)
Suggested Delivery Model:
☐ Classroom Training (Training Topics produced 2-5 times/year across Ontario)
☐ In-Service Training (Training produced for agencies upon request)
☐ Webinars
☐ Videoconferencing
Please check the level of your proposed training:
☐ Introductory
☐ Intermediate
☐ Advanced
Please check who would benefit from this training:
☐ Frontline
☐ Supervisor
☐ Managers
☐ Child and Youth Worker
☐ Foster Parents
☐ Social Worker
☐ Psychologists
☐ Other:
Please include your Resume.