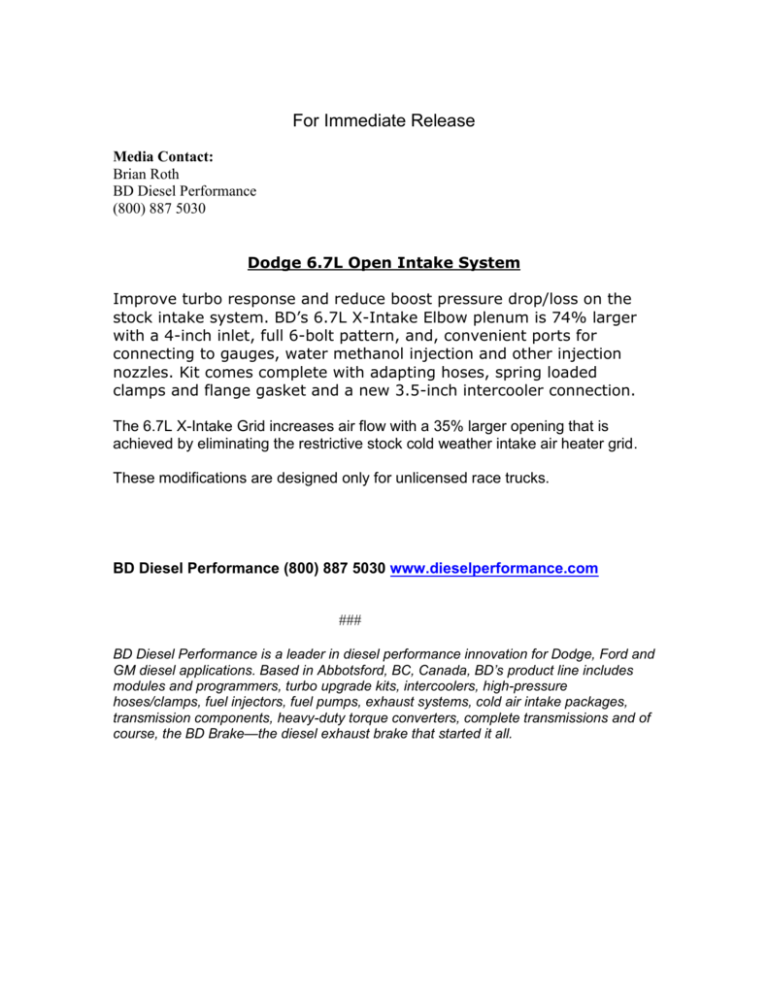 For Immediate Release
Media Contact:
Brian Roth
BD Diesel Performance
(800) 887 5030
Dodge 6.7L Open Intake System
Improve turbo response and reduce boost pressure drop/loss on the
stock intake system. BD's 6.7L X-Intake Elbow plenum is 74% larger
with a 4-inch inlet, full 6-bolt pattern, and, convenient ports for
connecting to gauges, water methanol injection and other injection
nozzles. Kit comes complete with adapting hoses, spring loaded
clamps and flange gasket and a new 3.5-inch intercooler connection.
The 6.7L X-Intake Grid increases air flow with a 35% larger opening that is
achieved by eliminating the restrictive stock cold weather intake air heater grid.
These modifications are designed only for unlicensed race trucks.
BD Diesel Performance (800) 887 5030 www.dieselperformance.com
###
BD Diesel Performance is a leader in diesel performance innovation for Dodge, Ford and
GM diesel applications. Based in Abbotsford, BC, Canada, BD's product line includes
modules and programmers, turbo upgrade kits, intercoolers, high-pressure
hoses/clamps, fuel injectors, fuel pumps, exhaust systems, cold air intake packages,
transmission components, heavy-duty torque converters, complete transmissions and of
course, the BD Brake—the diesel exhaust brake that started it all.