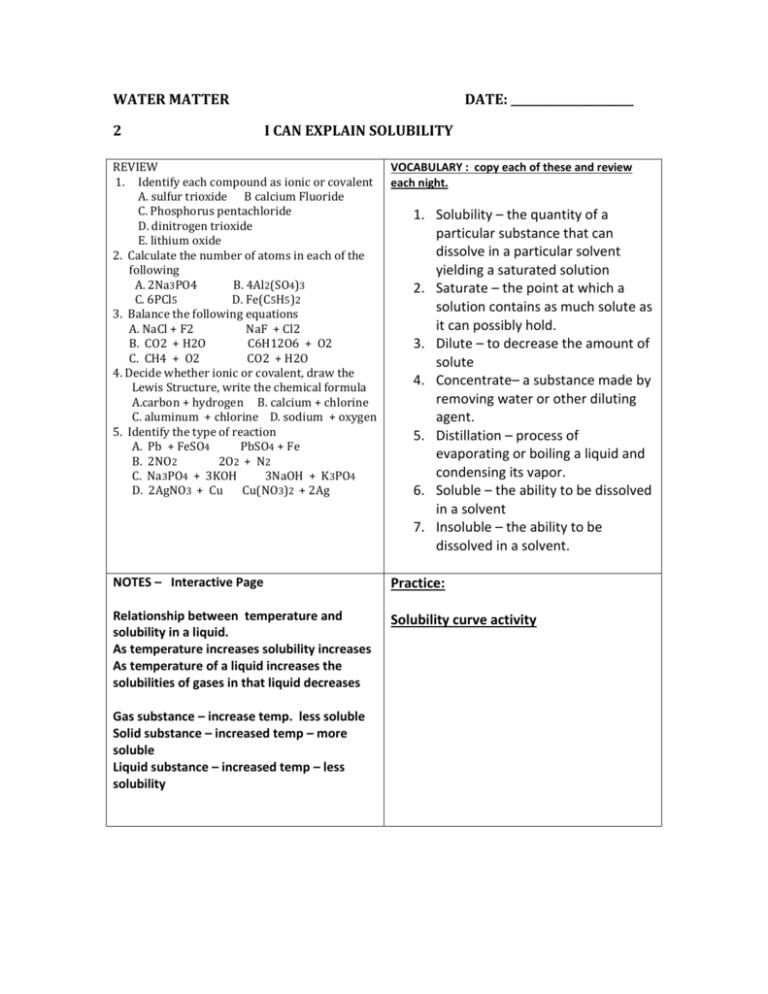 WATER MATTER
2
DATE: ______________________
I CAN EXPLAIN SOLUBILITY
REVIEW
1. Identify each compound as ionic or covalent
A. sulfur trioxide B calcium Fluoride
C. Phosphorus pentachloride
D. dinitrogen trioxide
E. lithium oxide
2. Calculate the number of atoms in each of the
following
A. 2Na3PO4
B. 4Al2(SO4)3
C. 6PCl5
D. Fe(C5H5)2
3. Balance the following equations
A. NaCl + F2
NaF + Cl2
B. CO2 + H2O
C6H12O6 + O2
C. CH4 + O2
CO2 + H2O
4. Decide whether ionic or covalent, draw the
Lewis Structure, write the chemical formula
A.carbon + hydrogen B. calcium + chlorine
C. aluminum + chlorine D. sodium + oxygen
5. Identify the type of reaction
A. Pb + FeSO4
PbSO4 + Fe
B. 2NO2
2O2 + N2
C. Na3PO4 + 3KOH
3NaOH + K3PO4
D. 2AgNO3 + Cu
Cu(NO3)2 + 2Ag
VOCABULARY : copy each of these and review
each night.
NOTES – Interactive Page
Practice:
Relationship between temperature and
solubility in a liquid.
As temperature increases solubility increases
As temperature of a liquid increases the
solubilities of gases in that liquid decreases
Solubility curve activity
Gas substance – increase temp. less soluble
Solid substance – increased temp – more
soluble
Liquid substance – increased temp – less
solubility
1. Solubility – the quantity of a
particular substance that can
dissolve in a particular solvent
yielding a saturated solution
2. Saturate – the point at which a
solution contains as much solute as
it can possibly hold.
3. Dilute – to decrease the amount of
solute
4. Concentrate– a substance made by
removing water or other diluting
agent.
5. Distillation – process of
evaporating or boiling a liquid and
condensing its vapor.
6. Soluble – the ability to be dissolved
in a solvent
7. Insoluble – the ability to be
dissolved in a solvent.