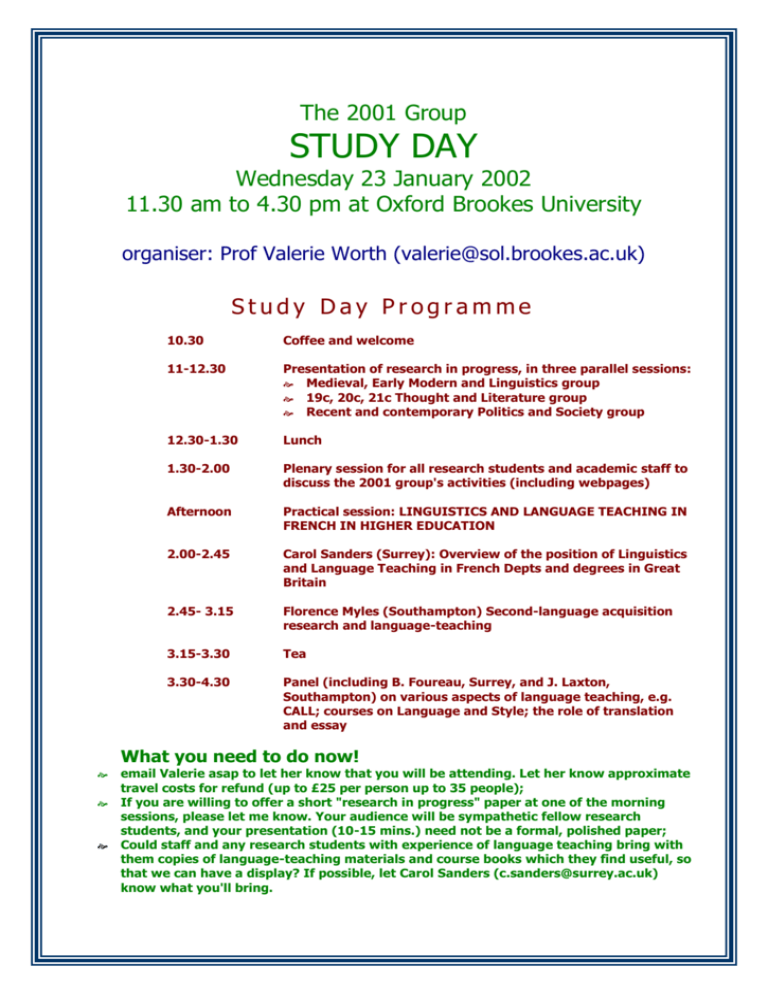 The 2001 Group
STUDY DAY
Wednesday 23 January 2002
11.30 am to 4.30 pm at Oxford Brookes University
organiser: Prof Valerie Worth (valerie@sol.brookes.ac.uk)
Study Day Programme
10.30
Coffee and welcome
11-12.30
Presentation of research in progress, in three parallel sessions:
 Medieval, Early Modern and Linguistics group
 19c, 20c, 21c Thought and Literature group
 Recent and contemporary Politics and Society group
12.30-1.30
Lunch
1.30-2.00
Plenary session for all research students and academic staff to
discuss the 2001 group's activities (including webpages)
Afternoon
Practical session: LINGUISTICS AND LANGUAGE TEACHING IN
FRENCH IN HIGHER EDUCATION
2.00-2.45
Carol Sanders (Surrey): Overview of the position of Linguistics
and Language Teaching in French Depts and degrees in Great
Britain
2.45- 3.15
Florence Myles (Southampton) Second-language acquisition
research and language-teaching
3.15-3.30
Tea
3.30-4.30
Panel (including B. Foureau, Surrey, and J. Laxton,
Southampton) on various aspects of language teaching, e.g.
CALL; courses on Language and Style; the role of translation
and essay
What you need to do now!



email Valerie asap to let her know that you will be attending. Let her know approximate
travel costs for refund (up to £25 per person up to 35 people);
If you are willing to offer a short "research in progress" paper at one of the morning
sessions, please let me know. Your audience will be sympathetic fellow research
students, and your presentation (10-15 mins.) need not be a formal, polished paper;
Could staff and any research students with experience of language teaching bring with
them copies of language-teaching materials and course books which they find useful, so
that we can have a display? If possible, let Carol Sanders (c.sanders@surrey.ac.uk)
know what you'll bring.