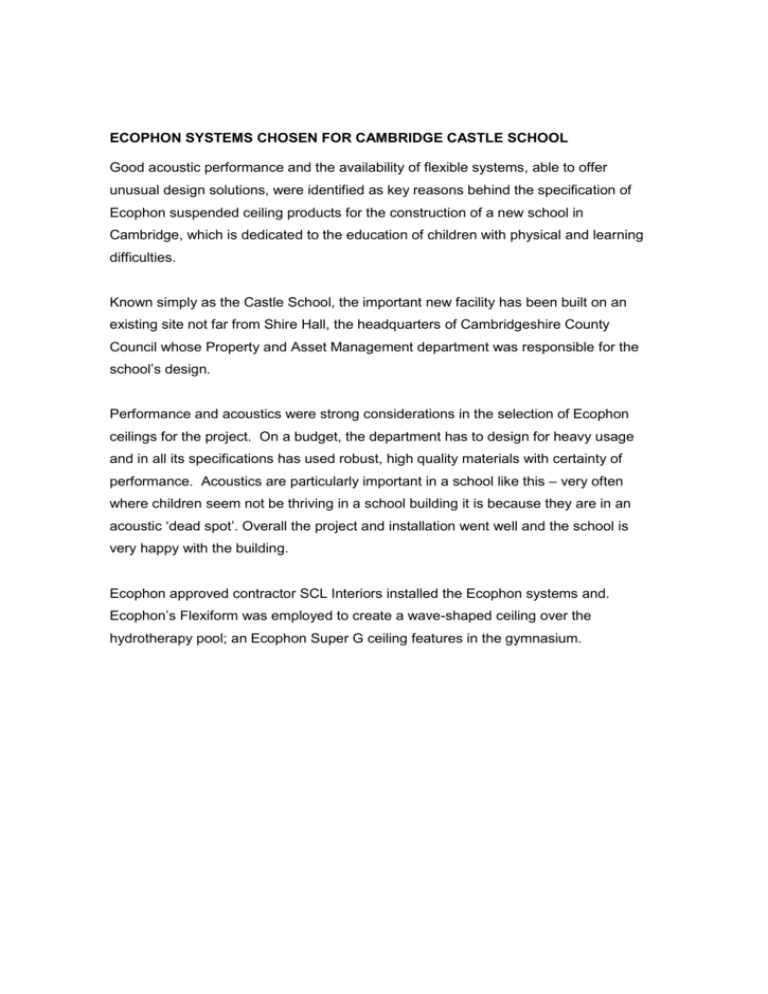 ECOPHON SYSTEMS CHOSEN FOR CAMBRIDGE CASTLE SCHOOL
Good acoustic performance and the availability of flexible systems, able to offer
unusual design solutions, were identified as key reasons behind the specification of
Ecophon suspended ceiling products for the construction of a new school in
Cambridge, which is dedicated to the education of children with physical and learning
difficulties.
Known simply as the Castle School, the important new facility has been built on an
existing site not far from Shire Hall, the headquarters of Cambridgeshire County
Council whose Property and Asset Management department was responsible for the
school's design.
Performance and acoustics were strong considerations in the selection of Ecophon
ceilings for the project. On a budget, the department has to design for heavy usage
and in all its specifications has used robust, high quality materials with certainty of
performance. Acoustics are particularly important in a school like this – very often
where children seem not be thriving in a school building it is because they are in an
acoustic 'dead spot'. Overall the project and installation went well and the school is
very happy with the building.
Ecophon approved contractor SCL Interiors installed the Ecophon systems and.
Ecophon's Flexiform was employed to create a wave-shaped ceiling over the
hydrotherapy pool; an Ecophon Super G ceiling features in the gymnasium.