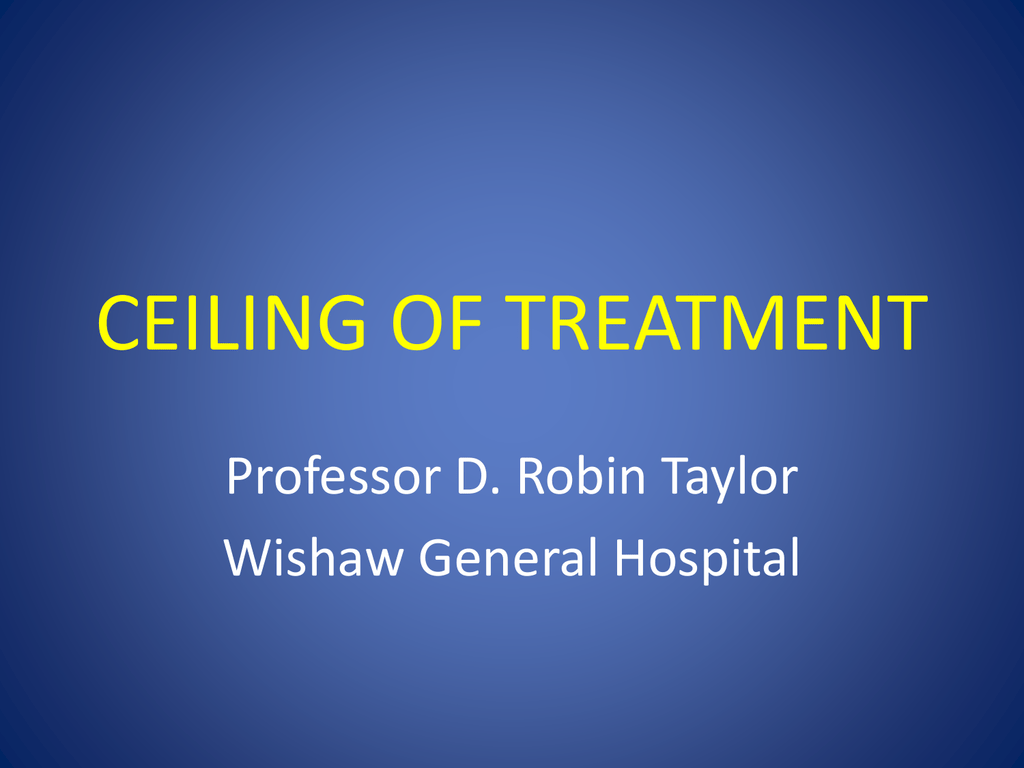 CEILING OF TREATMENT
Professor D. Robin Taylor
Wishaw General Hospital
Case study
•
•
•
•
Male, 78 years, end-stage COPD
Several admissions for over the previous year.
Admitted with bronchopneumonia and respiratory failure.
End of life conversation between myself, the patient and
his family at 4pm. Acknowledged to be terminally ill.
• Agreed that medical treatment would be limited to
oxygen, fluids, lorazepam, and morphine. This was
documented.
• At 3 a.m. next morning, nursing staff noted the patient to
be more breathless. In response, the on-call registrar
commenced non-invasive ventilation (NIV) and
aminophylline.
• Patient died 4 hours later. Family very angry.
Nobody documented
what not to do!
Ceiling of Treatment
• Common sense
• Communication
• Compassion
Ceiling of Treatment
When are decisions …
• Futile and /or
• Burdensome and / or
• Contrary to the patient's wishes?
Ceiling of Treatment
Designed …
• To improve management of acute episodes of
deterioration in the context of an end-of-life
trajectory.
• For use in hospitals to provide continuity of care
and good communication.
• To provide information about, as well as
appropriate limitations to interventions which are
likely to be futile, burdensome, or contrary to the
patient's wishes.
• To be guided by discussions with patient and
family or POA.
• To complement an Anticipatory Care Plan (ACP).
Assuming that other immediately reversible problems have been
addressed (e.g. pneumothorax), management of the patient's
acute respiratory distress SHOULD ALWAYS INCLUDE SYMPTOM
RELIEF e.g. low flow oxygen, opiates, haloperidol, benzodiazepine.
Thereafter, the patient's ACUTE MANAGEMENT MAY INCLUDE THE
FOLLOWING: (Circle YES or NO. Changes can be made at any time
later if necessary).
ARTERIAL BLOOD GAS ANALYSIS
ANTIBIOTICS
PREDNISOLONE
NON-INVASIVE VENTILATION (BiPAP)
TRANFER TO HIGH DEPENDENCY UNIT
ICU / POSSIBLE MECHANICAL VENTILATION
CPR IN THE EVENT OF CARDIO-RESPIRATORY ARREST
YES / NO
YES / NO
YES / NO
YES / NO
YES / NO
YES / NO
YES / NO
Active consideration should be given to the need for spiritual care. This
Document should be used in conjunction with the Scottish National Guideline for
Palliative Care in the Last Days of Life.
Ceiling of Treatment (Respiratory)
Ceiling of Treatment: NHS Lanarkshire
•
•
Piloted in Ward 7, WGH
Now configured for
i.
ii.
iii.
iv.
•
•
Cardiology
Gastroenterology (Liver Disease)
Advanced Malignancy
Surgery
HECT team study now under way
Medical and nursing training now under way
Reference:
Taylor D.R.
COPD, end of life and Ceiling of Treatment
Thorax 2014; 69: 497-499.