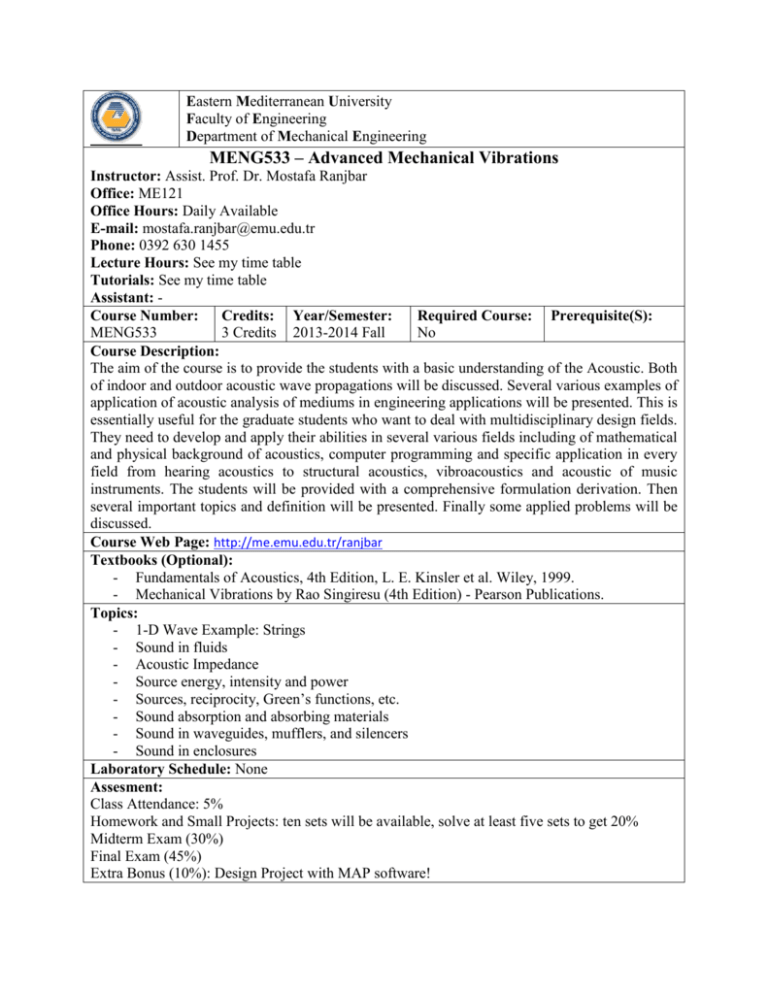 Eastern Mediterranean University
Faculty of Engineering
Department of Mechanical Engineering
MENG533 – Advanced Mechanical Vibrations
Instructor: Assist. Prof. Dr. Mostafa Ranjbar
Office: ME121
Office Hours: Daily Available
E-mail: [email protected]
Phone: 0392 630 1455
Lecture Hours: See my time table
Tutorials: See my time table
Assistant: Course Number:
Credits: Year/Semester:
Required Course: Prerequisite(S):
MENG533
3 Credits 2013-2014 Fall
No
Course Description:
The aim of the course is to provide the students with a basic understanding of the Acoustic. Both
of indoor and outdoor acoustic wave propagations will be discussed. Several various examples of
application of acoustic analysis of mediums in engineering applications will be presented. This is
essentially useful for the graduate students who want to deal with multidisciplinary design fields.
They need to develop and apply their abilities in several various fields including of mathematical
and physical background of acoustics, computer programming and specific application in every
field from hearing acoustics to structural acoustics, vibroacoustics and acoustic of music
instruments. The students will be provided with a comprehensive formulation derivation. Then
several important topics and definition will be presented. Finally some applied problems will be
discussed.
Course Web Page: http://me.emu.edu.tr/ranjbar
Textbooks (Optional):
- Fundamentals of Acoustics, 4th Edition, L. E. Kinsler et al. Wiley, 1999.
- Mechanical Vibrations by Rao Singiresu (4th Edition) - Pearson Publications.
Topics:
- 1-D Wave Example: Strings
- Sound in fluids
- Acoustic Impedance
- Source energy, intensity and power
- Sources, reciprocity, Green's functions, etc.
- Sound absorption and absorbing materials
- Sound in waveguides, mufflers, and silencers
- Sound in enclosures
Laboratory Schedule: None
Assesment:
Class Attendance: 5%
Homework and Small Projects: ten sets will be available, solve at least five sets to get 20%
Midterm Exam (30%)
Final Exam (45%)
Extra Bonus (10%): Design Project with MAP software!