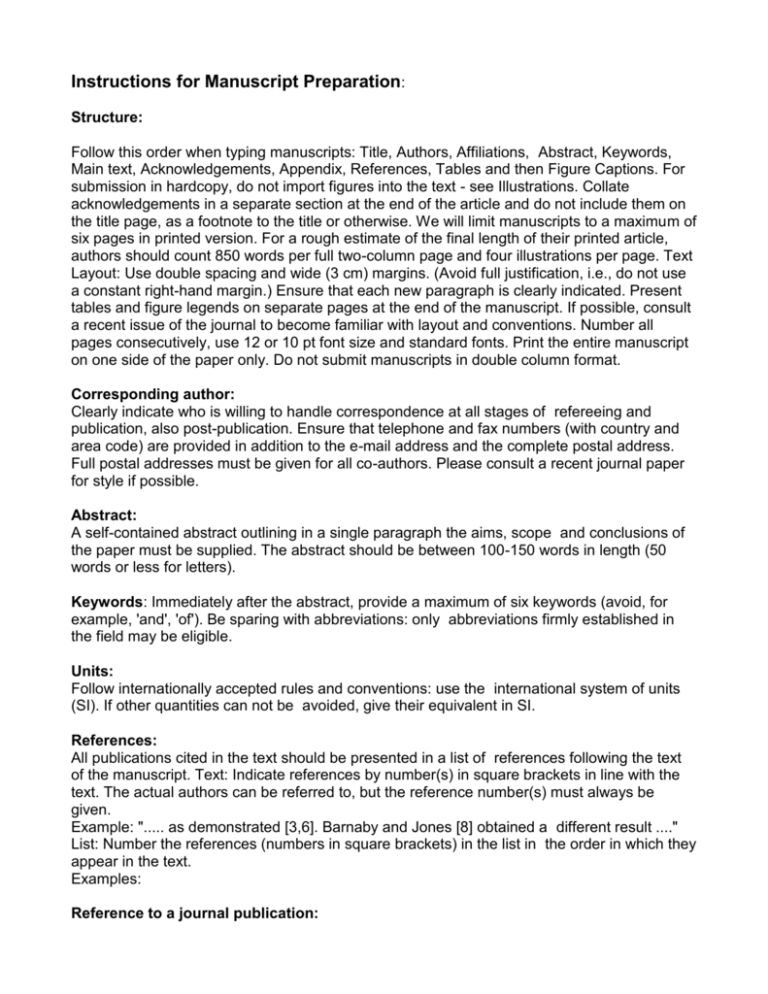 Instructions for Manuscript Preparation:
Structure:
Follow this order when typing manuscripts: Title, Authors, Affiliations, Abstract, Keywords,
Main text, Acknowledgements, Appendix, References, Tables and then Figure Captions. For
submission in hardcopy, do not import figures into the text - see Illustrations. Collate
acknowledgements in a separate section at the end of the article and do not include them on
the title page, as a footnote to the title or otherwise. We will limit manuscripts to a maximum of
six pages in printed version. For a rough estimate of the final length of their printed article,
authors should count 850 words per full two-column page and four illustrations per page. Text
Layout: Use double spacing and wide (3 cm) margins. (Avoid full justification, i.e., do not use
a constant right-hand margin.) Ensure that each new paragraph is clearly indicated. Present
tables and figure legends on separate pages at the end of the manuscript. If possible, consult
a recent issue of the journal to become familiar with layout and conventions. Number all
pages consecutively, use 12 or 10 pt font size and standard fonts. Print the entire manuscript
on one side of the paper only. Do not submit manuscripts in double column format.
Corresponding author:
Clearly indicate who is willing to handle correspondence at all stages of refereeing and
publication, also post-publication. Ensure that telephone and fax numbers (with country and
area code) are provided in addition to the e-mail address and the complete postal address.
Full postal addresses must be given for all co-authors. Please consult a recent journal paper
for style if possible.
Abstract:
A self-contained abstract outlining in a single paragraph the aims, scope and conclusions of
the paper must be supplied. The abstract should be between 100-150 words in length (50
words or less for letters).
Keywords: Immediately after the abstract, provide a maximum of six keywords (avoid, for
example, 'and', 'of'). Be sparing with abbreviations: only abbreviations firmly established in
the field may be eligible.
Units:
Follow internationally accepted rules and conventions: use the international system of units
(SI). If other quantities can not be avoided, give their equivalent in SI.
References:
All publications cited in the text should be presented in a list of references following the text
of the manuscript. Text: Indicate references by number(s) in square brackets in line with the
text. The actual authors can be referred to, but the reference number(s) must always be
given.
Example: "..... as demonstrated [3,6]. Barnaby and Jones [8] obtained a different result ...."
List: Number the references (numbers in square brackets) in the list in the order in which they
appear in the text.
Examples:
Reference to a journal publication:
[1] J. van der Geer, J.A.J. Hanraads, R.A. Lupton, J. Sci. Commun. 163 (2000) 51-59.
Reference to a book:
[2] W. Strunk Jr., E.B. White, The Elements of Style, third ed., Macmillan, New York, 1979.
Reference to a chapter in an edited book:
[3] G.R. Mettam, L.B. Adams, in: B.S. Jones, R.Z. Smith (Eds.), Introduction to the Electronic
Age, E-Publishing Inc., New York, 1999, pp. 281-304.
Tables:
Tables should be numbered consecutively and given suitable headings. Tables may be
included in the text if produced by the same text processing program. Otherwise each table is
to be laid out on a new page. No vertical rules should be used. Tables should not duplicate
results presented elsewhere in the manuscript (for example, in graphs). Footnotes to tables
should be typed below the table and should be referred to by
superscript lowercase letters.
Illustrations
* TIFF or EPS files are the preferred format. The usability of other formats is to a large extent
dependent on the information you supply us with concerning the software and platform used.
Color pictures will not be considered.
* Drawings made with Adobe Illustrator, Aldus Freehand and CorelDraw generally give good
results. Drawings made in WordPerfect or Word generally have too low a resolution. * The
minimum acceptable resolution for line art images is 1000 dpi. *
For halftones and halftone/line art combinations, the minimum resolutions are 300dpi
(500dpi if lettering is present). Since we cannot a priori guarantee the usability of your
graphic file(s), authors should be prepared to provide hard copies of all illustrations if
necessary. Figures will generally be reduced in size before printing and any lettering should
be sufficiently large (minimum height, 3-5 mm) to remain legible. All illustrations should
preferably require the same degree of reduction. Legends to illustrations should be typed in
sequence on a separate page or pages and be understandable without reference to the text.