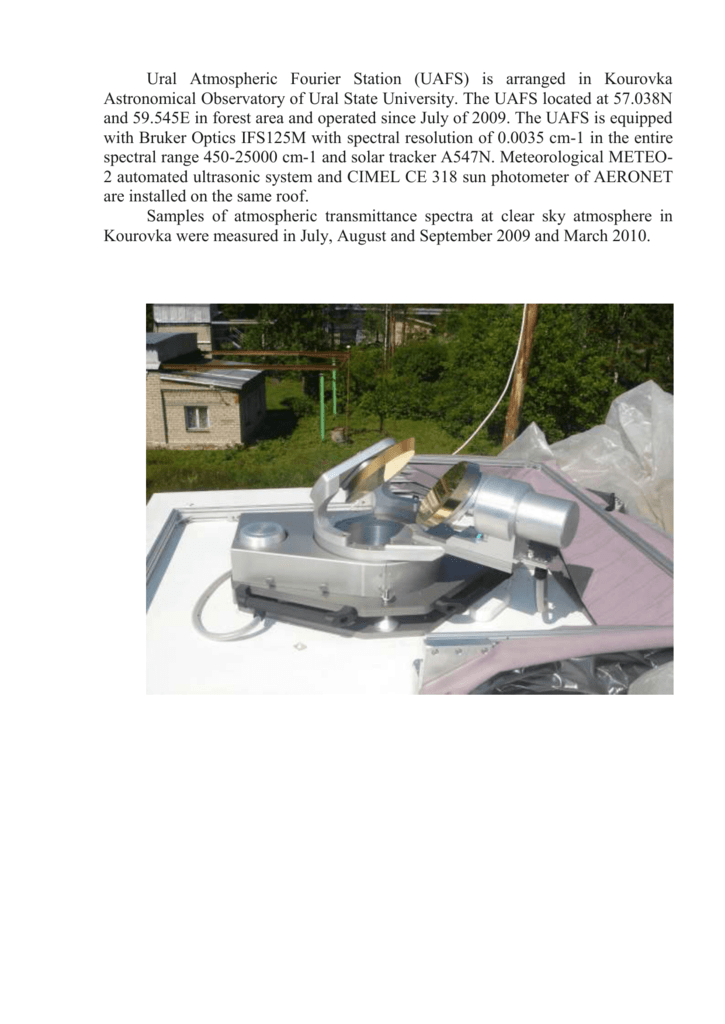 Ural Atmospheric Fourier Station (UAFS) is arranged in Kourovka
Astronomical Observatory of Ural State University. The UAFS located at 57.038N
and 59.545E in forest area and operated since July of 2009. The UAFS is equipped
with Bruker Optics IFS125M with spectral resolution of 0.0035 cm-1 in the entire
spectral range 450-25000 cm-1 and solar tracker A547N. Meteorological METEO2 automated ultrasonic system and CIMEL CE 318 sun photometer of AERONET
are installed on the same roof.
Samples of atmospheric transmittance spectra at clear sky atmosphere in
Kourovka were measured in July, August and September 2009 and March 2010.
15.10.2009 12:06:59
0.10
0.05
0.00
Single channel
0.15
0.20
C:\IFS125M\ÁîëäûðåâÍÞ\test\TEST_InSb_CaF2.16
14000
12000
10000
8000
6000
Wavenumber cm-1
Ñòðàíèöà 1 of 1
4000
2000
Sample of atmospheric spectrum in NIR measured with FTIR in Kourovka at clear
sky condition. Spectral resolution is 0.0035 cm-1.
The fragments of the atmospheric spectrum show good signal to noise ratio.
Software package GFIT is using to retrieve total column mean concentration
of CO2, CH4, CO and HDO to H2O ratio in the atmosphere.