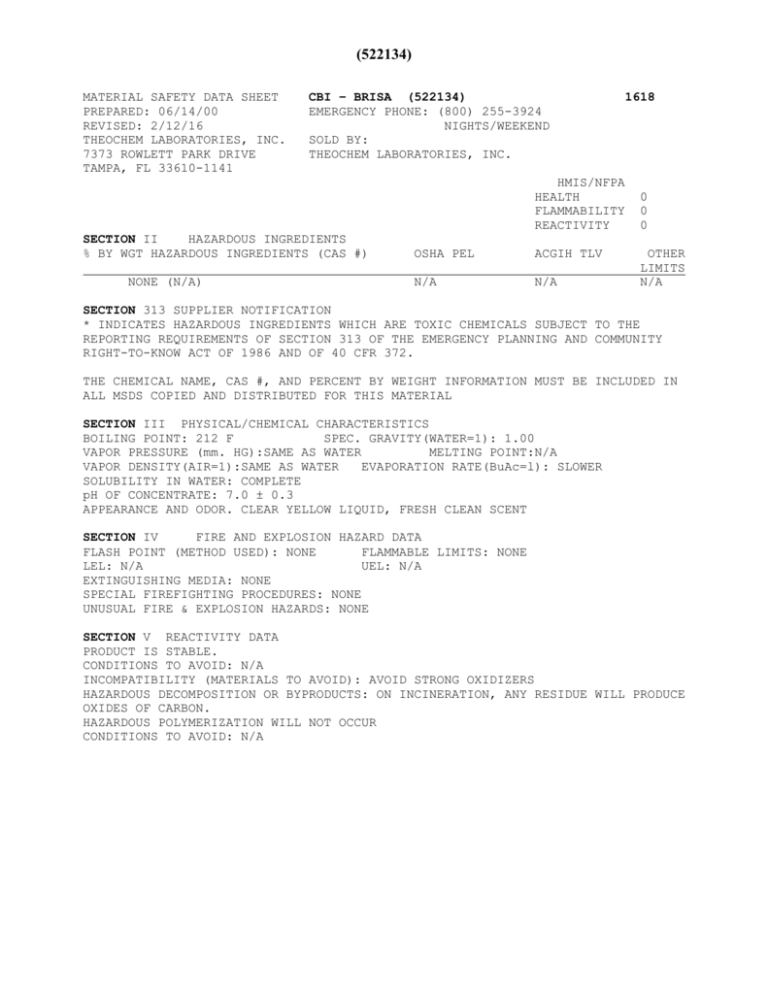 (522134)
MATERIAL SAFETY DATA SHEET
PREPARED: 06/14/00
REVISED: 2/12/16
THEOCHEM LABORATORIES, INC.
7373 ROWLETT PARK DRIVE
TAMPA, FL 33610-1141
CBI – BRISA (522134)
EMERGENCY PHONE: (800) 255-3924
NIGHTS/WEEKEND
SOLD BY:
THEOCHEM LABORATORIES, INC.
HMIS/NFPA
HEALTH
FLAMMABILITY
REACTIVITY
SECTION II
HAZARDOUS INGREDIENTS
% BY WGT HAZARDOUS INGREDIENTS (CAS #)
NONE (N/A)
OSHA PEL
ACGIH TLV
N/A
N/A
1618
0
0
0
OTHER
LIMITS
N/A
SECTION 313 SUPPLIER NOTIFICATION
* INDICATES HAZARDOUS INGREDIENTS WHICH ARE TOXIC CHEMICALS SUBJECT TO THE
REPORTING REQUIREMENTS OF SECTION 313 OF THE EMERGENCY PLANNING AND COMMUNITY
RIGHT-TO-KNOW ACT OF 1986 AND OF 40 CFR 372.
THE CHEMICAL NAME, CAS #, AND PERCENT BY WEIGHT INFORMATION MUST BE INCLUDED IN
ALL MSDS COPIED AND DISTRIBUTED FOR THIS MATERIAL
SECTION III PHYSICAL/CHEMICAL CHARACTERISTICS
BOILING POINT: 212 F
SPEC. GRAVITY(WATER=1): 1.00
VAPOR PRESSURE (mm. HG):SAME AS WATER
MELTING POINT:N/A
VAPOR DENSITY(AIR=1):SAME AS WATER
EVAPORATION RATE(BuAc=l): SLOWER
SOLUBILITY IN WATER: COMPLETE
pH OF CONCENTRATE: 7.0 ± 0.3
APPEARANCE AND ODOR. CLEAR YELLOW LIQUID, FRESH CLEAN SCENT
SECTION IV
FIRE AND EXPLOSION HAZARD DATA
FLASH POINT (METHOD USED): NONE
FLAMMABLE LIMITS: NONE
LEL: N/A
UEL: N/A
EXTINGUISHING MEDIA: NONE
SPECIAL FIREFIGHTING PROCEDURES: NONE
UNUSUAL FIRE & EXPLOSION HAZARDS: NONE
SECTION V REACTIVITY DATA
PRODUCT IS STABLE.
CONDITIONS TO AVOID: N/A
INCOMPATIBILITY (MATERIALS TO AVOID): AVOID STRONG OXIDIZERS
HAZARDOUS DECOMPOSITION OR BYPRODUCTS: ON INCINERATION, ANY RESIDUE WILL PRODUCE
OXIDES OF CARBON.
HAZARDOUS POLYMERIZATION WILL NOT OCCUR
CONDITIONS TO AVOID: N/A
(522134)
MATERIAL SAFETY DATA SHEET
RINSE NO MORE/RAINFRESH SCENT
PAGE 2
1618
SECTION VI HEALTH HAZARD DATA
ROUTE(S) OF ENTRY:
INHALATION: NO
SKIN: NO
INGESTION: UNLIKELY
HEALTH HAZARDS (ACUTE & CHRONIC):CAUSES EYE IRRITATION.
CARCINOGENCITY:
NTP: NO
IARC MONGRAPHS: NO
OSHA REGUIATED: NO
SIGNS & SYMPTOMS OF EXPOSLTRE:EYE IRRITATION ON CONTACT.
MEDICAL CONDITIONS GENERALLY AGGRAVATED BY EXPOSURE: NONE KNOWN
EMERGENCY AND FIRST AID PROCEDURES
SKIN CONTACT: FLUSH WITH PLENTY OF WATER
EYE CONTACT: FLUSH WITH PLENTY OF WATER FOR AT LEAST 15 MINS., IF IRRITATION
PERSISTS SEE AN EYE DOCTOR.
INGESTION: DRINK PLENTY OF WATER OR MILK, CONSULT A PHYSICIAN,
SECTION VII
PRECAUTIONS FOR SAFE HANDLING AND USE
SPILL STEPS: LARGE SPILLS SHOULD BE RECOVERED FOR USE. SMALL SPILLS CAN BE
ABSORBED WITH SAND OR "OIL DRIP'
WASTE DISPOSAL METHOD: LANDFILL IN ACCORDANCE WITH LOCAL, STATE, AND FEDERAL
REGULATIONS.
STORAGE & HANDLING: STORE IN A COOL, DRY AREA. KEEP CONTAINER CLOSED WHEN NOT IN
USE. KEEP OUT OF REACH OF CHILDREN.
SECTION VIII
CONTROL MEASURES
RESPIRATORY PROTECTION: NONE
VENTILATION:
LOCAL EXHAUST: ADEQUATE
SPECIAL: N/A
MECHANICAL: N/A
OTHER: N/A
PROTECTIVE GLOVES: RUBBER
EYE PROTECTION: GLASSES OR GOGGLES
OTHER PROTECTIVE EQUIP/CLOTHING: IMPERVIOUS AS REQUIRED TO AVOID SKIN CONTACT
WORK/HYGIENIC PRACTICES: WASH HANDS AFTER USE.
WE BELIEVE ALL INFORMATION GIVEN IS ACCURATE. IT IS OFFERED IN GOOD FAITH, BUT
WITHOUT GUARANTEE. SINCE CONDITIONS ARE BEYOND OUR CONTROL, USER ASSUMES ALL
RESPONSIBLITY AND RISK.