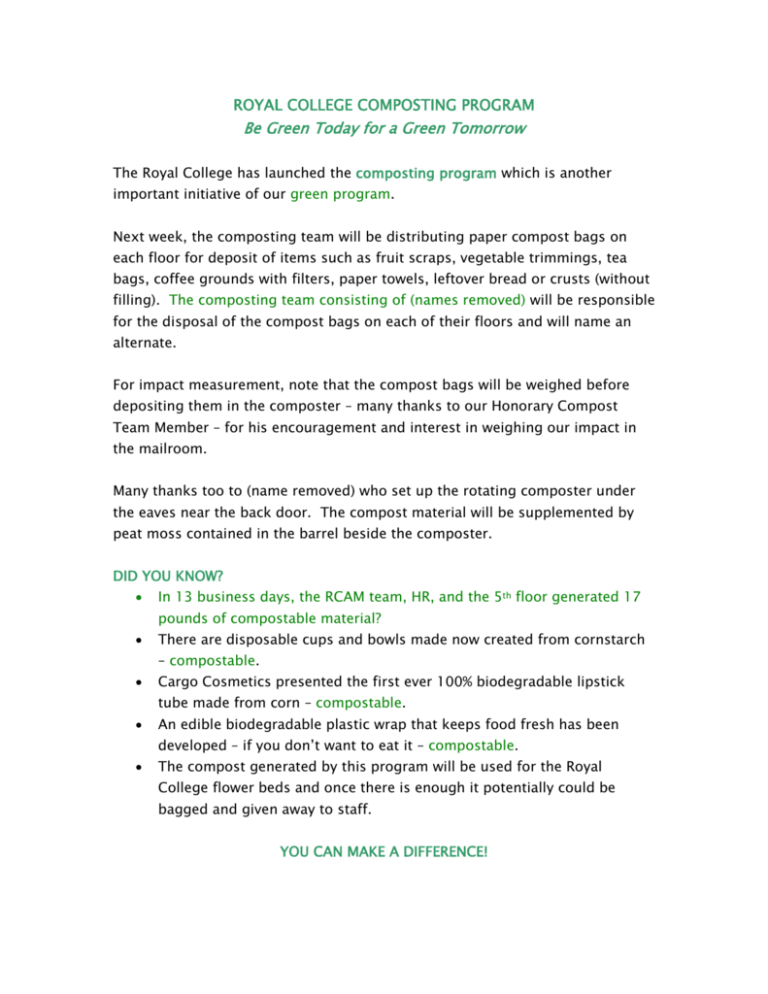 ROYAL COLLEGE COMPOSTING PROGRAM
Be Green Today for a Green Tomorrow
The Royal College has launched the composting program which is another
important initiative of our green program.
Next week, the composting team will be distributing paper compost bags on
each floor for deposit of items such as fruit scraps, vegetable trimmings, tea
bags, coffee grounds with filters, paper towels, leftover bread or crusts (without
filling). The composting team consisting of (names removed) will be responsible
for the disposal of the compost bags on each of their floors and will name an
alternate.
For impact measurement, note that the compost bags will be weighed before
depositing them in the composter – many thanks to our Honorary Compost
Team Member – for his encouragement and interest in weighing our impact in
the mailroom.
Many thanks too to (name removed) who set up the rotating composter under
the eaves near the back door. The compost material will be supplemented by
peat moss contained in the barrel beside the composter.
DID YOU KNOW?

In 13 business days, the RCAM team, HR, and the 5th floor generated 17
pounds of compostable material?

There are disposable cups and bowls made now created from cornstarch
– compostable.

Cargo Cosmetics presented the first ever 100% biodegradable lipstick
tube made from corn – compostable.

An edible biodegradable plastic wrap that keeps food fresh has been
developed – if you don't want to eat it – compostable.

The compost generated by this program will be used for the Royal
College flower beds and once there is enough it potentially could be
bagged and given away to staff.
YOU CAN MAKE A DIFFERENCE!