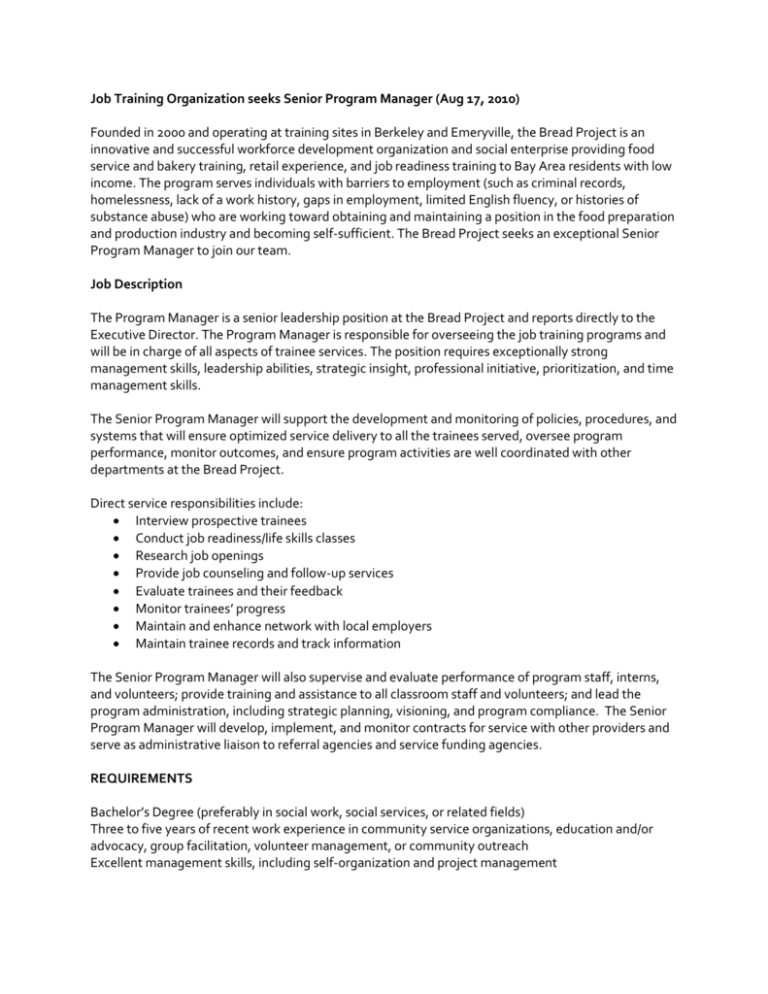 Job Training Organization seeks Senior Program Manager (Aug 17, 2010)
Founded in 2000 and operating at training sites in Berkeley and Emeryville, the Bread Project is an
innovative and successful workforce development organization and social enterprise providing food
service and bakery training, retail experience, and job readiness training to Bay Area residents with low
income. The program serves individuals with barriers to employment (such as criminal records,
homelessness, lack of a work history, gaps in employment, limited English fluency, or histories of
substance abuse) who are working toward obtaining and maintaining a position in the food preparation
and production industry and becoming self-sufficient. The Bread Project seeks an exceptional Senior
Program Manager to join our team.
Job Description
The Program Manager is a senior leadership position at the Bread Project and reports directly to the
Executive Director. The Program Manager is responsible for overseeing the job training programs and
will be in charge of all aspects of trainee services. The position requires exceptionally strong
management skills, leadership abilities, strategic insight, professional initiative, prioritization, and time
management skills.
The Senior Program Manager will support the development and monitoring of policies, procedures, and
systems that will ensure optimized service delivery to all the trainees served, oversee program
performance, monitor outcomes, and ensure program activities are well coordinated with other
departments at the Bread Project.
Direct service responsibilities include:
 Interview prospective trainees
 Conduct job readiness/life skills classes
 Research job openings
 Provide job counseling and follow-up services
 Evaluate trainees and their feedback
 Monitor trainees' progress
 Maintain and enhance network with local employers
 Maintain trainee records and track information
The Senior Program Manager will also supervise and evaluate performance of program staff, interns,
and volunteers; provide training and assistance to all classroom staff and volunteers; and lead the
program administration, including strategic planning, visioning, and program compliance. The Senior
Program Manager will develop, implement, and monitor contracts for service with other providers and
serve as administrative liaison to referral agencies and service funding agencies.
REQUIREMENTS
Bachelor's Degree (preferably in social work, social services, or related fields)
Three to five years of recent work experience in community service organizations, education and/or
advocacy, group facilitation, volunteer management, or community outreach
Excellent management skills, including self-organization and project management
Experience in recruitment, training, and supervision of clients and volunteers
Excellent oral and written communication skills
Teaching experience in vocational education preferred
Ability to work with diverse populations
Ability to set and maintain clear boundaries while remaining compassionate
Ability to produce high quality work on a day-to-day basis
Ability to complete projects under tight deadlines
Strong multi-tasking skills and flexibility in handling multiple projects or shifts in assignments
Knowledge of Bay Area social services agencies
Strong computer skills, specifically in Microsoft applications (Word, Excel, PowerPoint), Windows
operating system, and Salesforce
Ability to work both independently and as part of a team
Job Structure and Compensation
This is a full-time, salaried position with benefits. Compensation is market-competitive and dependent
upon experience.
How to Apply
Interested and qualified candidates should submit a cover letter, resume/CV, and 3 professional
references to Ms. Dagmar Schroeder-Huse, Executive Director at [email protected] with
"Senior Program Manager" in the subject line. Applications submitted without the requested material
will not be considered. No phone calls please.