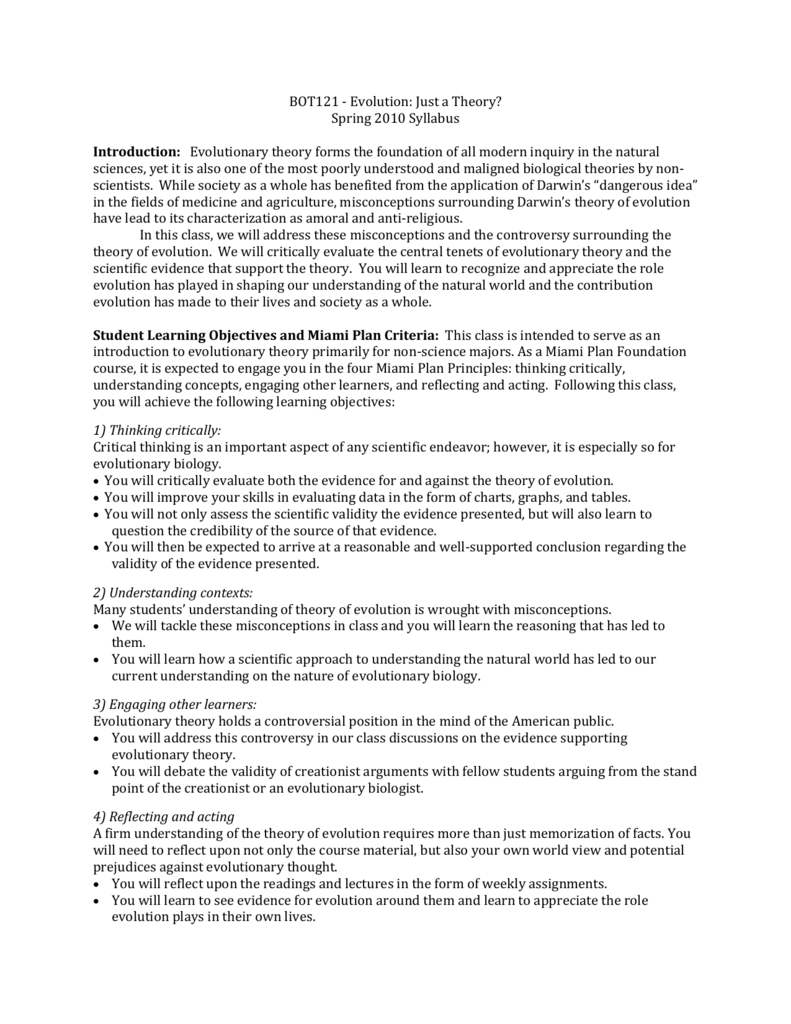 BOT121 - Evolution: Just a Theory?
Spring 2010 Syllabus
Introduction: Evolutionary theory forms the foundation of all modern inquiry in the natural
sciences, yet it is also one of the most poorly understood and maligned biological theories by nonscientists. While society as a whole has benefited from the application of Darwin's "dangerous idea"
in the fields of medicine and agriculture, misconceptions surrounding Darwin's theory of evolution
have lead to its characterization as amoral and anti-religious.
In this class, we will address these misconceptions and the controversy surrounding the
theory of evolution. We will critically evaluate the central tenets of evolutionary theory and the
scientific evidence that support the theory. You will learn to recognize and appreciate the role
evolution has played in shaping our understanding of the natural world and the contribution
evolution has made to their lives and society as a whole.
Student Learning Objectives and Miami Plan Criteria: This class is intended to serve as an
introduction to evolutionary theory primarily for non-science majors. As a Miami Plan Foundation
course, it is expected to engage you in the four Miami Plan Principles: thinking critically,
understanding concepts, engaging other learners, and reflecting and acting. Following this class,
you will achieve the following learning objectives:
1) Thinking critically:
Critical thinking is an important aspect of any scientific endeavor; however, it is especially so for
evolutionary biology.
 You will critically evaluate both the evidence for and against the theory of evolution.
 You will improve your skills in evaluating data in the form of charts, graphs, and tables.
 You will not only assess the scientific validity the evidence presented, but will also learn to
question the credibility of the source of that evidence.
 You will then be expected to arrive at a reasonable and well-supported conclusion regarding the
validity of the evidence presented.
2) Understanding contexts:
Many students' understanding of theory of evolution is wrought with misconceptions.
 We will tackle these misconceptions in class and you will learn the reasoning that has led to
them.
 You will learn how a scientific approach to understanding the natural world has led to our
current understanding on the nature of evolutionary biology.
3) Engaging other learners:
Evolutionary theory holds a controversial position in the mind of the American public.
 You will address this controversy in our class discussions on the evidence supporting
evolutionary theory.
 You will debate the validity of creationist arguments with fellow students arguing from the stand
point of the creationist or an evolutionary biologist.
4) Reflecting and acting
A firm understanding of the theory of evolution requires more than just memorization of facts. You
will need to reflect upon not only the course material, but also your own world view and potential
prejudices against evolutionary thought.
 You will reflect upon the readings and lectures in the form of weekly assignments.
 You will learn to see evidence for evolution around them and learn to appreciate the role
evolution plays in their own lives.
Professor: Dr. Richard C. Moore
Office: 394 Pearson Hall; Phone: 529-4278; email:[email protected]
Office Hours: 9-10:30 T/Th, or by appointment.
Meeting time: 2:15-3:05 pm on Monday, Wednesday, and Friday in 306 Pearson Hall.
Textbooks:
-Evolution vs. Creationism, second edition, 2009, by Eugenie C. Scott
- Why Evolution is True, 2009, by Jerry A. Coyne
- Evobeaker, SimBiotic Software (three labs plus CD-ROM)
Evolution versus Creationism by Eugenie C. Scott will guide our discussions on the nature of science
and the controversy surrounding the theory of evolution. Why Evolution is True is an evidencebased account of the central concepts of evolutionary biology written for the general public. Many
of our examples of evolutionary concepts are described in this text, although I may also use
examples from outside sources. The evolutionary software, Evobeaker, includes three modules
designed for non-majors evolutionary biology classes. Students will perform Evobeaker activities
outside of class and discuss the implications of their results in class.
Supplementary reading: Although the major portion of the course centers around the above
reading, I may also assign supplementary readings. These will mostly come from scientific
newspaper articles (e.g. The Science Times section of The New York Times) and magazines (e.g.
Scientific American). There also exist a fair number of educational videos that can supplement
learning both within and outside the class (PBS Evolution series; NOVA: Evolution on Trial).
Activities: Discussion and activities that reinforce key concepts will be integrated into the lecture
portion of the class. Examples of activities and the Miami Plan principle(s) they incorporate in
parentheses include:
-Active discussion of primary and supplementary reading materials (engaging other learners,
reflecting and acting)
-Hands-on activities to illustrate key concepts in evolutionary theory (such as variation) and
underlying genetics (thinking critically, engaging other learners)
-Write-up and discussion of examples of recent evolutionary discoveries identified by students in
popular scientific articles (understanding contexts, reflecting and acting)
-Weekly assignments (blogs) by students describing their impressions of that week's
readings/lessons (thinking critically, reflecting and acting)
-Debate on the validity of creationist arguments (engaging other learners, reflecting and acting).
Assessment:
-Three quizzes designed to test your knowledge of the concepts and provide "practice" for exams.
-Two "midterm" exams (non-cumulative) and one final exam (cumulative).
-Three evobeaker labs. These are to be completed before the due date on your own; however we
will discuss them in class.
-One midterm paper (describing a recent evolutionary discovery)
-One end of class debate on a creationist argument.
-Weekly "blogs" (online assignment; 1 to 3 questions reflecting upon the previous or upcoming
material).
Note: If you miss a quiz or exam, or do not turn in an assignment by the required deadline, you will
receive a zero for that assignment. Late assignments and/or make-up exams/quizzes will only be
given to those with a written medical excuse (doctor's note on letterhead stationery) or a family
emergency such as the death of a family member (letter from a parent with daytime phone number
is required).
Point Break down:
Category
Exams
Papers/Projects
Quizzes
Evobeaker
Assignments
Assignment
Exam 1
Exam 2
Final exam
Midterm paper
Final Debate
Quiz 1
Quiz 2
Quiz 3
Evobeaker 1
Evobeaker 2
Evobeaker 3
Weekly
assignments
TOTAL
% of Grade
10%
10%
15%
10%
15%
5%
5%
5%
5%
5%
5%
10%
Total per Category
100%
100%
35%
25%
15%
15%
10%
Final course grade:
Percentage of course points
90-92 / 93-96 / 98-100
80-82 / 83-86 / 87-89
70-72 / 73-76 / 77-79
60-62 / 63-66 / 67-69
Less than 60
Grade Range
A- / A / A+
B- / B / B+
C- / C / C+
D- / D / D+
F
Academic Misconduct: You are expected to do your own work in this course. Please read Miami
University's policy on Academic Misconduct in The Student Handbook (Section V):
http://www.miami.muohio.edu/documents_and_policies/handbook/academic_regulations/acadre
gspv.cfm. We will handle all cases of academic misconduct according to the official guidelines set
forth in the Student Handbook.
You must be careful to avoid plagiarism in any written assignment that you submit for this class.
Plagiarism is using the words or presenting the ideas of someone else without properly citing that
person's work. If the words or ideas you use are based on another work, you should always cite the
work. Using the words of others and failure to properly cite your resources is also considered a
case of academic misconduct and will be handled as stated above.
Withdrawal policy: If a student drops a full semester course by the third week deadline (Feb 1),
the course will be removed from the record. If a student drops a course between the third week and
ninth week of the term (Mar 25), a "W" will be recorded. A student cannot normally drop a course
after the ninth week of the term and the only way to drop at this point is by petition.
Course Content:
Week
Date
Lecture Topic
Intro to class
Nature of Science
Nature of Science
Primary
Reading
EvC ,
Chapter 1
EvC,
Chapter 13
TBA
Quizzes, Exams,
Assignments
due
WEEK 1
Jan 11, 13, 15
WEEK 2
Jan 20, 22
WEEK 3
Jan 25, 27*, 29
History of Evolution with special
focus on Charles Darwin
WEEK 4
Feb 1, 3, 5*
WEiT Chapter 1: What Is
Evolution
WEiT 1
WEEK 5
Feb 8, 10, 12
WEiT Chapter 2: Written in the
Rocks
WEiT 2
WEEK 6
Feb 15, 17*, 19
WEiT Chapter 3: Remnants
WEiT 3
Exam #1
WEEK 7
Feb 22, 24, 26*
WEiT Chapter 4: The Geography
of Life
WEiT 4
Evobeaker 2
WEEK 8
Mar 1, 3, 5*
WEiT 5
Paper #1 due
WEEK 9
Mar 16, 17*, 19
WEiT Chapter 5: The Engine of
Evolution
WEiT Chapter 6: How Sex Drives
Evolution
WEiT 6
Quiz #2
WEEK
10
Mar 22, 24, 26*
WEiT Chapter 7: The Origin of
Species
WEiT 7
Evobeaker #3
WEEK
11
WEEK
12
Mar 29, 31*, Apr 2 WEiT Chapter 8: What about us?
WEiT 8
Exam #2
Apr 5, 7, 9
Special Topics and/or Catch up
week.
WEEK
13
Apr 12, 14*, 16
Creationism: What is that all
about?
EvC,
Chapter 3, 6
Quiz 3
WEEK
14
Apr 19, 21, 23
Evolution on Trial
Student Presentations/Debate
WEEK
15
Apr 26, 28, 30
Quiz #1
Evobeaker #1
(Evidence)
Final Project
Evolution on Trial
Final Project
Student Presentations/Debate
Class reflection
FINALS May 7*
FINAL EXAM
Final Exam
WEEK
Friday, 5/7, 10:15-12:15
EvC= Evolution vs. Creationism; WEiT=Why Evolution is True
*Starred dates are those when an assignment is due and/or there will be a quiz/exam.
Note: This syllabus is subject to change (as some topics may take longer/shorter than planned). I
may also assign additional readings throughout the course.