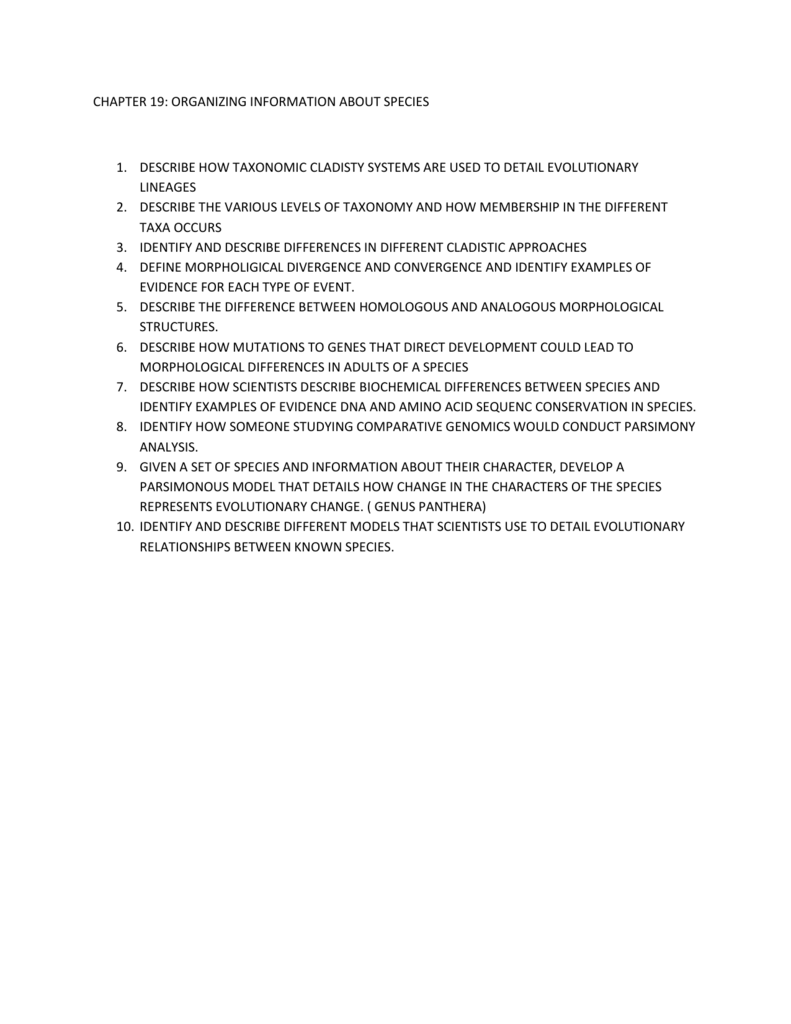 CHAPTER 19: ORGANIZING INFORMATION ABOUT SPECIES
1. DESCRIBE HOW TAXONOMIC CLADISTY SYSTEMS ARE USED TO DETAIL EVOLUTIONARY
LINEAGES
2. DESCRIBE THE VARIOUS LEVELS OF TAXONOMY AND HOW MEMBERSHIP IN THE DIFFERENT
TAXA OCCURS
3. IDENTIFY AND DESCRIBE DIFFERENCES IN DIFFERENT CLADISTIC APPROACHES
4. DEFINE MORPHOLIGICAL DIVERGENCE AND CONVERGENCE AND IDENTIFY EXAMPLES OF
EVIDENCE FOR EACH TYPE OF EVENT.
5. DESCRIBE THE DIFFERENCE BETWEEN HOMOLOGOUS AND ANALOGOUS MORPHOLOGICAL
STRUCTURES.
6. DESCRIBE HOW MUTATIONS TO GENES THAT DIRECT DEVELOPMENT COULD LEAD TO
MORPHOLOGICAL DIFFERENCES IN ADULTS OF A SPECIES
7. DESCRIBE HOW SCIENTISTS DESCRIBE BIOCHEMICAL DIFFERENCES BETWEEN SPECIES AND
IDENTIFY EXAMPLES OF EVIDENCE DNA AND AMINO ACID SEQUENC CONSERVATION IN SPECIES.
8. IDENTIFY HOW SOMEONE STUDYING COMPARATIVE GENOMICS WOULD CONDUCT PARSIMONY
ANALYSIS.
9. GIVEN A SET OF SPECIES AND INFORMATION ABOUT THEIR CHARACTER, DEVELOP A
PARSIMONOUS MODEL THAT DETAILS HOW CHANGE IN THE CHARACTERS OF THE SPECIES
REPRESENTS EVOLUTIONARY CHANGE. ( GENUS PANTHERA)
10. IDENTIFY AND DESCRIBE DIFFERENT MODELS THAT SCIENTISTS USE TO DETAIL EVOLUTIONARY
RELATIONSHIPS BETWEEN KNOWN SPECIES.