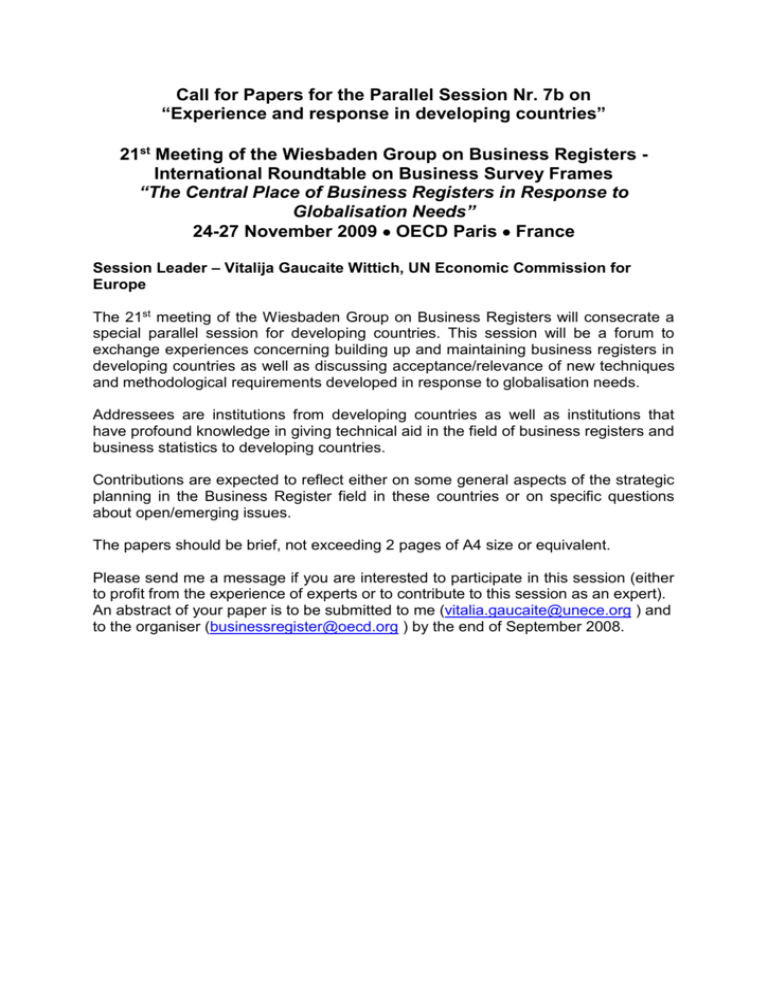 Call for Papers for the Parallel Session Nr. 7b on
"Experience and response in developing countries"
21st Meeting of the Wiesbaden Group on Business Registers International Roundtable on Business Survey Frames
"The Central Place of Business Registers in Response to
Globalisation Needs"
24-27 November 2009  OECD Paris  France
Session Leader – Vitalija Gaucaite Wittich, UN Economic Commission for
Europe
The 21st meeting of the Wiesbaden Group on Business Registers will consecrate a
special parallel session for developing countries. This session will be a forum to
exchange experiences concerning building up and maintaining business registers in
developing countries as well as discussing acceptance/relevance of new techniques
and methodological requirements developed in response to globalisation needs.
Addressees are institutions from developing countries as well as institutions that
have profound knowledge in giving technical aid in the field of business registers and
business statistics to developing countries.
Contributions are expected to reflect either on some general aspects of the strategic
planning in the Business Register field in these countries or on specific questions
about open/emerging issues.
The papers should be brief, not exceeding 2 pages of A4 size or equivalent.
Please send me a message if you are interested to participate in this session (either
to profit from the experience of experts or to contribute to this session as an expert).
An abstract of your paper is to be submitted to me (vitalia.gaucaite@unece.org ) and
to the organiser (businessregister@oecd.org ) by the end of September 2008.