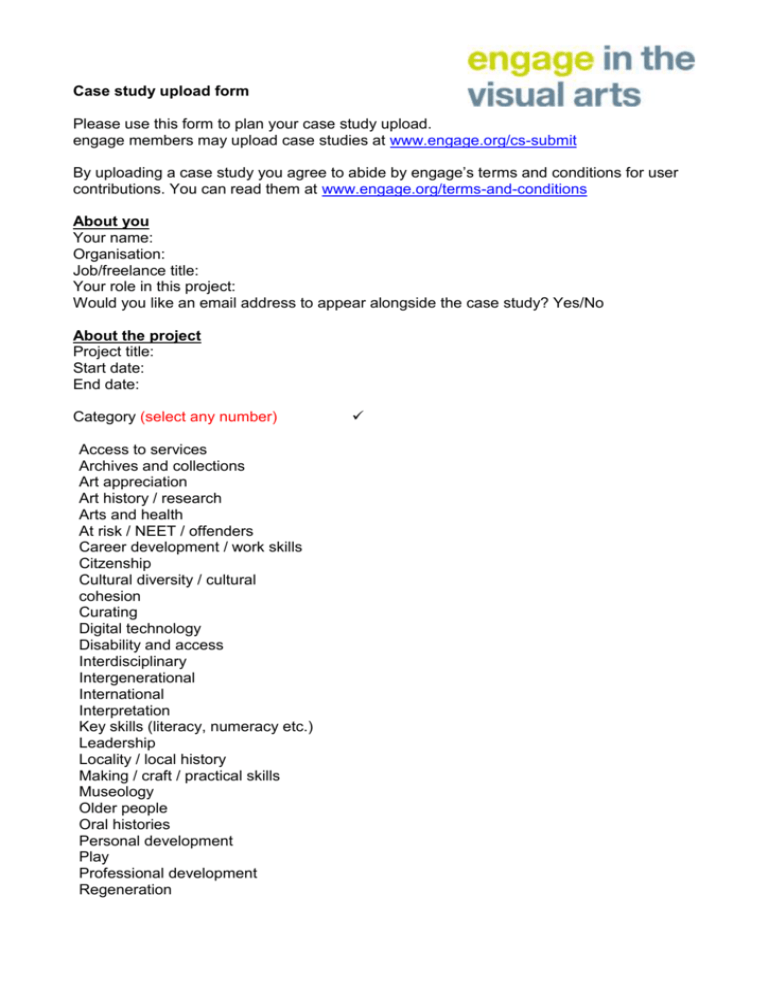 Case study upload form
Please use this form to plan your case study upload.
engage members may upload case studies at www.engage.org/cs-submit
By uploading a case study you agree to abide by engage's terms and conditions for user
contributions. You can read them at www.engage.org/terms-and-conditions
About you
Your name:
Organisation:
Job/freelance title:
Your role in this project:
Would you like an email address to appear alongside the case study? Yes/No
About the project
Project title:
Start date:
End date:
Category (select any number)
Access to services
Archives and collections
Art appreciation
Art history / research
Arts and health
At risk / NEET / offenders
Career development / work skills
Citzenship
Cultural diversity / cultural
cohesion
Curating
Digital technology
Disability and access
Interdisciplinary
Intergenerational
International
Interpretation
Key skills (literacy, numeracy etc.)
Leadership
Locality / local history
Making / craft / practical skills
Museology
Older people
Oral histories
Personal development
Play
Professional development
Regeneration

Region
Partner organisation(s)
Funder(s)
Description (up to 2000 words)
Your description could include:
 Aims / objectives
 Participants - who they were and how they were approached
 What learning was involved (for partners, staff, participants)
 Methodologies used (if applicable)
 Where & when it happened, and whether it's ongoing
 Planning / preliminary work
 Exhibition / artworks / artefacts involved
 Media, disciplines, art movements involved
 Follow-up / longer-term contact with the target group
 Involvement of partner organisation(s)
Outcomes (1000 words)
Your outcomes could include:
 Specific learning benefits / other outcomes for the participants and organisers
 Organisational flexibility or change
 Monitoring / evaluation process
 Lessons learnt
 Training needs identified
Website address for this project:
Images: You may upload up to three images with captions to accompany your case study.
Images should be resized to 238 pixels wide and up to 500 pixels tall. Please have your
captions ready before uploading images.
-If you produced a report, publication or resource during your project, please consider
donating a copy to the engage resource, a unique collection of gallery education material
housed in the library at Goldsmiths, University of London. If this is of interest please
contact engage or visit www.engage.org/resource.aspx
Once uploaded, your case study will be checked by a member of engage staff and we will
contact you by email if we have any questions. Once your case study has been approved
we will email you and you will be able to see it on the engage website.
Please contact ailbhe.maceoin@engage.org if you have any questions about this form.