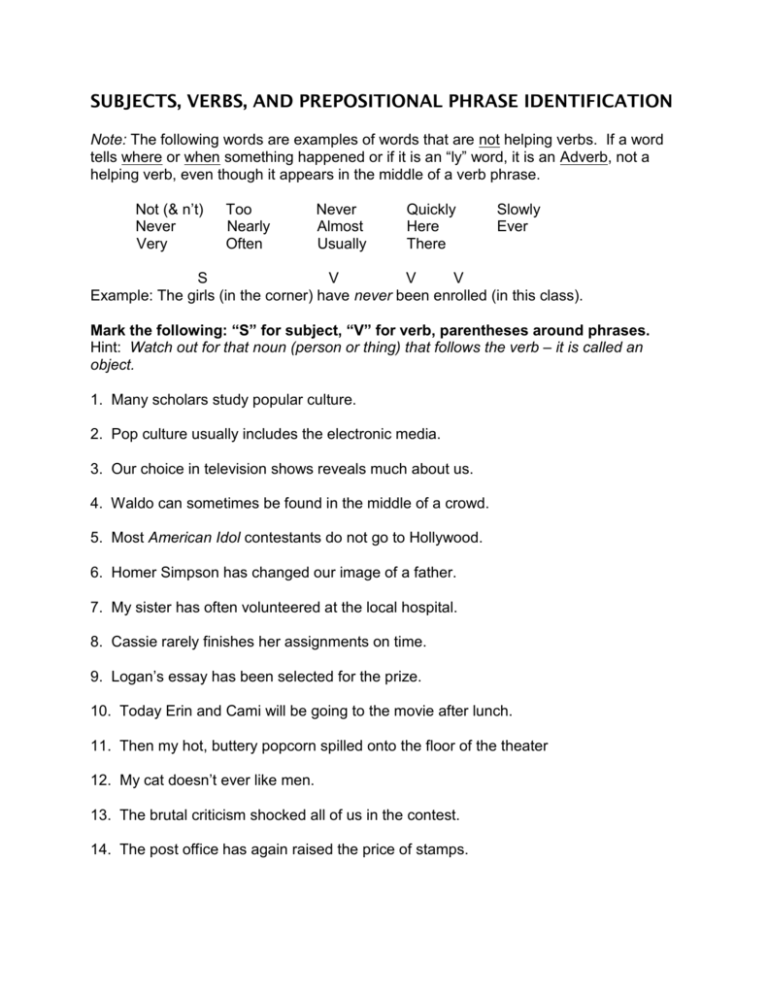 SUBJECTS, VERBS, AND PREPOSITIONAL PHRASE IDENTIFICATION
Note: The following words are examples of words that are not helping verbs. If a word
tells where or when something happened or if it is an "ly" word, it is an Adverb, not a
helping verb, even though it appears in the middle of a verb phrase.
Not (& n't)
Never
Very
Too
Nearly
Often
Never
Almost
Usually
Quickly
Here
There
Slowly
Ever
S
V
V
V
Example: The girls (in the corner) have never been enrolled (in this class).
Mark the following: "S" for subject, "V" for verb, parentheses around phrases.
Hint: Watch out for that noun (person or thing) that follows the verb – it is called an
object.
1. Many scholars study popular culture.
2. Pop culture usually includes the electronic media.
3. Our choice in television shows reveals much about us.
4. Waldo can sometimes be found in the middle of a crowd.
5. Most American Idol contestants do not go to Hollywood.
6. Homer Simpson has changed our image of a father.
7. My sister has often volunteered at the local hospital.
8. Cassie rarely finishes her assignments on time.
9. Logan's essay has been selected for the prize.
10. Today Erin and Cami will be going to the movie after lunch.
11. Then my hot, buttery popcorn spilled onto the floor of the theater
12. My cat doesn't ever like men.
13. The brutal criticism shocked all of us in the contest.
14. The post office has again raised the price of stamps.