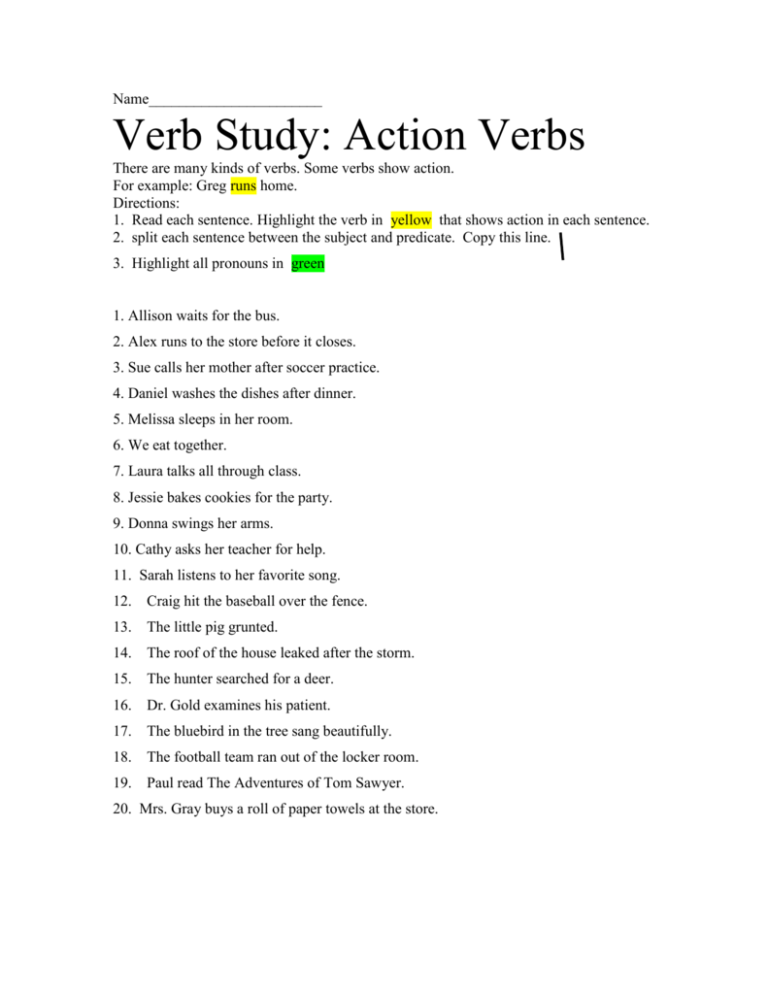 Name_______________________
Verb Study: Action Verbs
There are many kinds of verbs. Some verbs show action.
For example: Greg runs home.
Directions:
1. Read each sentence. Highlight the verb in yellow that shows action in each sentence.
2. split each sentence between the subject and predicate. Copy this line.
3. Highlight all pronouns in green
1. Allison waits for the bus.
2. Alex runs to the store before it closes.
3. Sue calls her mother after soccer practice.
4. Daniel washes the dishes after dinner.
5. Melissa sleeps in her room.
6. We eat together.
7. Laura talks all through class.
8. Jessie bakes cookies for the party.
9. Donna swings her arms.
10. Cathy asks her teacher for help.
11. Sarah listens to her favorite song.
12.
Craig hit the baseball over the fence.
13.
The little pig grunted.
14.
The roof of the house leaked after the storm.
15.
The hunter searched for a deer.
16.
Dr. Gold examines his patient.
17.
The bluebird in the tree sang beautifully.
18.
The football team ran out of the locker room.
19.
Paul read The Adventures of Tom Sawyer.
20. Mrs. Gray buys a roll of paper towels at the store.