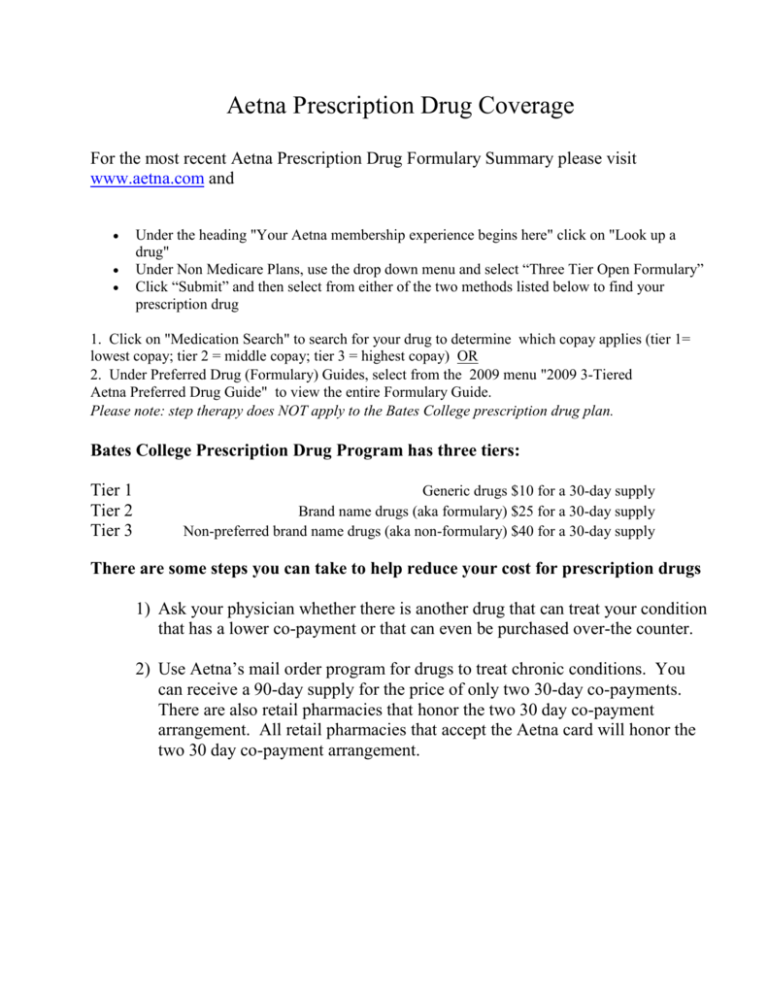 Aetna Prescription Drug Coverage
For the most recent Aetna Prescription Drug Formulary Summary please visit
www.aetna.com and



Under the heading "Your Aetna membership experience begins here" click on "Look up a
drug"
Under Non Medicare Plans, use the drop down menu and select "Three Tier Open Formulary"
Click "Submit" and then select from either of the two methods listed below to find your
prescription drug
1. Click on "Medication Search" to search for your drug to determine which copay applies (tier 1=
lowest copay; tier 2 = middle copay; tier 3 = highest copay) OR
2. Under Preferred Drug (Formulary) Guides, select from the 2009 menu "2009 3-Tiered
Aetna Preferred Drug Guide" to view the entire Formulary Guide.
Please note: step therapy does NOT apply to the Bates College prescription drug plan.
Bates College Prescription Drug Program has three tiers:
Tier 1
Tier 2
Tier 3
Generic drugs $10 for a 30-day supply
Brand name drugs (aka formulary) $25 for a 30-day supply
Non-preferred brand name drugs (aka non-formulary) $40 for a 30-day supply
There are some steps you can take to help reduce your cost for prescription drugs
1) Ask your physician whether there is another drug that can treat your condition
that has a lower co-payment or that can even be purchased over-the counter.
2) Use Aetna's mail order program for drugs to treat chronic conditions. You
can receive a 90-day supply for the price of only two 30-day co-payments.
There are also retail pharmacies that honor the two 30 day co-payment
arrangement. All retail pharmacies that accept the Aetna card will honor the
two 30 day co-payment arrangement.