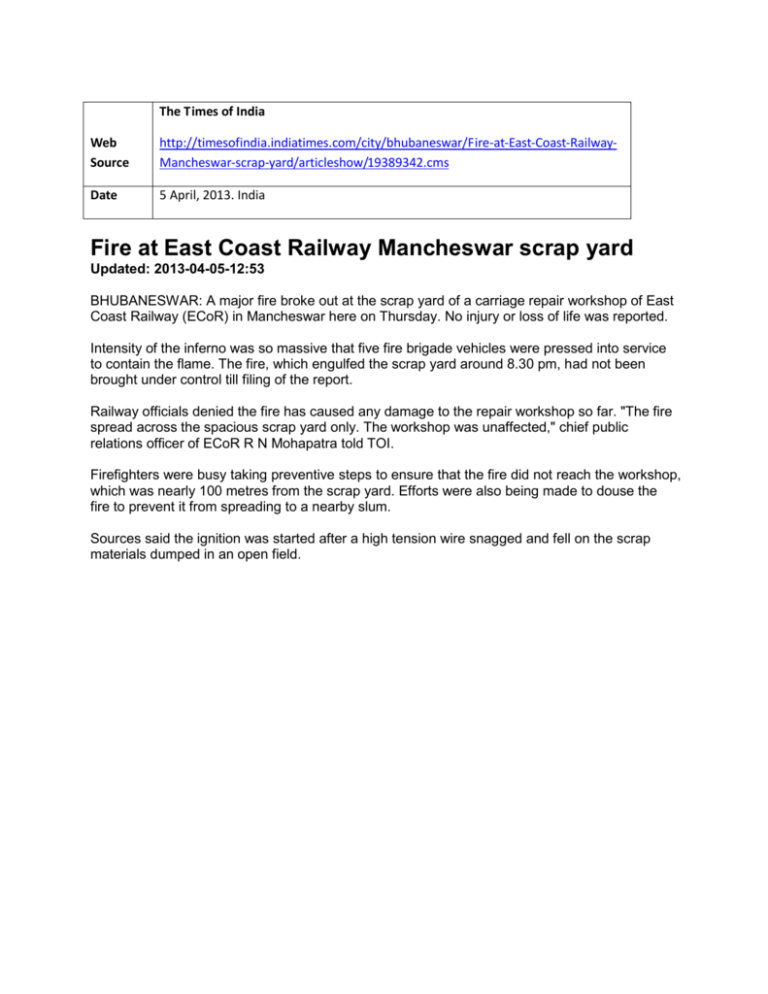 The Times of India
Web
Source
http://timesofindia.indiatimes.com/city/bhubaneswar/Fire-at-East-Coast-RailwayMancheswar-scrap-yard/articleshow/19389342.cms
Date
5 April, 2013. India
Fire at East Coast Railway Mancheswar scrap yard
Updated: 2013-04-05-12:53
BHUBANESWAR: A major fire broke out at the scrap yard of a carriage repair workshop of East
Coast Railway (ECoR) in Mancheswar here on Thursday. No injury or loss of life was reported.
Intensity of the inferno was so massive that five fire brigade vehicles were pressed into service
to contain the flame. The fire, which engulfed the scrap yard around 8.30 pm, had not been
brought under control till filing of the report.
Railway officials denied the fire has caused any damage to the repair workshop so far. "The fire
spread across the spacious scrap yard only. The workshop was unaffected," chief public
relations officer of ECoR R N Mohapatra told TOI.
Firefighters were busy taking preventive steps to ensure that the fire did not reach the workshop,
which was nearly 100 metres from the scrap yard. Efforts were also being made to douse the
fire to prevent it from spreading to a nearby slum.
Sources said the ignition was started after a high tension wire snagged and fell on the scrap
materials dumped in an open field.