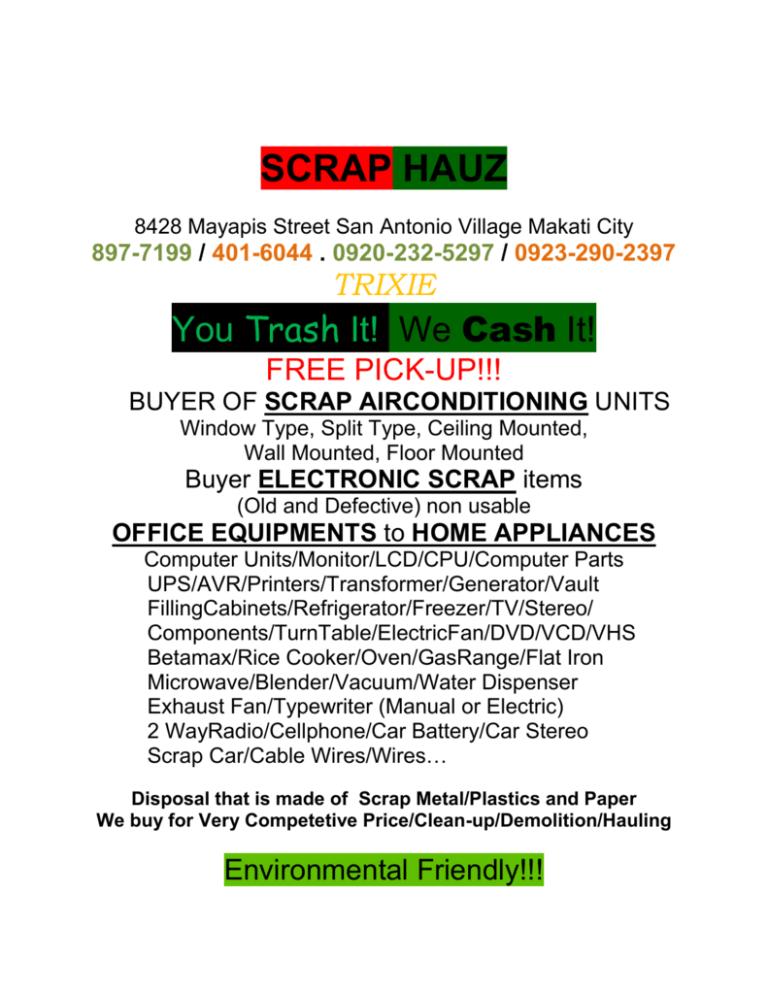 SCRAP HAUZ
8428 Mayapis Street San Antonio Village Makati City
897-7199 / 401-6044 . 0920-232-5297 / 0923-290-2397
TRIXIE
You Trash It! We Cash It!
FREE PICK-UP!!!
BUYER OF SCRAP AIRCONDITIONING UNITS
Window Type, Split Type, Ceiling Mounted,
Wall Mounted, Floor Mounted
Buyer ELECTRONIC SCRAP items
(Old and Defective) non usable
OFFICE EQUIPMENTS to HOME APPLIANCES
Computer Units/Monitor/LCD/CPU/Computer Parts
UPS/AVR/Printers/Transformer/Generator/Vault
FillingCabinets/Refrigerator/Freezer/TV/Stereo/
Components/TurnTable/ElectricFan/DVD/VCD/VHS
Betamax/Rice Cooker/Oven/GasRange/Flat Iron
Microwave/Blender/Vacuum/Water Dispenser
Exhaust Fan/Typewriter (Manual or Electric)
2 WayRadio/Cellphone/Car Battery/Car Stereo
Scrap Car/Cable Wires/Wires…
Disposal that is made of Scrap Metal/Plastics and Paper
We buy for Very Competetive Price/Clean-up/Demolition/Hauling
Environmental Friendly!!!