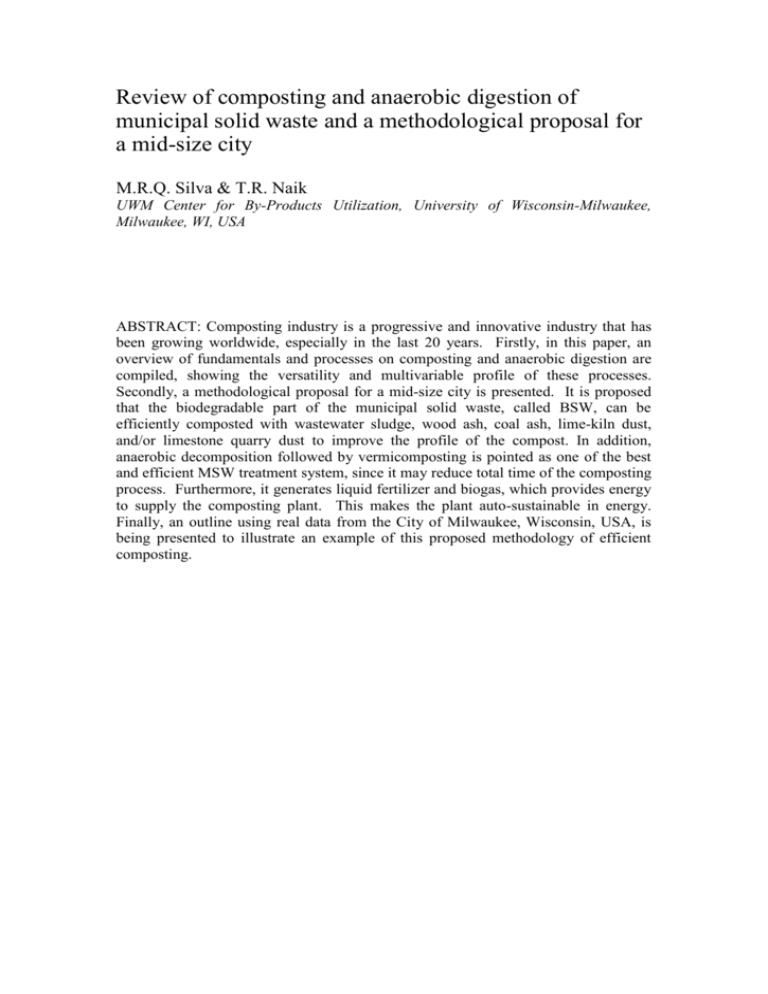 Review of composting and anaerobic digestion of
municipal solid waste and a methodological proposal for
a mid-size city
M.R.Q. Silva & T.R. Naik
UWM Center for By-Products Utilization, University of Wisconsin-Milwaukee,
Milwaukee, WI, USA
ABSTRACT: Composting industry is a progressive and innovative industry that has
been growing worldwide, especially in the last 20 years. Firstly, in this paper, an
overview of fundamentals and processes on composting and anaerobic digestion are
compiled, showing the versatility and multivariable profile of these processes.
Secondly, a methodological proposal for a mid-size city is presented. It is proposed
that the biodegradable part of the municipal solid waste, called BSW, can be
efficiently composted with wastewater sludge, wood ash, coal ash, lime-kiln dust,
and/or limestone quarry dust to improve the profile of the compost. In addition,
anaerobic decomposition followed by vermicomposting is pointed as one of the best
and efficient MSW treatment system, since it may reduce total time of the composting
process. Furthermore, it generates liquid fertilizer and biogas, which provides energy
to supply the composting plant. This makes the plant auto-sustainable in energy.
Finally, an outline using real data from the City of Milwaukee, Wisconsin, USA, is
being presented to illustrate an example of this proposed methodology of efficient
composting.