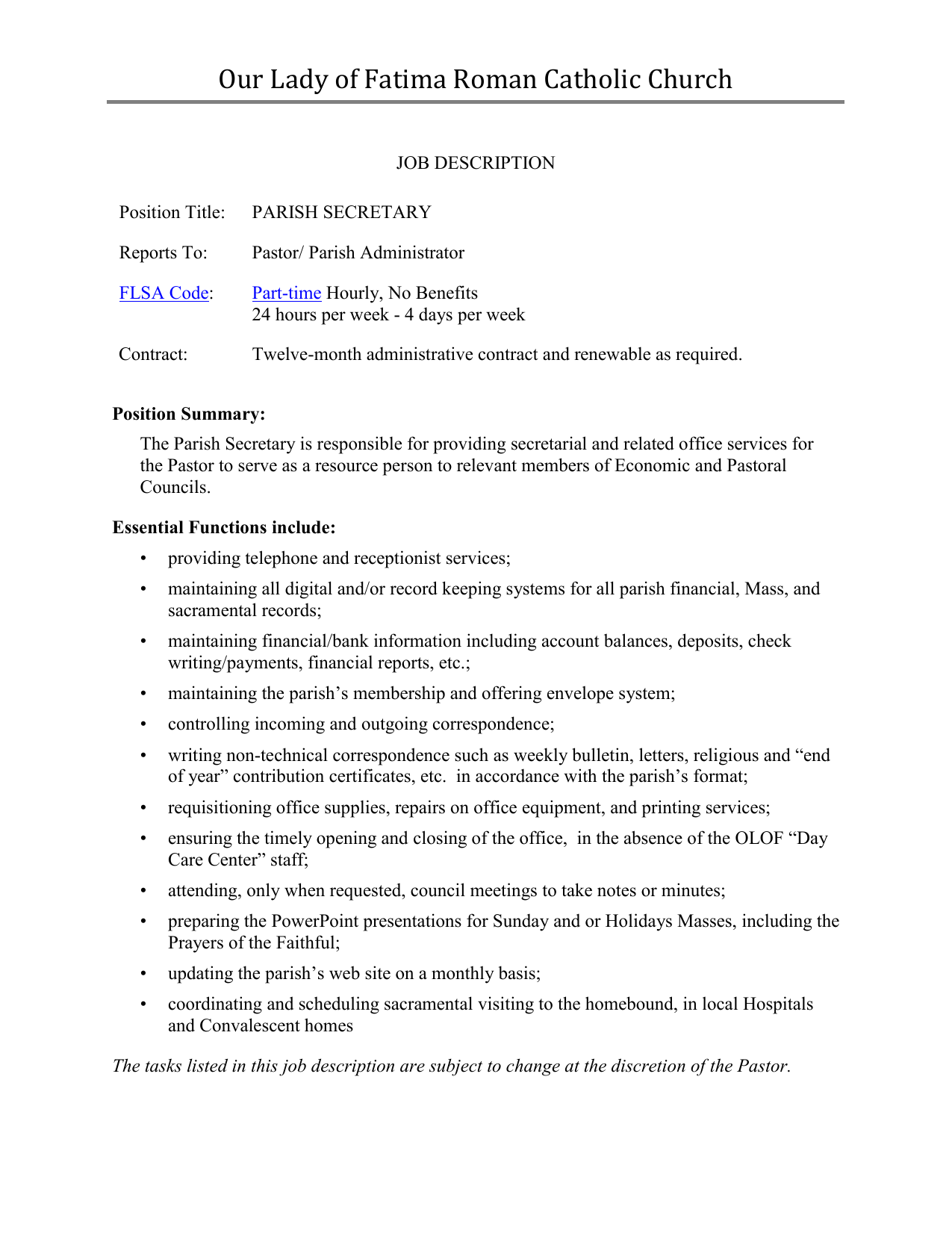 Our Lady of Fatima Roman Catholic Church
JOB DESCRIPTION
Position Title:
PARISH SECRETARY
Reports To:
Pastor/ Parish Administrator
FLSA Code:
Part-time Hourly, No Benefits
24 hours per week - 4 days per week
Contract:
Twelve-month administrative contract and renewable as required.
Position Summary:
The Parish Secretary is responsible for providing secretarial and related office services for
the Pastor to serve as a resource person to relevant members of Economic and Pastoral
Councils.
Essential Functions include:
•
providing telephone and receptionist services;
•
maintaining all digital and/or record keeping systems for all parish financial, Mass, and
sacramental records;
•
maintaining financial/bank information including account balances, deposits, check
writing/payments, financial reports, etc.;
•
maintaining the parish's membership and offering envelope system;
•
controlling incoming and outgoing correspondence;
•
writing non-technical correspondence such as weekly bulletin, letters, religious and "end
of year" contribution certificates, etc. in accordance with the parish's format;
•
requisitioning office supplies, repairs on office equipment, and printing services;
•
ensuring the timely opening and closing of the office, in the absence of the OLOF "Day
Care Center" staff;
•
attending, only when requested, council meetings to take notes or minutes;
•
preparing the PowerPoint presentations for Sunday and or Holidays Masses, including the
Prayers of the Faithful;
•
updating the parish's web site on a monthly basis;
•
coordinating and scheduling sacramental visiting to the homebound, in local Hospitals
and Convalescent homes
The tasks listed in this job description are subject to change at the discretion of the Pastor.
Our Lady of Fatima Roman Catholic Church
Qualifications:







Adherence to the principles defined by the Catechism of the Catholic Church;
Excellent communication ability required to interact in person or by telephone with a
broad range of individuals and to present oneself professionally;
Proficient in written and spoken Portuguese and English languages;
Demonstrated ability to:
o discern and honor confidentiality;
o set priorities and organize work effectively and efficiently;
o compose correspondence, minutes, and/or reports;
o adapt to changes in routine or schedule;
Excellent/accurate record keeping skills—in digital and paper format;
Excellent/accurate keyboard skills
Good Computer skills using (as well as other programs as needed):
o all MS Office software programs, including Publisher;
o e-mail and Internet services;
o QuickBooks for Parish accounting — after training;
o Archdiocese database system (PDMS)— after training;
o Web site maintenance services — after training;
Physical Requirements:
There are no specific or unusual physical demands related to this position except it:
 requires prolonged sitting.
 requires physical exertion to manually move, lift, carry, pull or push objects or
materials up to 20 pounds—paper, ink and tonner, fluid bottles, etc.
 requires occasional cleaning, dusting and vacuuming of office space and equipment.
 Parish environment does not permit smoking or promiscuous behavior on Parish
premises.